Smith bringing professional approach to Mariners
Veteran outfielder homers against former club, keeps focus on contributing for Seattle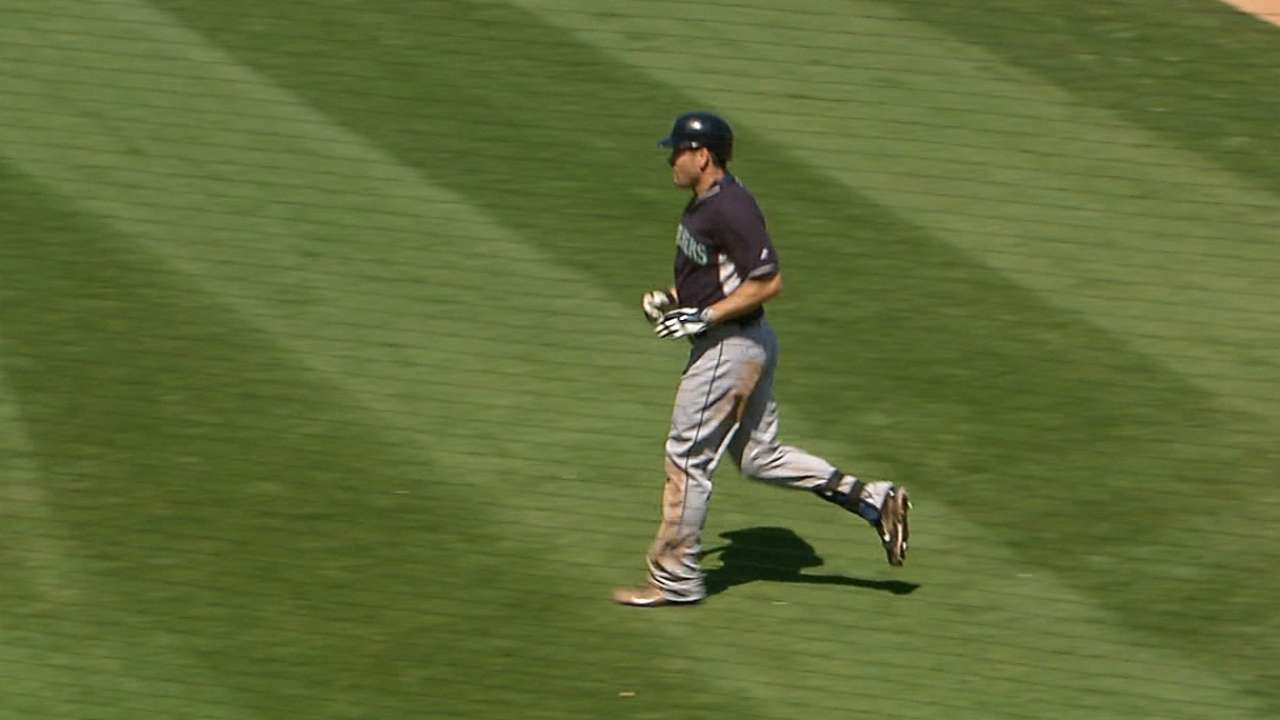 PEORIA, Ariz. -- Seth Smith came out swinging Tuesday against his former Padres club, going 2-for-3 with a home run and two RBIs in Seattle's 6-4 Cactus League loss at Peoria Stadium.
But playing against the team that traded him in the offseason carried no special weight for the Mariners' new right fielder.
"This is my fourth team, so it's going to happen," Smith said after raising his spring average to .250 with an RBI single in the first and a shot to right-center leading off the third.
The 32-year-old from Mississippi is a no-nonsense sort. He said he'll enjoy hitting in the No. 2 spot in the order, if that's what is asked.
"I'll hit wherever they put me," said Smith, who is entering his ninth Major League season after breaking in with the Rockies in 2007. "I'll try to give a professional at-bat and see what happens."
He takes the same approach to the Mariners' upcoming season. Expectations are high, but he's been around long enough to know that playoff races are determined on the field, not in preseason projections.
"We've got really good players," he said. "Right now, that's where it is. We'll find out once the season starts and once we get going how it turns out. There are a lot of good players in baseball and a lot of good teams. We're definitely one of them. But you can't project what's going to happen. You just know you've got good players, working hard with a common goal, and we'll see what happens."
It will help, of course, if Austin Jackson and Smith produce at the top of the order. Jackson went 2-for-3 with a double, a run and an RBI in the leadoff spot Tuesday, as Seattle trotted out a lineup similar to Opening Day expectations. That meant Jackson and Smith setting the table for the 3-4-5 trio of Robinson Cano, Nelson Cruz and Kyle Seager.
"It's important for the guys at the front of our order to be productive," said manager Lloyd McClendon. "And it's important for the guys at the back end to be productive as well. We know the guys in the middle are going to produce. They've got good track records. But it's hard to do it if you don't have anybody on."
Greg Johns is a reporter for MLB.com. Follow him on Twitter @GregJohnsMLB as well as his Mariners Musings blog. This story was not subject to the approval of Major League Baseball or its clubs.