MLB.com Columnist
Mike Bauman
A's emerge from roster churn with tremendous pitching depth
After a busy offseason, Beane has club in prime position once more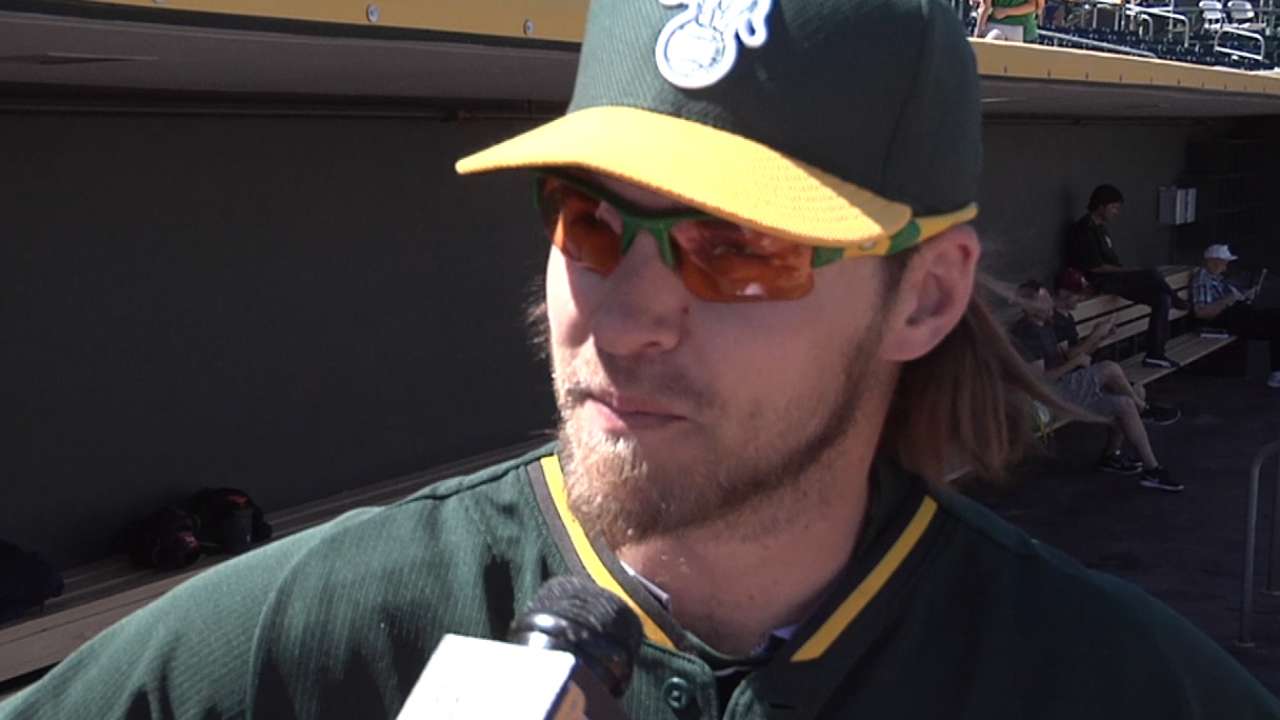 MESA, Ariz. -- After all of the roster turnover, the Oakland Athletics have emerged, once again, as usual, with a lot of Major League-quality pitching.
The oft-asked question is, "What were they thinking?" But the answer is evident at Hohokam Stadium. Billy Beane, A's vice president and general manager, was thinking about once more having admirable pitching depth, much of it young, and thus, affordable.
The A's traveled a similar road in 2012, trading three All-Stars. That didn't exactly diminish the product. Following that trade, Oakland won two division titles and last year qualified for the postseason as a Wild Card. Building a staff with depth is the common denominator for the Athletics.
"That was the design, to bring in as many pitchers, whether starters or relievers, in particular some younger guys, and establish depth," A's manager Bob Melvin said. "Depth has been so important to us, and really to every team. Everybody wants to be in a position where they have that kind of depth.
"You talk about 2012, we traded our last three All-Stars -- Gio Gonzalez, Trevor Cahill, Andrew Bailey -- brought in the Tommy Milones, the Jarrod Parkers, the A.J. Griffins and these guys and it ended up working out for us. It's pretty similar, and yet, it might be even a little bit better now in terms of the depth we have. A lot was made of these trades and a lot on the negative side because of who we were trading. Now you're starting to see the guys we traded for and now the consensus is starting to swing toward, maybe some of these deals were pretty good."
The key word describing Beane's approach in these matters, Melvin said, is "disciplined." Beane had a plan in place. The fact that some of his moves were certain to generate some negative public opinion early in the process was not going to change the plan or the direction.
"There was a master plan and Billy is very good about sticking to the plan that he has in mind," Melvin said. "He knows where he's going. So at the end when you see a Tyler Clippard and a Ben Zobrist come here, you can see where we're headed."
At the heart of it are young pitchers with big talent. There is Kendall Graveman, 24, obtained from Toronto in the Josh Donaldson trade.
"Graveman, last year he was in A-ball, the next thing you know he was in the big leagues," Melvin said.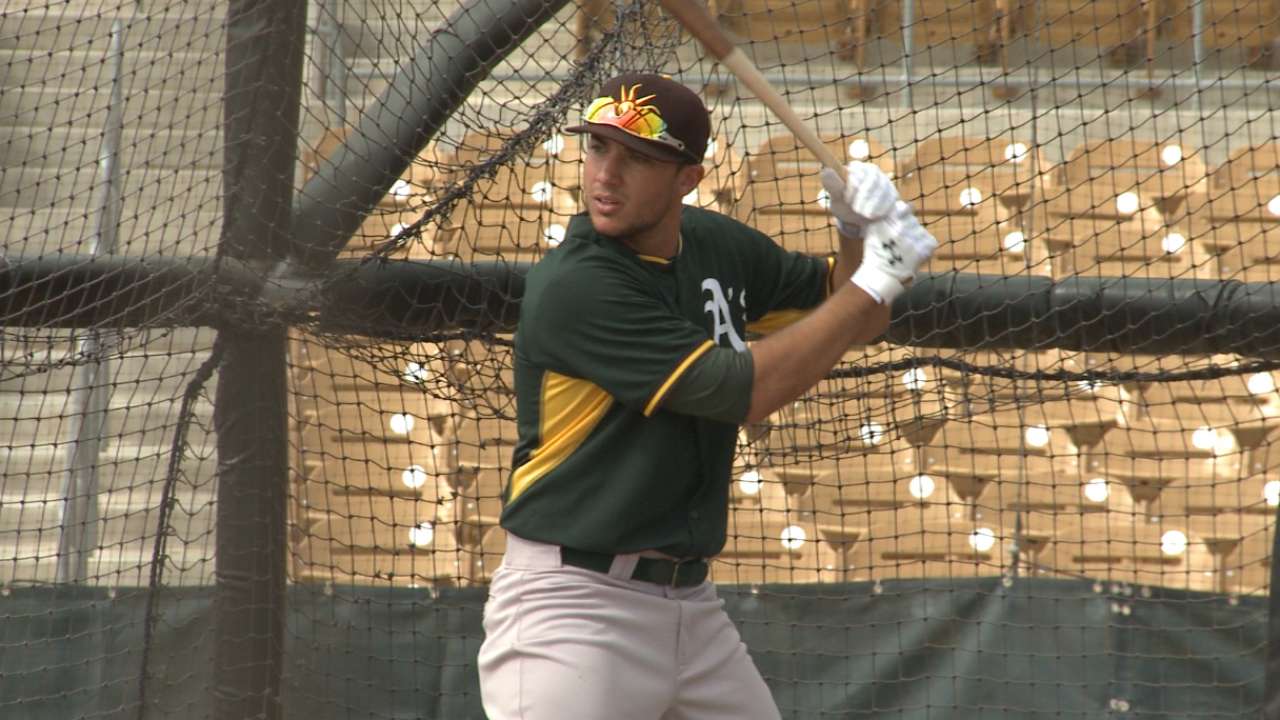 There is Jesse Hahn, 25, obtained, along with a promising reliever, R.J. Alvarez, 23, in the trade that sent catcher Derek Norris to the Padres.
"Jesse Hahn was a guy who had pitched in the big leagues for San Diego, so he was a guy we targeted for a while, and we were able to get it done," Melvin said. "R.J. Alvarez also had some big league experience. That's the way we have to do business here."
Elsewhere in the rotation, Sonny Gray is just 25, but he has already established himself as a Major League pitcher. Scott Kazmir has revived his career. Drew Pomeranz showed great promise last season. Jesse Chavez had a big first half in his first extended stretch as a big league starter. Sean Nolin, another pitcher brought over in the Donaldson trade, has been slowed following sports hernia surgery, but could be a major contributor later.
And then Parker and Griffin are coming back from Tommy John surgeries, perhaps as early as June.
"That's part of the whole depth, too," Melvin said. "We're probably seven, eight deep now and then you have two guys with the track records that Parker and Griffin have halfway through the season, which allows us not to rush these guys, and just increases the depth.
"You know what? Spring Training was about getting this group together and finding the right 25 to go north with, but then we found that we had a lot of depth to pick from in that 25. But we're all about 40, and even more. The last few years we've pretty much gone through 50 players a year. We might not dominate with a few guys at the top, but if you look at our 1-through-40, 1-through-50, we're pretty deep.
"Back in 2012, the Josh Donaldsons and Brandon Mosses, nobody knew those guys either, and two years later, they were household names. We feel like some of these guys here, a little later in the season you are going to know their names."
In Tuesday's 14-2 win over the Cubs, a very familiar Oakland baseball name pitched four scoreless innings in relief. Barry Zito, who broke into the big leagues with the A's 15 years ago, is attempting a comeback and is pitching more than well enough to succeed.
The crowded situation in the Athletics' rotation makes earning a spot there unlikely, but Zito might win a spot as a long man, or, could find a place with a team that needs rotation help.
Zito declined to speculate on his role or his chances to make this roster.
"I can essentially just affect throwing the ball the way I can," he said.
But Melvin was impressed with Zito's commitment to a game that was already a blowout by the time he entered in the fourth inning.
"You've got a blowout game and bigger numbers on guys' backs, and he's still focused, continuing to try to get results," Melvin said. "It's impressive to see."
After all the roster churn, that could also be the key phrase describing Oakland's pitching depth as the 2015 regular season approaches: "It's impressive to see."
Mike Bauman is a national columnist for MLB.com. This story was not subject to the approval of Major League Baseball or its clubs.