Day at camp an emotional experience for White Sox fan
Unable to speak after being diagnosed with ALS, Von Schaumburg meets players, throws first pitch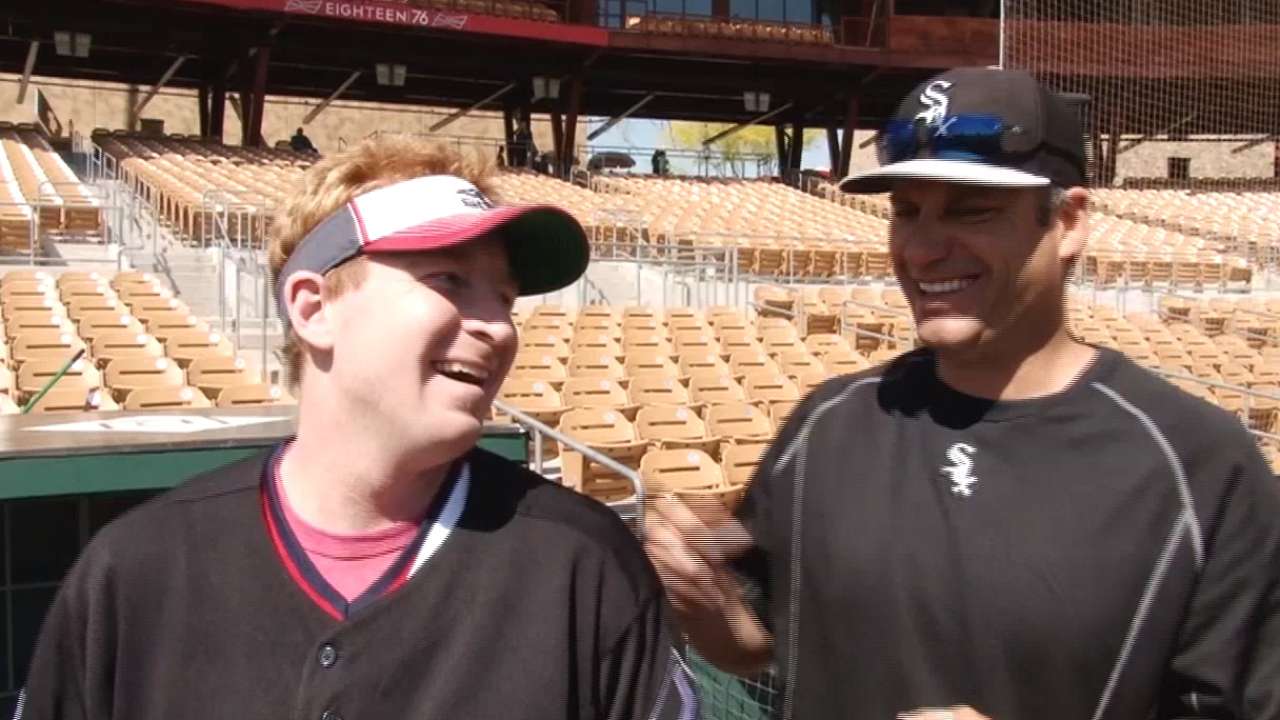 GLENDALE, Ariz. -- Eric Von Schaumburg has lost the ability to speak during his battle with ALS, which began two years ago when he was diagnosed with Lou Gehrig's disease and given 2-5 years to live.
Words weren't necessary for the 31-year-old to express his joy Tuesday when he spent the day with the White Sox at Camelback Ranch. Von Schaumburg communicates through typing words on a computer screen and is aided by his devoted fiancée, Lindsay Rudhman. The diehard White Sox fan had the chance to meet some of his favorite players, as well as manager Robin Ventura and executive vice president Ken Williams.
And as a final surprise, Von Schaumburg threw out one of the first pitches to Ventura.
Eric didn't know it, but there was another surprise waiting for him today - a first pitch! pic.twitter.com/zsYu4S28XA

- Chicago White Sox (@whitesox) March 24, 2015
"It was unreal," said Von Schaumburg through his typed message. "I'm still on Cloud 9."
"He has some weakness in his hands, so he was a little nervous about the pitch because he can't grip the ball the same," said Rudhman, with the two planning to marry this June. "Robin Ventura talked to him before the game and made him feel confident about it. It was just an awesome experience and the players talked to him. It was just a total dream for him today."
When asked if the first pitch was the highlight of his day, Von Schaumburg shook his head with a smile on his face and pointed to the back of his jersey. He had countless autographs featured through his morning interactions.
ALS took away Eric's ability to speak, but it isn't stopping him from having an awesome day w/ his favorite players! pic.twitter.com/sCmeHycbWF

- Chicago White Sox (@whitesox) March 24, 2015
"[Adam] Eaton and [Chris] Sale were my favorite players and they talked the longest to me," Von Schaumburg said. "I'm the biggest diehard Sox fan in the world. I cried multiple times today."
Von Schaumburg pointed to Rudhman and added that she was witness to the tears shed. It was a great moment for the young man who has the White Sox promising 2015 season at the forefront of his mind despite the valiant fight he faces on a daily basis.
"This has been unbelievable," Rudhman said.
"Sometimes you get opportunities that shake you to realize how fortunate we are and the position we're in," Ventura said. "Sometimes you get in a situation where it's special to meet somebody like that. A day of meeting the guys and running through the hallways, anybody who meets them, our players, realize how fortunate they are. It doesn't take much to be a meaningful part of his day. And it's tough, too."
Scott Merkin is a reporter for MLB.com. Read his blog, Merk's Works, and follow him on Twitter @scottmerkin. This story was not subject to the approval of Major League Baseball or its clubs.