MLB.com Columnist
Barry M. Bloom
No question: Padres, Preller want to re-up Upton
First-year GM makes it clear club would like long-term deal with All-Star outfielder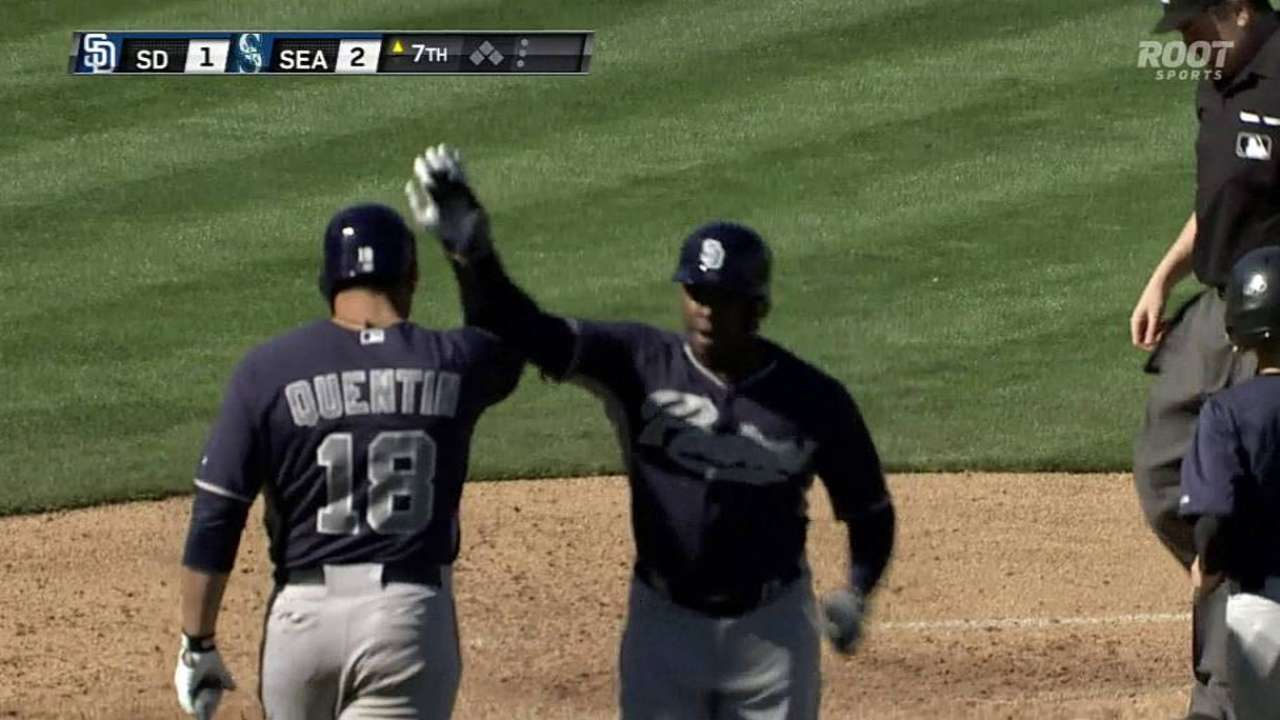 PEORIA, Ariz. -- The long-term future for Justin Upton is wide open. The Padres only hope that the future beyond this season will include them.
New general manager A.J. Preller obtained the two-time All-Star outfielder from the Braves on Dec. 19 as a high-impact player for the 2015 Padres, who could be heading toward a significant renaissance.
Preller also knew Upton was going into the walk year of a six-year, $51.25 million deal he signed with the D-backs in 2010. A free agent at the end of this season, Upton may be with the Padres only a year -- perhaps longer if Preller has anything to do with it. This is not a one-year rental.
"We made a big trade for him, and when you do something like that, you always hope you can work something out long term and do something together," Preller told MLB.com prior to Tuesday's 6-4 victory against the Mariners at Peoria Stadium. "Yeah, I mean, Justin Upton, that's why we acquired him. You always want guys like that on your team."
Upton is 27, and it seems like he's been around forever. Upton was 19 in 2007 when he made his Major League debut with the D-backs. A .274 hitter with 164 homers and .830 OPS, Upton's had a fine eight-year career with the D-backs and Braves, but he's yet to reach his full potential.
Preller is banking on this being the year and is trying to create the environment for Upton to be successful.
"We just want to make sure Justin is comfortable here for right now," Preller said. "We viewed as a positive when we made the trade that when Justin got around us and the people in our organization, he would see the long-term fit. That's how we're approaching going into the year."
So far, so good. Upton's situated in the clubhouse right next to Matt Kemp, who the Padres acquired in a trade with the Dodgers the day before they picked up Upton. He's batting cleanup just behind Kemp, and on Tuesday, Upton smacked a double and a two-run homer and is batting .324 (11-for-34) this spring.
There's a lot of camaraderie and kidding around in the clubhouse, and it looks like Upton has fit right in.
"It's been great, a good camp and a good group of guys," said Upton, who will play left field, with Kemp in right. "It's been a steady buildup. I'm getting more comfortable at the plate and playing the outfield for this team."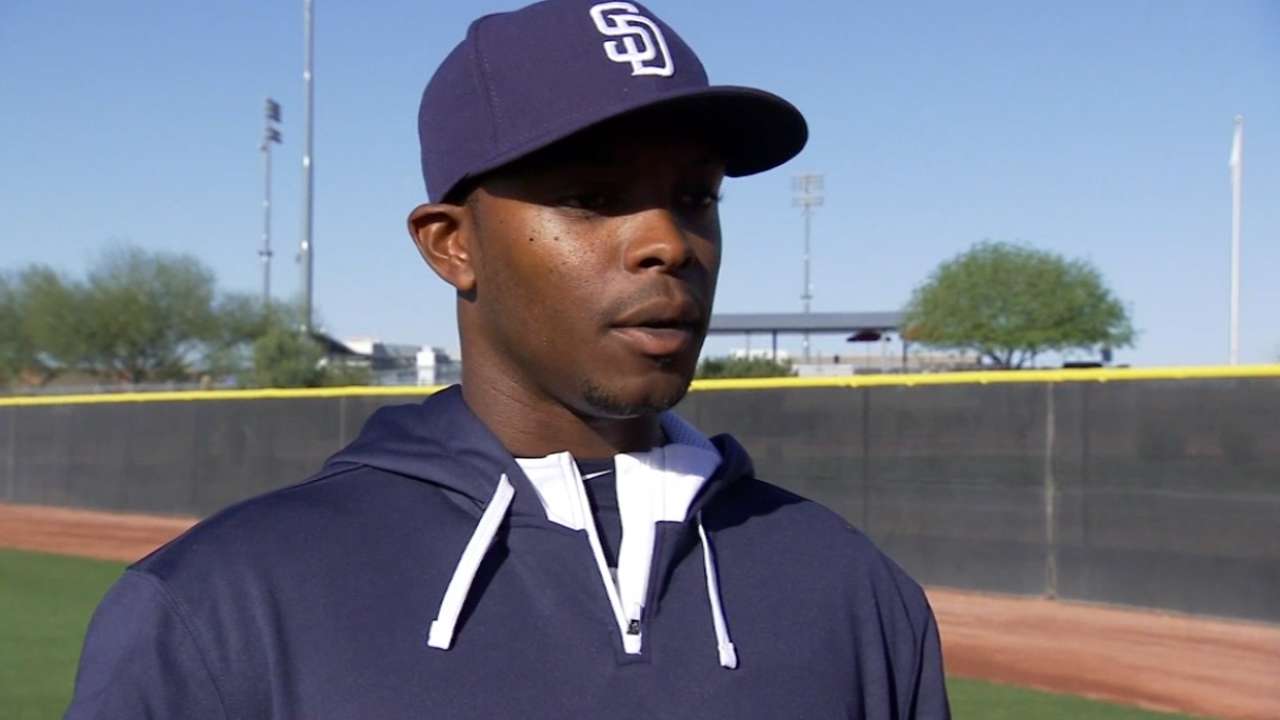 But Upton said it's too early to talk about the future. The Padres are paying him $14.5 million this season, the greatest yearly value of his contract.
"I haven't put much thought into it," he said. "This is a big season for me, a big season for this ballclub. We have a chance to win. So I'm not worried about that. We'll figure it out later."
Asked if he'd be open to negotiations before he hits free agency, Upton responded: "I've only been here for a month. I don't even want to talk about that."
To be certain, if Upton has a big year, he stands to make a lot of money in free agency. The Marlins set the standard by signing outfielder Giancarlo Stanton this past offseason to a 13-year contract worth $325 million, the largest in total value in baseball history. As far as other dynamic contracts signed by outfielders are concerned, the Dodgers resigned Kemp to an eight-year deal at $160 million after the 2011 season and are reportedly paying $35 million of the $107 million remaining.
After the 2013 season, the Yankees signed free agent and former Red Sox center fielder Jacoby Ellsbury for seven years and $153 million.
Those are the yardsticks for Upton, Preller knows, regardless of how well he plays this year.
"No matter what, he's a player people value," Preller said. "He's one of the better right-handed power bats in the game. He's only 27 years old. I think, in the end, people look at him as one of the better hitters in the game."
As far as possible negotiations are concerned, Preller added: "That's something we're going to figure out here as we get going."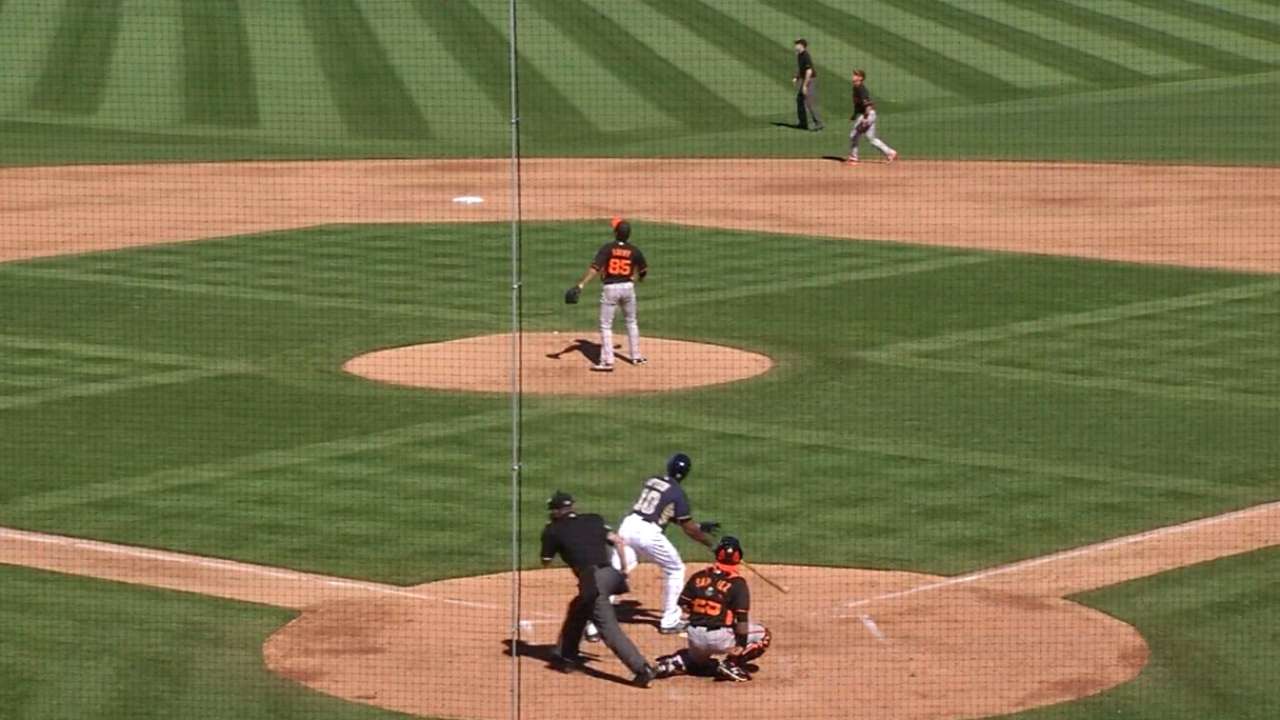 The fact that the Padres want Upton may go a long way in his ultimate decision. Upton is a five-tool player the D-backs selected out of high school No. 1 overall in the 2005 First-Year Player Draft. But by the end of his Arizona tenure, there was no love lost between the ballclub and Upton, who nixed a trade to Seattle in early 2013 only weeks before he was swapped to the Braves.
Upton enjoyed two solid years in Atlanta, hitting 56 homers, but the hefty back end to his contract and pending free agency led to his departure. The trade to San Diego didn't come as a surprise.
"Not once you saw the direction the team was going in, they wanted to get younger, they wanted get more team control," Upton said. "There was no bad blood, it was just what the team had to do to help itself in the future. It was great there, playing in an organization with such a rich tradition. That was a fun thing.
"It was best that I got traded out of Arizona and went to Atlanta. The organization there welcomed me with open arms. Same thing with San Diego. Everything happens for a reason."
The Padres traded four players of little repute for Upton. No question their arms have been wide open to him. Preller's intentions are on the record. Now, with another season beckoning, evidently the next move belongs to Upton.
Barry M. Bloom is a national reporter for MLB.com and writes an MLBlog, Boomskie on Baseball. Follow @boomskie on Twitter. This story was not subject to the approval of Major League Baseball or its clubs.