Sands shows off home-run power as he fights for roster spot
Moss also homers to support lefty House's strong effort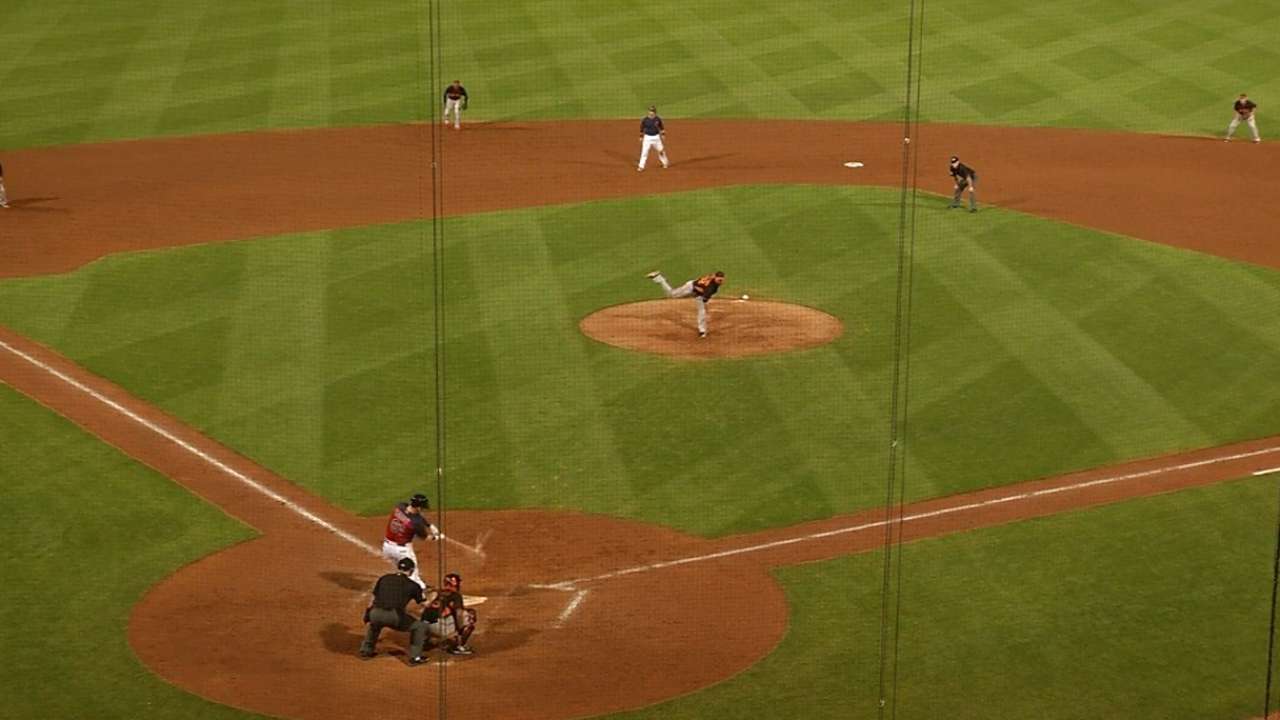 GOODYEAR, Ariz. -- Outfielder Jerry Sands showed off some impressive power Tuesday night, launching a tape-measure home run off San Francisco's Ryan Vogelsong to help the Indians claim a 9-5 Cactus League victory over the Giants at Goodyear Ballpark.
Sands' shot came in the third inning, when he crushed a 3-0 pitch from Vogelsong to deep center field, where the ball easily cleared a roughly 55-foot-tall batter's eye behind the wall. The blast was the first of Spring Training for Sands, who is competing for a spot on Cleveland's bench as a utility man.
"I'm glad I wasn't pitching," Indians starter TJ House said. "That's impressive. That's a lot of strength. Not many guys have that."
Indians manager Terry Francona was blown away by Sands' home run, too.
"That's what you do with a 3-0 pitch," Francona said. "That was worth the price of admission. Man, that was a pretty swing."
The home run was one of two surrendered by the veteran Vogelsong, who is a leading candidate for a spot in San Francisco's rotation. The right-hander worked 4 2/3 innings, in which he allowed six runs on six hits and ended with a pair of strikeouts and one walk. Vogelsong also gave up a three-run homer in the first inning to Indians slugger Brandon Moss.
"That ball was hit pretty well, too," Francona said. "He doesn't get cheated. He's going to strike out but, man, he swings like he's mad and he's strong. That's a welcome addition."
Vogelsong, who was coming off 4 2/3 shutout innings last Thursday against Milwaukee, observed that he "pulled" too many pitches across home plate, making them more hittable..
"My tempo was a little off, and it was weird because I came out of the bullpen right where I wanted to be," said Vogelsong.
Moss, who now has three Cactus League home runs, served as the designated hitter while playing in a second consecutive game for the first time this spring. In October, Moss underwent surgery on his right hip, but he has enjoyed a setback-free recovery to this point.
"I felt a lot better," Moss said of his comfort level in the batter's box. "There were some things that I wanted to make an adjustment with. I didn't feel like I was waiting back on offspeed [pitches] very well, and then today, I got a lot of offspeed, and I felt like I was staying back better and staying balanced better. I hit a ball pretty well and just missed another one. I felt good."
Moss' homer bounced off a tin roof behind the right-field wall, but Sands one-upped him with the shot to center.
"I was hoping I was going to get 'Swing of the Day' for once," Moss said with a laugh. "It doesn't look like that's going to happen now."
House is fighting for one of the two openings in Cleveland's rotation, along with Danny Salazar, Zach McAllister and Josh Tomlin. In five innings against San Francisco, the left-hander gave up four runs on six hits, finishing with three strikeouts and two walks. All four runs came in a 24-pitch third inning, when the Giants pieced together four hits, including three doubles.
"If it's going to happen, I'd rather have it happen here," Francona said. "Then, he bounced back and had a couple good innings."
In that four-run third, Joaquin Arias contributed an RBI single, Casey McGehee came through with a run-scoring double and Justin Maxwell added a two-base hit off House that knocked in another pair.
"They were aggressive, but some pitches were up and they made it work," said House, who has allowed eight runs on 15 hits in his past two appearances (eight innings). "[My spring has been] great except for a couple innings just kind of eating me up a little bit. Besides that, I've got some good work and I think we're just moving forward and going in the right direction."
Up next: Right-hander Tomlin is scheduled to log five innings Wednesday, when the Indians head to Tempe Diablo Stadium for a 4:05 p.m. ET Cactus League clash with the Angels. All-Star Michael Brantley is slated to make the trip for the Tribe. The game will be available on MLB.TV.
Jordan Bastian is a reporter for MLB.com. Read his blog, Major League Bastian, and follow him on Twitter @MLBastian. This story was not subject to the approval of Major League Baseball or its clubs.