GPS issues start rough day for Jackson
Cubs starter gets lost driving to ballpark, then allows eight runs vs. A's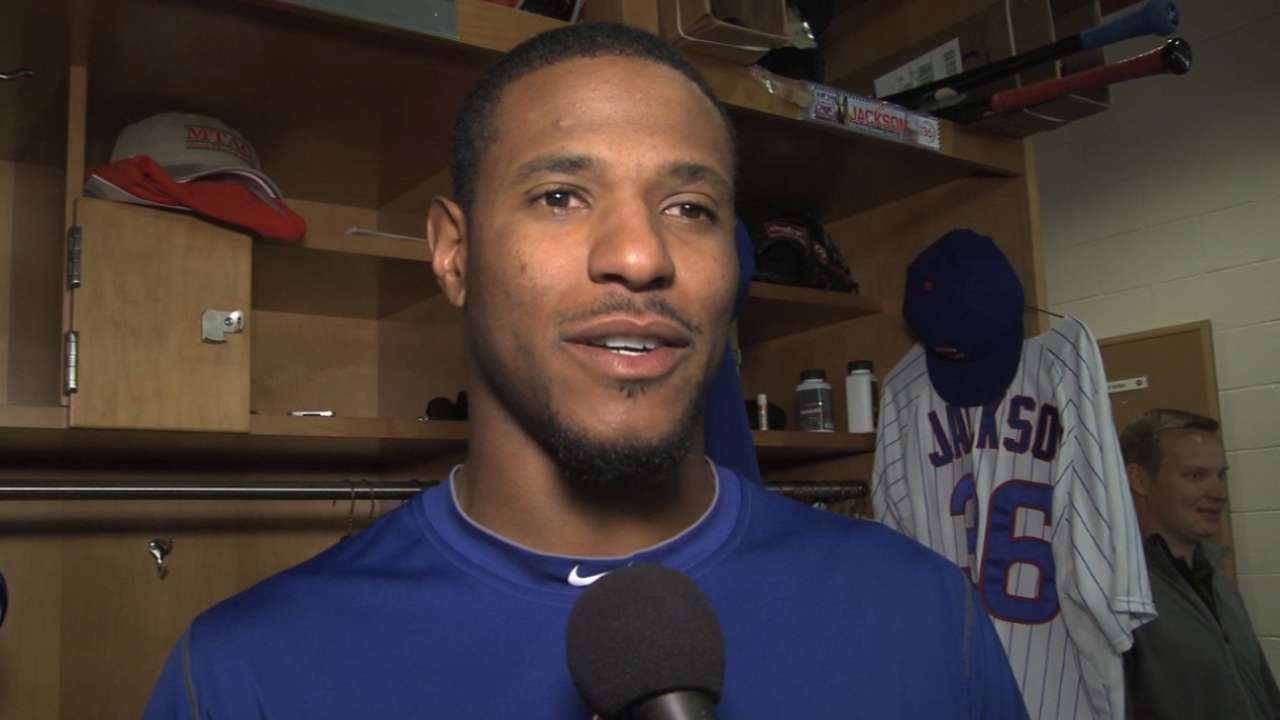 MESA, Ariz. -- Apparently, Google Maps hasn't updated the Spring Training locations in Arizona. On Tuesday, Edwin Jackson used the app for directions to Hohokam Stadium where he was scheduled to start. Trouble is, it sent him to their old home, Phoenix Municipal Stadium.
"I put in Google Maps and typed in 'Oakland Athletics Spring Training complex,' and it took me to the old one," Jackson said. "I know it's crazy, but that pretty much sums it up."
The Cubs complex is about 3.6 miles away from Hohokam Stadium, but it was a much longer drive for Jackson, who arrived at 12:40 p.m. MT. The Cubs' staff didn't want him to rush for the 1:05 p.m. MT start against the Athletics, so Blake Parker made a substitute start.
Jackson took over in the second, but the A's seemed to have no problem tracking his pitches, collecting eight runs on nine hits over 1 2/3 innings en route to their 14-2 win. Jackson said he could take some positives from the outing -- he didn't walk anyone and he felt strong.
"They hit some good pitches," Jackson said. "You have those days when they hit the ball. There were a lot of times I was ahead in the count and just didn't put them away."
Jackson served up back-to-back doubles in the A's second and retired the first two batters in the third, but then Oakland rattled off seven straight hits, including a two-run homer by Stephen Vogt.
The Cubs are set with four starters and manager Joe Maddon has hinted they are trying to come up with a creative way that Jackson and Travis Wood could share the fifth spot.
"You have to be ready for whatever is thrown at you," Jackson said. "It's one of those things you can't worry about. You can't play the game worrying about where you're going to be or what your role is going to be. When the time comes, we'll be ready for whatever we have to do."
What makes Jackson's misdirection even crazier is that Hohokam was the Cubs' old spring home. Google Maps didn't fail him when he used it March 14 to find Maryvale Baseball Park for a game against the Brewers. In fact, he said it's the first time in 12 years he's gotten lost trying to get to a ballpark.
"At the end of the day, it's my fault for not looking to see where they're at," he said. "I figured, type in the Spring Training complex and the right address would come up, but it didn't.
"It was a crazy way to start a day, I guess. If I Google any other facility it probably doesn't happen. So be it. That was the luck of the draw."
Carrie Muskat is a reporter for MLB.com. She writes a blog, Muskat Ramblings, and you can follow her on Twitter @CarrieMuskat. This story was not subject to the approval of Major League Baseball or its clubs.