Bryant's 9th homer not enough for Cubs
Top prospect goes deep, but Jackson allows eight runs in loss to A's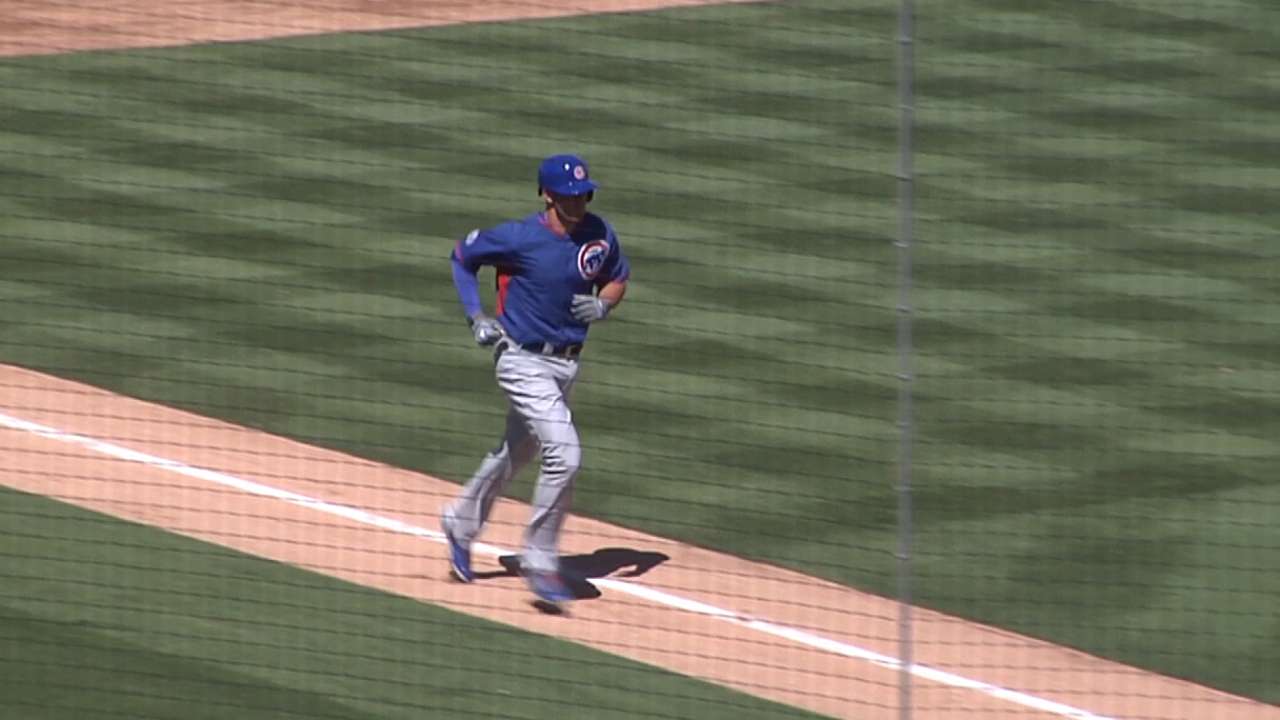 MESA, Ariz. -- The A's busted out for 10 runs in the first three innings of Tuesday's 14-2 win over the Cubs at Hohokam Stadium, getting two-run home runs from Billy Butler and Stephen Vogt along the way.
Cubs top prospect Kris Bryant belted his Major League-leading ninth spring home run in the third inning, connecting on the first pitch from A's starter Drew Pomeranz, who had struck out Bryant in the first.
Cubs right-hander Edwin Jackson, who didn't take the mound until the second inning after arriving to the ballpark just 25 minutes ahead of first pitch, was on the hook for eight runs and nine hits in just 1 2/3 innings.
"I put in Google Maps and typed in Oakland Athletics Spring Training complex, and it took me to the old one," Jackson said. "I know it's crazy, but that pretty much sums it up."
Comeback hopeful Barry Zito, pitching in relief for the A's, strung together four more scoreless innings to bring his spring ERA down to 2.30. The lefty allowed just one hit and walked three with two strikeouts while continuing his bid for a big league roster spot.
Righty Blake Parker pitched the first inning for Chicago, surrendering Butler's third home run of the spring. Vogt, who also teamed up with Tyler Ladendorf for back-to-back doubles in the second, hit his homer in the third -- his first of the spring.
The six-run third inning was also highlighted by consecutive doubles from Ike Davis and Marcus Semien, which started a string of seven consecutive hits off Jackson.
Pomeranz struck out four but also walked four while laboring through 2 2/3 innings, allowing two runs on three hits in his fourth spring outing. The A's rotation candidate said afterward he was dealing with right hip tightness that hindered his ability to finish his pitches.
Cubs outfielder Jorge Soler notched an RBI single off Pomeranz in the first.
Davis and Vogt each finished with three hits for the A's, and Ben Zobrist two -- including a two-run, ground-rule double in the fifth.
Up next: Travis Wood, battling for the final spot in the rotation, will make his fifth spring start on Wednesday when the Cubs travel to Peoria to face the Mariners in a night game. Wood has served up 21 hits over 14 1/3 innings in his four previous starts but walked only one. Starlin Castro is expected to be back in the lineup. He's been sidelined with a tight right groin. First pitch is scheduled for 9:05 p.m. CT and the game will be broadcast on MLB.TV.
Jane Lee is a reporter for MLB.com. This story was not subject to the approval of Major League Baseball or its clubs.