Happ pleased with pitch count, not results
Mariners lefty seeking command of offspeed offerings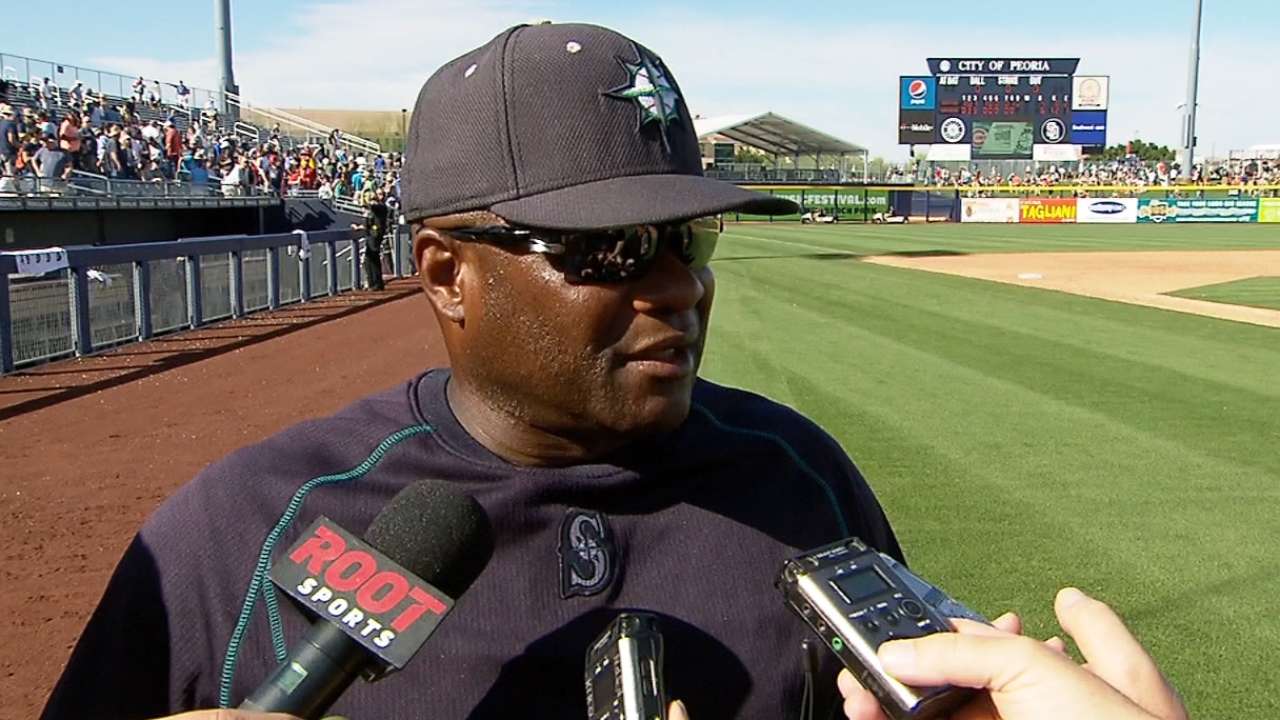 PEORIA, Ariz. -- Pitching for a new team with people wondering what he's going to bring, J.A. Happ would have preferred a better impression than Tuesday's rough go in a 6-4 loss to the Padres. But the Mariners' southpaw isn't going to overreact to a Spring Training outing, and neither is his manager.
Happ gave up eight hits and six runs (five earned) in 3 2/3 innings. The veteran left-hander walked three and struck out three in an 80-pitch outing that hiked his Cactus League ERA to 7.27.
It wasn't the sort of outing Happ or the Mariners wanted two weeks before the regular season, but the 32-year-old has two more spring starts to get himself squared away.
"The result was ugly," said Happ, who was acquired from the Blue Jays in a December trade for Michael Saunders. "They poked a few through and then got the big hit. I don't think it was an absolute disaster. I certainly could have been sharper, and my offspeed and breaking ball wasn't there today. But I got my pitches in.
"I hate saying that. But when you look at it, that's what I have to take from this. I feel good and we just have to go back out and work on it."
The 6-foot-5, 205-pounder from Illinois likely will open the season as Seattle's fourth starter, though manager Lloyd McClendon hasn't penciled out his exact rotation plans yet. But McClendon has made it clear Happ fits somewhere in that equation.
"He probably fatigued a little bit, but this is Spring Training," McClendon said. "He didn't look good. But he got the pitch count up to 80, which was good. That's the positive part of it. It's Spring Training. It wasn't very pretty. I think we all know he's better than that."
After a 1-2-3 first, Justin Upton launched a double off the base of the wall in left-center leading off the second, and the Padres loaded the bases with a single and a walk. Clint Barmes then singled into left and two runs scored -- the second unearned -- after Dustin Ackley was unable to come up with the ball cleanly.
Padres pitcher Andrew Cashner drove in the third run of the inning on a high chopper that Happ fielded and threw to first rather than attempt to get Wil Nieves racing in from third as catcher Mike Zunino called for the sure out.
Things got worse for Happ in the third, when Matt Kemp laced an RBI triple and Upton followed with a two-run bomb off a slider to make it 6-2.
Happ said he couldn't find his offspeed command but stuck with his curve in the hope of finding it during the outing.
"That's just me being stubborn," Happ said. "I keep thinking I'll figure it out, and I need to figure it out. But some days you don't and you've got to go to your other stuff. That's part of the game."
On the plus side, Happ said he felt physically strong while building his pitch count, which is the primary goal at this point of the spring.
Greg Johns is a reporter for MLB.com. Follow him on Twitter @GregJohnsMLB as well as his Mariners Musings blog. This story was not subject to the approval of Major League Baseball or its clubs.