Rasmus gaining comfort re-learning left field
Natural center fielder boosting value to club with reps at his rookie position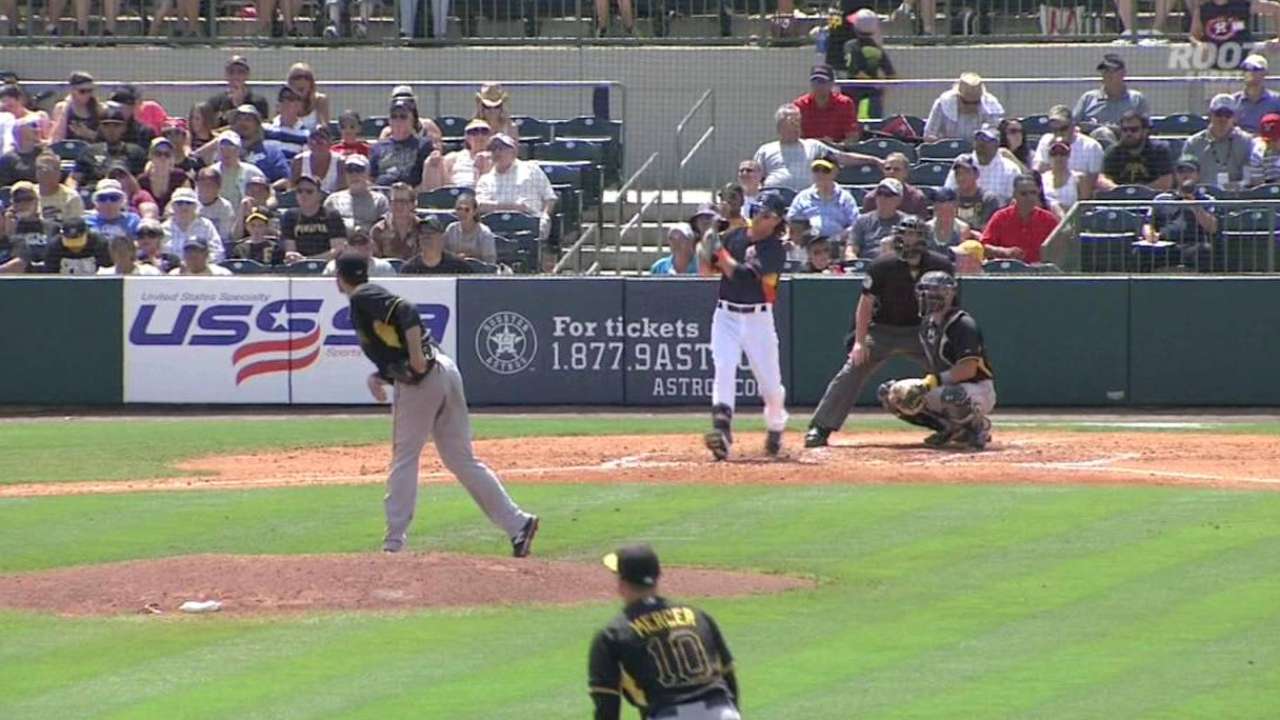 PORT ST. LUCIE, Fla. -- It's been six years since Colby Rasmus played left field in a Major League game. That was during his rookie season in 2009, when he appeared in only seven games in left for the Cardinals. Rasmus has been primarily a center fielder since, but the Astros have asked him this spring to get reacquainted with left field.
Rasmus, who signed a one-year, $8 million deal with the Astros over the offseason, is taking it slow as he gets used to seeing the ball fly off the bat from a different angle. The Astros will play him in both left and center this year, but they're focusing on left in the spring because of his lack of experience there.
"I feel all right out there," Rasmus said. "I feel pretty comfortable. I'm kind of trying to take it easy and not try to, I guess, overdo it. I guess I'm playing a little cautious. It's still early, and I don't want to overdo it by trying to make things happen that aren't there. I'm trying to kind of learn it and take it slow, but I feel good so far."
The Astros appear committed to having Jake Marisnick get most of the starts in center field, though manager A.J. Hinch said on Tuesday that Rasmus would see time there. Evan Gattis will also get playing time in left when he's not the designated hitter.
"If that's what A.J. thinks will help us win, I'm fine with moving back and forth on days, or whatever he wants to do matchup-wise," Rasmus said. "I don't have a problem with it. When I get out there, I'm just going to play hard. We all make mistakes. My goal is if I do make mistakes, not dwell on it and get back out there and make the next one."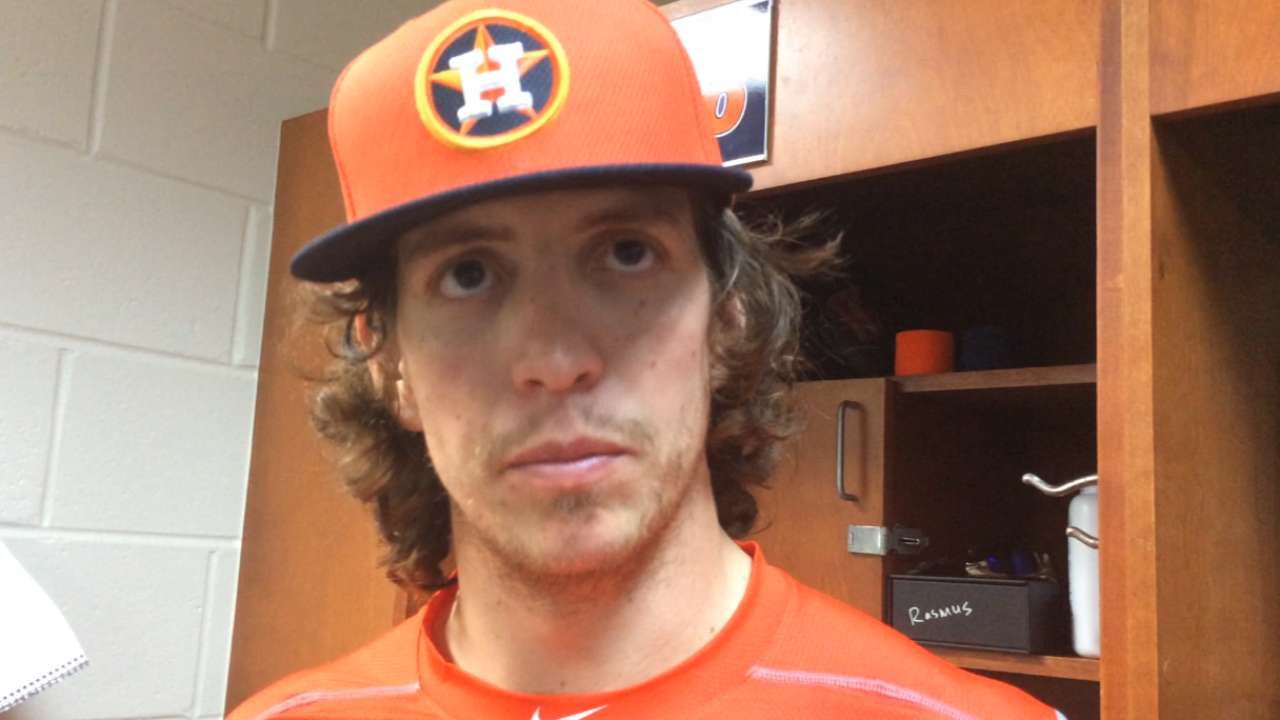 Hinch said Rasmus has handled the move like a pro.
"You don't hear much out of Colby," Hinch said. "He's pretty reserved, a pretty quiet guy. He's made some loud noises with the bat, which has been good."
Rasmus is hitting .238 with two homers and five RBIs this spring, but he carries a .484 on-base percentage that's the product of nine walks. Rasmus is not trying to draw more walks, but he said perhaps he's getting more respect from umpires now.
"I've got a little [service] time under my belt," Rasmus said. "I just try to go about my day and play the game right. I don't try to disrespect anybody. Being able to get some of those borderline pitches called balls is a big thing in this game, and the good hitters are able to do that. I'm just trying to get good pitches to hit, not necessarily to walk."
Last season with the Blue Jays, Rasmus hit .225 with 18 homers and 40 RBIs and admitted that Toronto wasn't quite a good fit. Now that he's back in the south -- he's from Alabama -- and will be playing his home games on natural grass, Rasmus hopes his bat benefits from his newfound comfort.
"I'm the type that if I have to sacrifice my hitting for my outfield [progress], I usually do that," Rasmus said. "I take pride in playing defense and making good plays, and to be able to do that takes a toll on your body, running into walls and things like that. Not that it's going to be any easier [in left], but I think it will make a difference."
Brian McTaggart is a reporter for MLB.com and writes an MLBlog, Tag's Lines. Follow @brianmctaggart on Twitter. This story was not subject to the approval of Major League Baseball or its clubs.