Pomeranz labors through hip tightness in shaky start
Lefty fans four, walks four in latest spring start vs. Cubs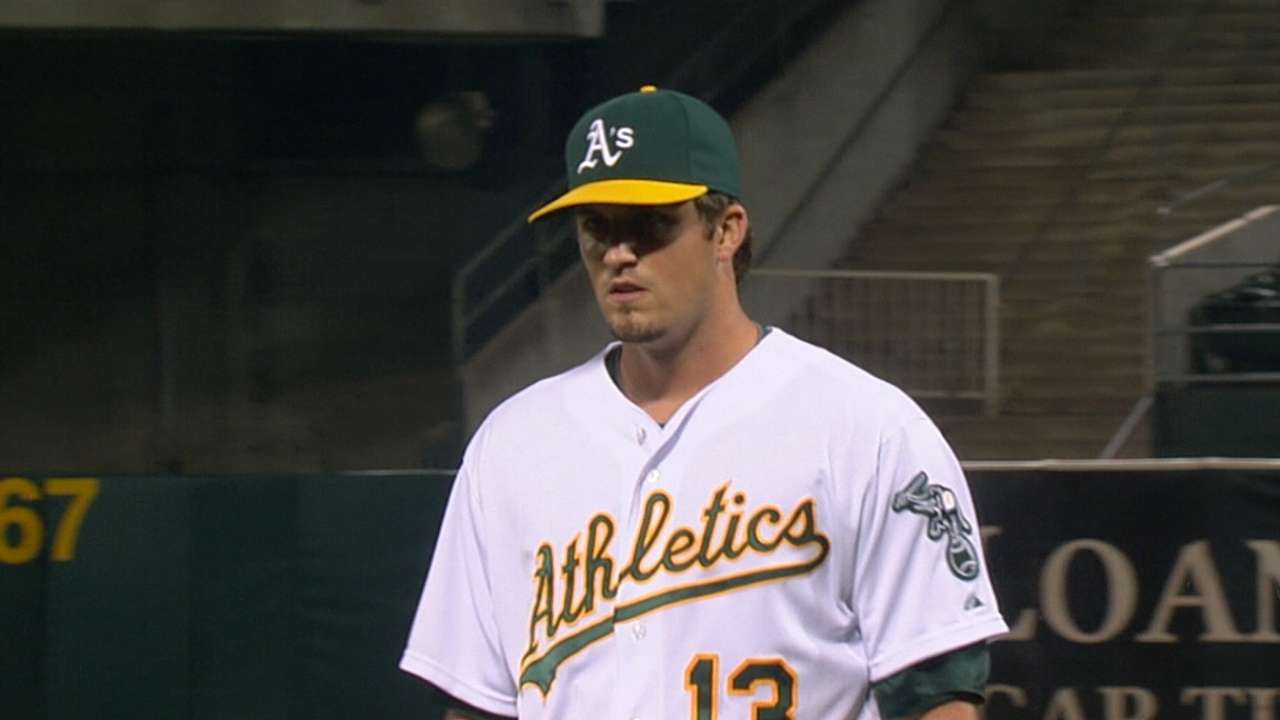 MESA, Ariz. -- A's rotation candidate Drew Pomeranz, looking to impress the decision-makers in a start against the Cubs on Tuesday, instead labored through just 2 2/3 innings as a result of right hip tightness, he said.
The problem is familiar but not serious for the southpaw, who has dealt with it in the past, particularly during Spring Training. On Tuesday, the tightness crept up during warmups and simply never alleviated, hindering his ability to finish pitches.
"It never loosened up," Pomeranz said. "I thought it would and it didn't, so I was fighting myself, fighting my front side the whole day. Made it a little difficult to fill up the zone."
Pomeranz struck out four but also walked four -- he had issued just three walks total in his previous three outings -- and he allowed two runs on three hits, including Kris Bryant's third-inning solo shot.
By the time he spoke to reporters, Pomeranz had already had his hip adjusted and said, "It shouldn't be something that's sore past today."
The 26-year-old, who has fanned 19 of his 55 batters this spring, appears to be in a battle with Jesse Chavez for the final rotation spot with less than two weeks to go until Opening Day. Right-handers Kendall Graveman and Jesse Hahn seemingly have already pitched their way into the rotation with superb springs.
Pomeranz and Chavez both prefer to start, but with room for only one in the rotation, the other is expected to begin the season as a long reliever.
"I want to start," Pomeranz said. "I want to be in the rotation. I don't want to leave any doubts."
Jane Lee is a reporter for MLB.com. This story was not subject to the approval of Major League Baseball or its clubs.