Foltynewicz rattled by Phils, but still in rotation mix
Braves' No. 2 prospect gives up two homers, two walks in 2 2/3 innings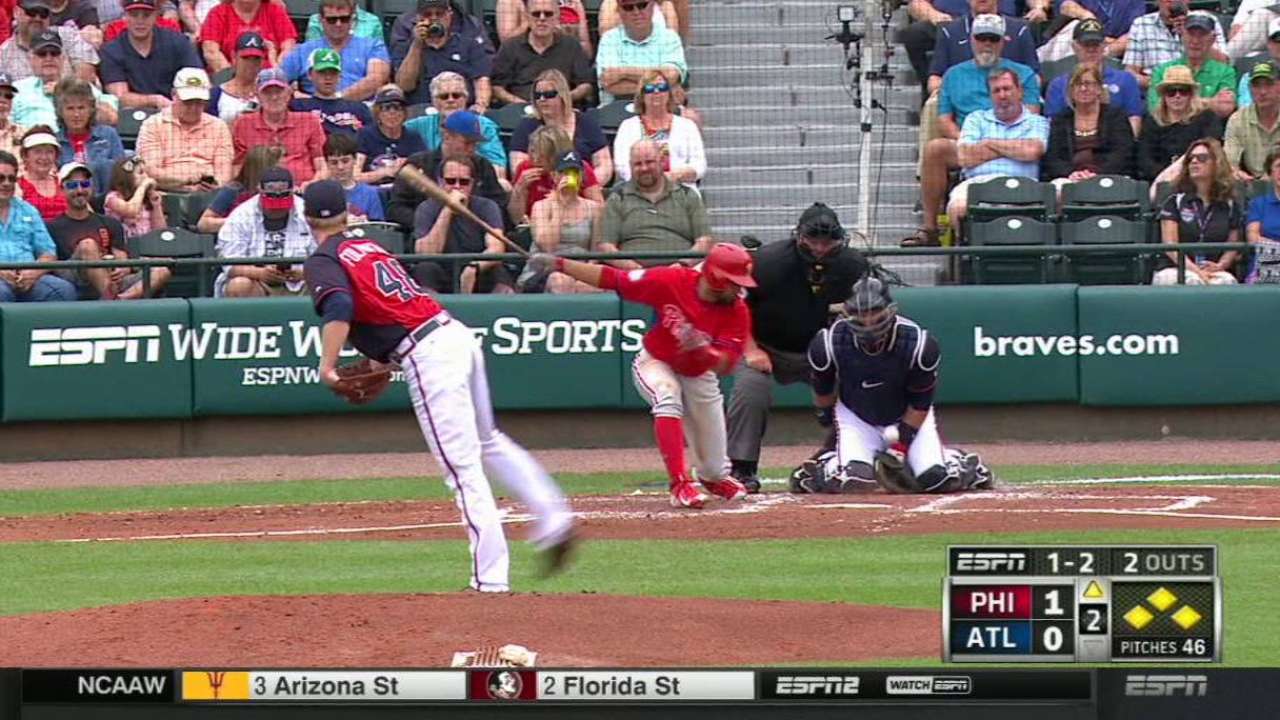 LAKE BUENA VISTA, Fla. -- Though the Braves entered Spring Training hoping Mike Foltynewicz would begin the season in the rotation, they have been prepared for the possibility that this immensely talented arm would need more seasoning at the Minor League level.
With the regular season a little less than two weeks away, the Braves have not finalized their rotation. But Foltynewicz certainly influenced the lingering decisions as he labored through 2 2/3 innings during Tuesday's 5-3 loss to the Phillies at Champion Stadium.
"He's a guy that has a nice arm and a great body," Braves manager Fredi Gonzalez said. "He's still learning. He's still got to figure out that you've got to pitch. This is not throwing, and it's not 'see how [hard] you can throw.' It's about getting people out."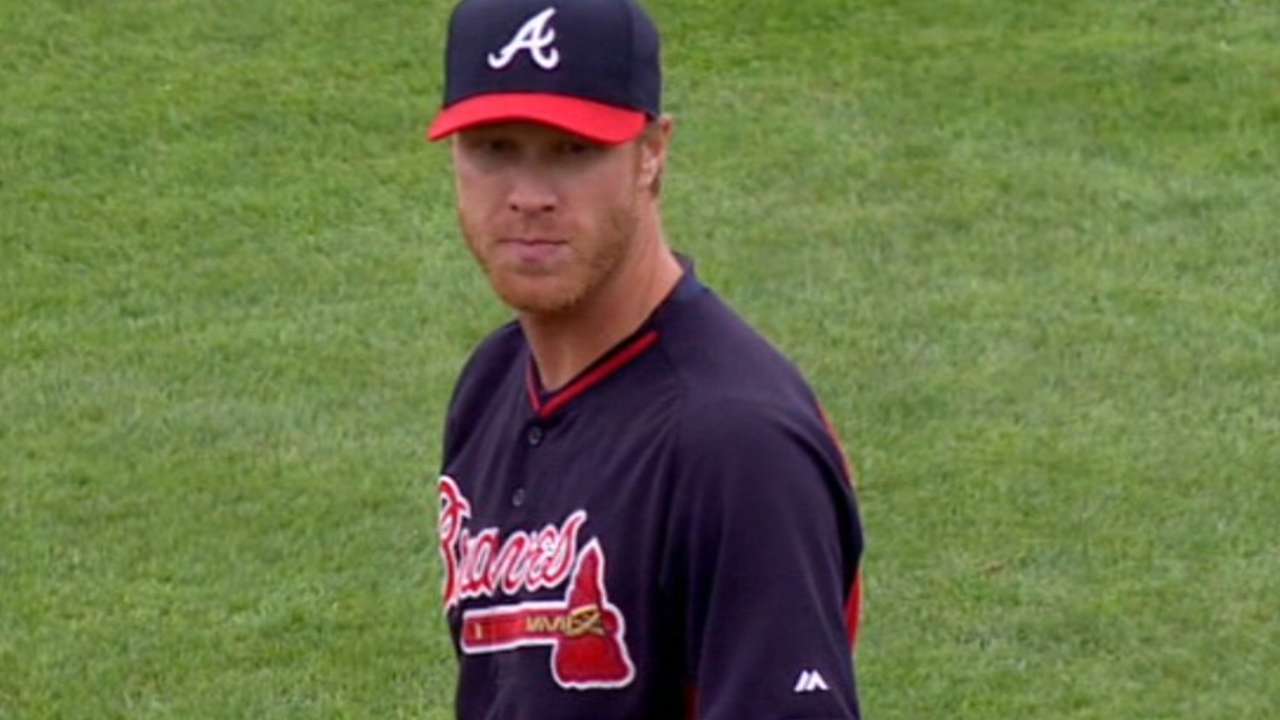 Foltynewicz seemed to be fine when he notched a pair of strikeouts in Tuesday's scoreless first inning, which concluded with Ryan Howard swinging through a 97-mph fastball. In fact, it appeared the righty had picked up where he left off last week, when his efficient start against the Yankees seemed to distance him from the inefficiency he had displayed in his only two previous starts of this Grapefruit League season.
But the remainder of the outing proved to be rough for Foltynewicz, who in the second inning surrendered a pair of hits and issued consecutive two-out walks, including one to Phillies starting pitcher Serverino Gonzalez.
When asked if he felt home-plate umpire Joe West might have squeezed the strike zone during Gonzalez's plate appearance, Foltynewicz chose not to comment. But he admitted he allowed his emotions to get the best of him during that second inning and again in the third inning when he surrendered home runs to Howard and Darin Ruf on consecutive pitches.
"You've got that added pressure of trying to make a team, and then you go out and get hit around like that. You're thinking in the back of your head, 'Is that going to hurt my chances of making the team?'" Foltynewicz said. "I really need to be relaxed out there, and I'm really trying my best. But those things go through your head, and it's really hard to be relaxed when that happens."
Foltynewicz has surrendered 15 hits and issued seven walks in just 7 2/3 innings this year. Though he can improve his stock during his final two Grapefruit League starts, he is running out of time with his battle against Wandy Rodriguez and Eric Stults to secure one of the two vacancies in Atlanta's rotation.
Foltynewicz's final start of the spring season could occur on April 3, the same day Stults can opt out of his Minor League deal if he is not guaranteed a spot on the Major League roster. Rodriguez has an April 1 opt-out date.
Though it might appear Foltynewicz will begin the upcoming season with Triple-A Gwinnett, Gonzalez wants the Braves' No. 2 prospect to go through the final weeks of camp preparing like he will be a member of Atlanta's starting rotation.
"A lot of stuff can happen, and there's a lot of games to be played," Gonzalez said. "We play a dangerous sport. We've seen it where a guy gets a comebacker and somebody tears up a finger nail. He's got to be ready."
Mark Bowman is a reporter for MLB.com. This story was not subject to the approval of Major League Baseball or its clubs.