Another homer shows Ruf heating up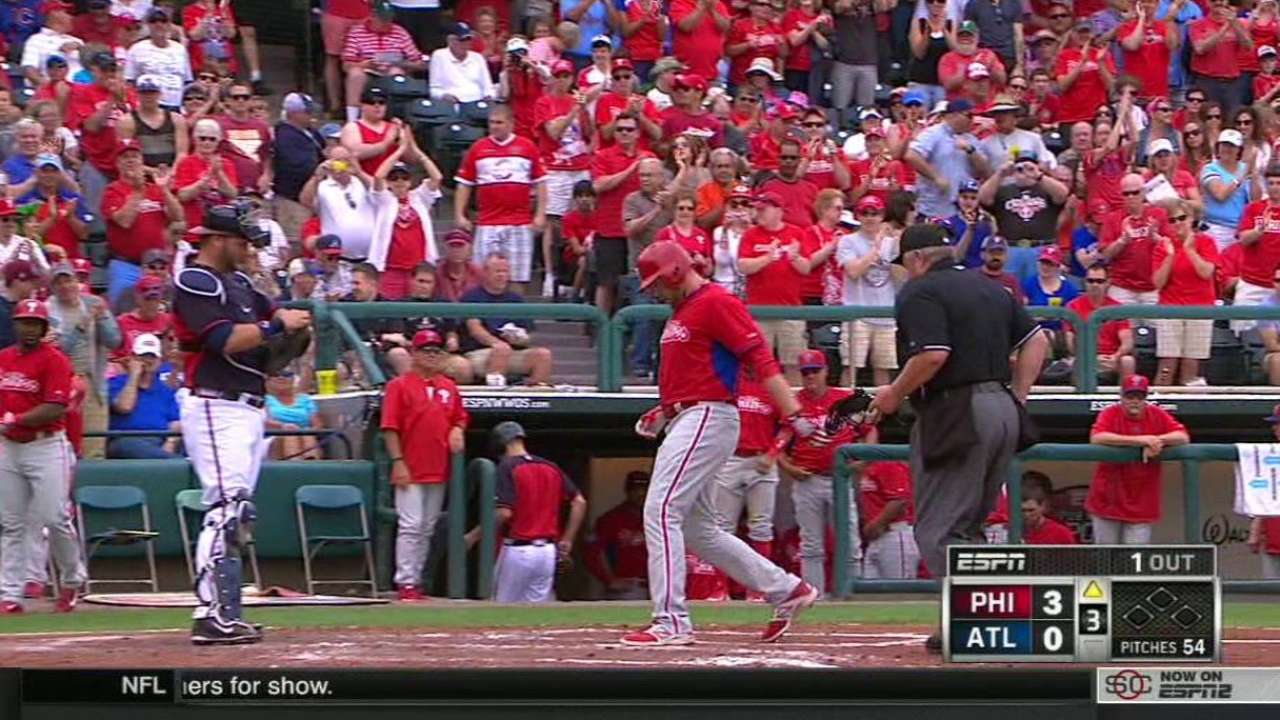 LAKE BUENA VISTA, Fla. -- Phillies outfielder Darin Ruf had a slow start to spring, but he remains in good shape to make the Opening Day roster.
The Phillies need right-handed bats, preferably with power. Ruf fits that description, and in Tuesday's 5-3 victory over the Braves at Champion Stadium, he went 3-for-5 with one double, one home run and one RBI. He also scored the go-ahead run in the eighth.
Ruf is hitting .385 (5-for-13) with one double, two home runs and two RBIs in his last five games. He opened the spring hitting .172 (5-for-29) with one double in nine games.
"I would narrow that down to maybe the last three [games]," Ruf said about feeling better at the plate. "I'm feeling a little more comfortable. I've been working on something new every day, just changing things up to try to get comfortable. My timing has been better."
Ruf took some at-bats in Minor League games last week, which seemed to help.
"I think my hands were creeping a little too far up," Ruf said. "I worked with Mike [Schmidt] and Sal [Rende], and I started my hands back a little more. That way when I start my swing, they're a little bit quicker."
Said Phillies manager Ryne Sandberg: "[He's been] a little more aggressive. I think he's found a stance that he likes as far as the hand slot. He's real short to the ball and aggressive in the count. That's a good combination from him. That's kind of what we've been preaching to him. It's good to see him take advantage of those hitting situations and be swinging the bat in those counts."
Todd Zolecki is a reporter for MLB.com. Check out his Phillies blog The Zo Zone. Follow him on Twitter. This story was not subject to the approval of Major League Baseball or its clubs.