Ubaldo's strong start has him in running for O's rotation spot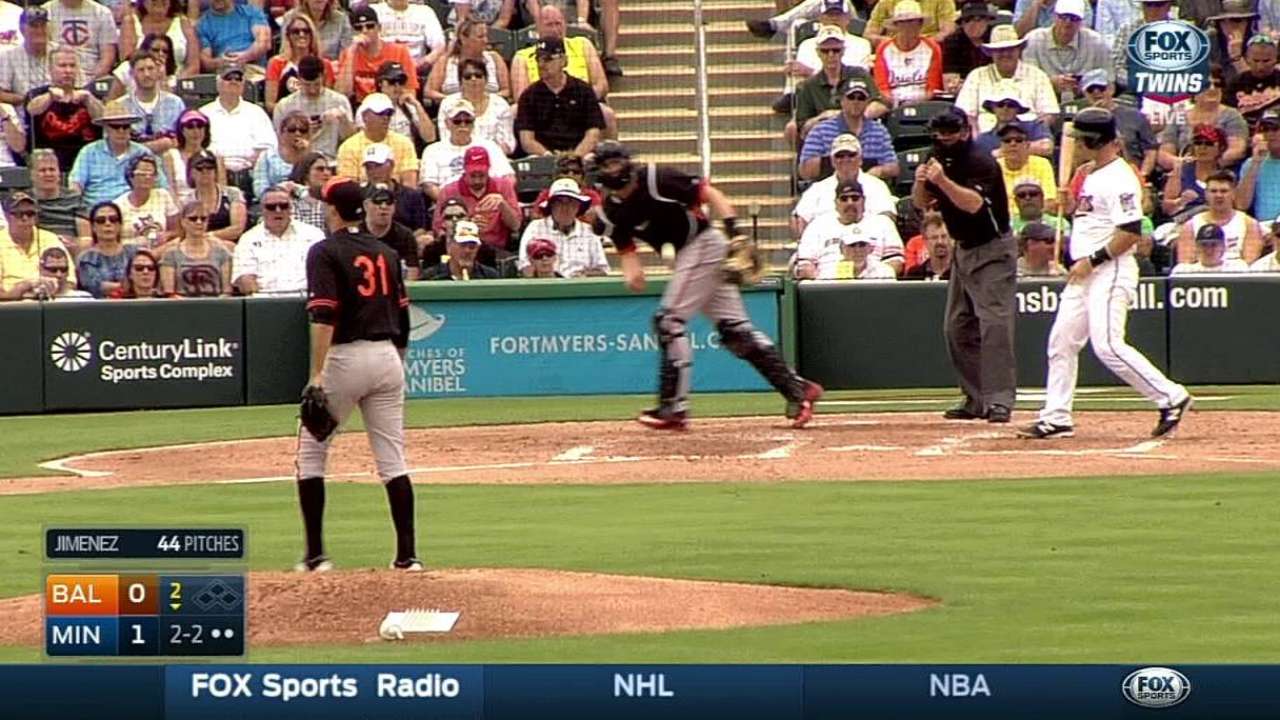 BRADENTON, Fla. -- High walk totals have plagued Ubaldo Jimenez throughout his career, but especially last season, when he walked nearly 14 percent of the batters he faced.
But Jimenez has seemingly turned a corner this spring, walking only one batter over his last 13 innings spanning three Grapefruit League starts. He was at his best Tuesday, throwing five scoreless innings without issuing a free pass as the Orioles beat the Pirates, 9-2, at McKechnie Field on Tuesday.
"It feels like you're controlling the game instead of letting the game control you," Jimenez said. "Every time you start walking people, it's frustrating -- not only for me, but for everyone. Even the guys, the teammates on the field, are probably going to get tired of you throwing balls."
On Tuesday, Jimenez did everything he needs to do in order to be effective.
He was quick to the plate. He got ahead in the count and stayed there. He gave up only four hits. He induced weak ground balls and struck out three batters.
And the 31-year-old right-hander was efficient in doing so, getting through his five innings of work so quickly that he had to head down to the visitors' bullpen and throw until he reached his pitch count for the day.
"That's always a good sign," manager Buck Showalter said.
Jimenez attributed his success to improved fastball command, saying he was able to throw his two-seamer to both sides of the plate in any count. He said he was able to pitch without thinking about his mechanics, without worrying about his delivery.
"Everything is where it's supposed to be," Jimenez said.
At this point of the spring, that feeling is probably more important than a pitcher's results.
But don't be mistaken. After going 6-9 with a 4.81 ERA last year, Jimenez was certainly pleased with his final pitching line.
"Of course it feels good. You can't be lying and say it doesn't feel good," Jimenez said. "It feels really good because it makes you comfortable and more confident for your next outing. Knowing that you had a good game and you're controlling the game and throwing strikes. That's what you have to take into the next game."
The Orioles have six starters competing for five spots. At some point, they will going to have to decide where -- or if -- Jimenez fits in their rotation.
Showalter said he's pleased with how all six of his potential starters have pitched this spring, and the Orioles will use all of the time they have left to make that decision.
Jimenez showed Tuesday why his name still belongs in the conversation.
"Nobody wants it more than Ubaldo," Showalter said. "He wants to be a consistent contributor."
Adam Berry is a reporter for MLB.com. Follow him on Twitter at @adamdberry. This story was not subject to the approval of Major League Baseball or its clubs.