Kang still getting acclimated to life in the Majors
McCutchen grants another wish, Stewart working his way back from injury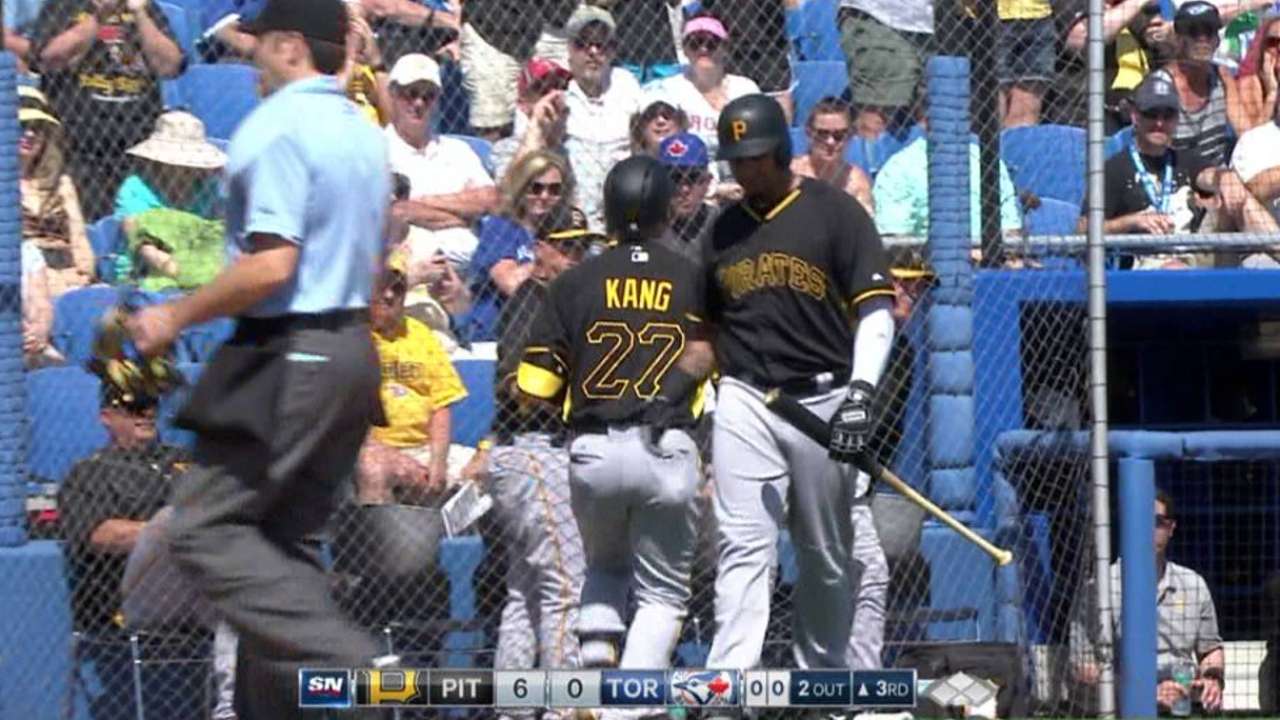 BRADENTON, Fla. -- The Pirates are giving Jung Ho Kang all that the club believes he needs -- plenty of at-bats. Kang hasn't yet reciprocated by giving the Bucs what they need.
Resurfacing on Tuesday after three days in the baseball workshop, Kang was the Bucs' lone position player to play all nine innings in a 9-2 defeat to the Orioles. However, an 0-for-4 extended his hitless streak to 15 at-bats and two more strikeouts gave him nine in that stretch.
"He's got that leg kick, so we're working on [his] timing," manager Clint Hurdle said. "He's seeing more spin [breaking balls], from different left-handers and right-handers. We're trying to get him swings and reps.
"It's the same as for anybody else, really. His timing is off a bit, so you try to find him extra at-bats."
Kang will be out of the lineup for the Bucs' next game, Thursday against the Braves at McKechnie Field. Instead, he will returrn to Pirate City to get "six to eight at-bats" in a Minor League exhibition.
With Neil Walker serving as the DH, Kang played second, where he had a comprehensive day. He initiated a double play in the first, was the middleman in four other twin-killings, miscommunicated with first baseman Pedro Alvarez on an infield pop up that they let drop, drew a mental/physical error for being out of place on a throw from the outield and handled multiple routine grounders.
Touching all the bases
• First: Andrew McCutchen and the rest of the Pirates family fulfilled Blaise Fischer's wish to be a Bucco, giving the 9-year-old and his family a two-day run of Pirate City and McKechnie Field. Working with Make-A-Wish of Greater Pennsylvania and West Virginia, the Bucs hosted Blaise at their Pirate City complex on Monday and on Tuesday promoted him to the Majors. He worked out with McCutchen and other players prior to delivering the first pitch before the Grapefruit League game against Baltimore.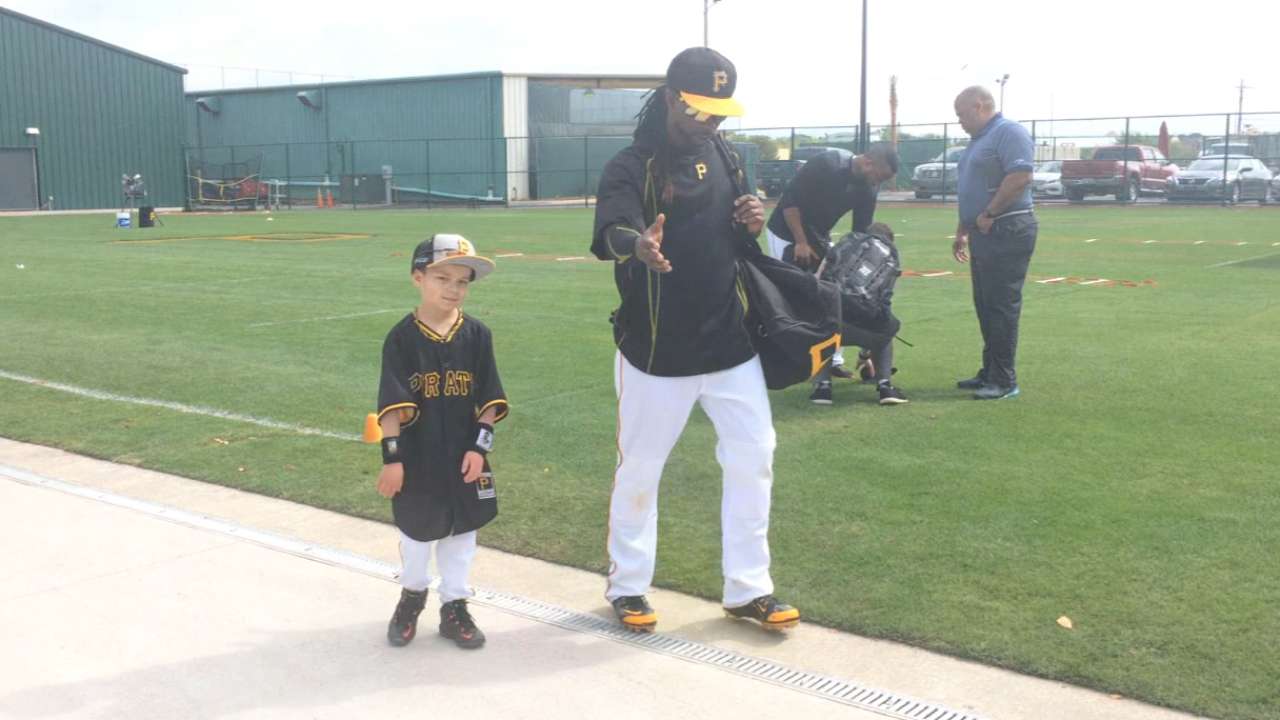 • Second: Key Buccos pitchers will be moonlighting in the Minor League camp to ration Grapefruit League innings to other staff candidates. Gerrit Cole and Francisco Liriano are down for 100-pitch outings in Minors games on Thursday and Friday, respectively.
• Third: Chris Stewart (strained hamstring) "started his return to baseball activity," Hurdle said, by participating in pregame infield and taking batting practice.
• Home: Tuesday's crowd pushed the McKechnie Field spring total to 87,242, and in Thursday's game against the Braves, the Pirates could potentially break their record of 93,433 set two years ago.
Tom Singer is a reporter for MLB.com and writes an MLBlog Change for a Nickel. Follow him on Twitter @Tom_Singer. This story was not subject to the approval of Major League Baseball or its clubs.