Gonzalez sharp in first outing with Phils
Prospect, eyeing callup this year, tosses three scoreless innings vs. Braves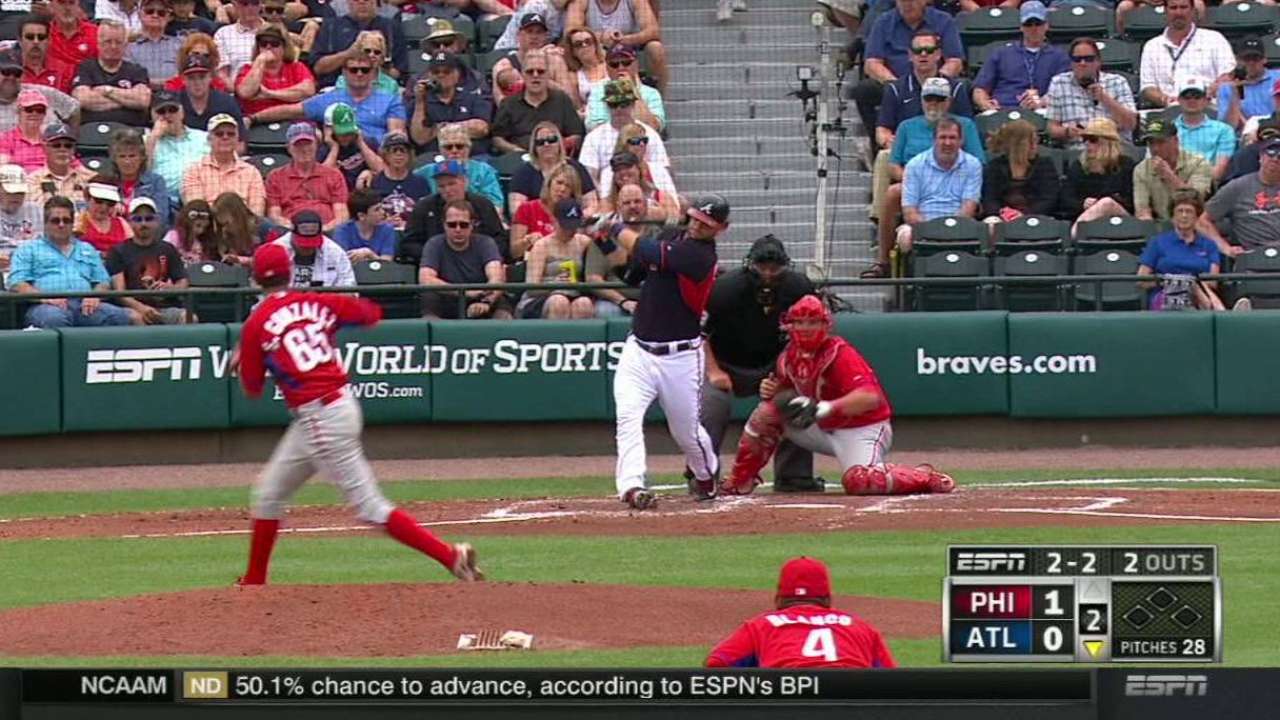 LAKE BUENA VISTA, Fla. -- Phillies prospect Severino Gonzalez is listed at 6-foot-1 and 153 pounds. He is so unassuming, he looked like the bat boy as he carried a couple bats and a batting helmet toward the visitors' clubhouse Tuesday at Champion Stadium.
But Gonzalez, 22, had just pitched three scoreless innings in a 5-3 victory over the Braves.
He held a lineup that included Freddie Freeman, Nick Markakis and Jonny Gomes to four hits. He struck out two.
"I'm very, very happy," he said through an interpreter, radio personality Rickie Ricardo. "It was my first time ever in a Major League game, so I'm very pleased."
Gonzalez is the organization's No. 15 prospect, according to MLB.com. The Phillies named him their Minor League Pitcher of the Year in 2013, but he struggled a bit in his second season with Double-A Reading in 2014.
There is a plausible explanation for that. The Phillies told Gonzalez to stop throwing his cutter and work on his changeup, which needed to improve. He went 9-13 with a 4.59 ERA in 27 starts, although he finished in the Top 10 in the Eastern League in innings pitched, strikeouts and WHIP.
He led the entire Phillies' farm system in starts and innings.
He got the start Tuesday because Aaron Harang pitched in a Minor League game at Carpenter Complex in Clearwater, Fla. Harang has been battling back problems this month, so there was no reason to put him on a lengthy bus ride.
Gonzalez got the good news on Sunday.
"I was nervous when I first found out, but then I said to myself: 'It's the same kind of baseball. All I have to do is go out there, do my thing, and everything will be fine,'" Gonzalez said.
Gonzalez thinks everything will be fine this season, too. He has big goals.
"I want to get called up in September," he said. "I want a taste of the Major Leagues this year."
He got his first taste Tuesday, and he fared well, impressing manager Ryne Sandberg.
"I think he backed up [wanting a callup] with his outing," Sandberg said. "ESPN game against the Braves. They had some good hitters in the lineup that he faced. Great pace of game. Great tempo. He threw a lot of strikes. He mixed his pitches well. I really liked the way he got the sign and delivered the pitch."
Todd Zolecki is a reporter for MLB.com. This story was not subject to the approval of Major League Baseball or its clubs.