Lavarnway ready to step up and be O's backup catcher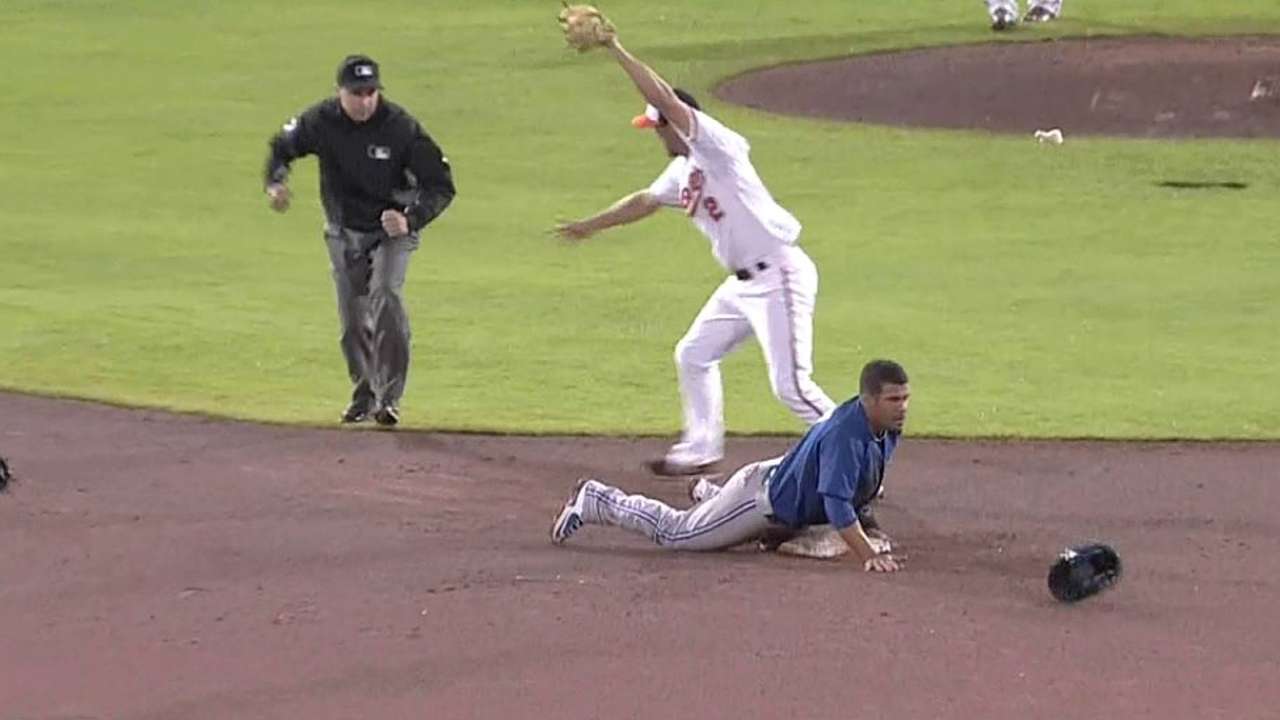 BRADENTON, Fla. -- The news about Matt Wieters' elbow likely pushes Caleb Joseph into the role of starting catcher for the Orioles come Opening Day. It also opens up the backup catcher competition until then.
Ryan Lavarnway is one of the players looking to seize the opportunity. Baltimore's other top internal options include Steve Clevenger, J.P. Arencibia and Brian Ward.
"I've been happy with my camp so far," Lavarnway said Tuesday morning. "I think as far as where I stand, that's a better question for [Orioles manager Buck Showalter] or [executive vice president Dan Duquette]. But I feel really comfortable, and I'm just trying my best."
Lavarnway is hitting just .238 in Grapefruit League play this spring, and he's put together a .201/.249/.315 batting line in 301 Major League plate appearances.
Lavarnway has an impressive Minor League track record offensively, however. Last year, he hit .283 with a .389 on-base percentage in 62 games for Triple-A Pawtucket. He averaged 25 homers per year from 2009-11 in the Red Sox organization.
Then again, the Orioles have prioritized defense in their search for a second catcher.
Lavarnway, who started Tuesday's 9-2 win over the Pirates at McKechnie Field, began the spring by throwing out only one of the six runners who tried to steal against him. Over parts of four seasons in the Majors, Lavarnway is 10-for-63 in that department.
But the 27-year-old made two accurate throws to thwart a pair of potential basestealers on Tuesday, gunning down Gregory Polanco in the first and Jordy Mercer in the third.
"I think as a catcher, defense is always a huge priority," Lavarnway said. "I'm just trying to do my best in every aspect of the game and let the chips fall where they may.
"I'm just trying to learn each [pitcher], kind of what makes them tick and what their strengths are and how I can get the best out of each one of them."
Drafted and developed as a catcher, Lavarnway spent 31 games at first base last year for Pawtucket and only 15 at catcher. He was strictly a first baseman during two short call-ups with the Red Sox last year.
"I definitely prefer being a catcher," he said. "I'm willing to do whatever they want me to do, but I prefer to catch."
Adam Berry is a reporter for MLB.com. Follow him on Twitter at @adamdberry. This story was not subject to the approval of Major League Baseball or its clubs.