Crisp to miss time after receiving cortisone shot
Veteran outfielder a late scratch vs. Cubs with elbow soreness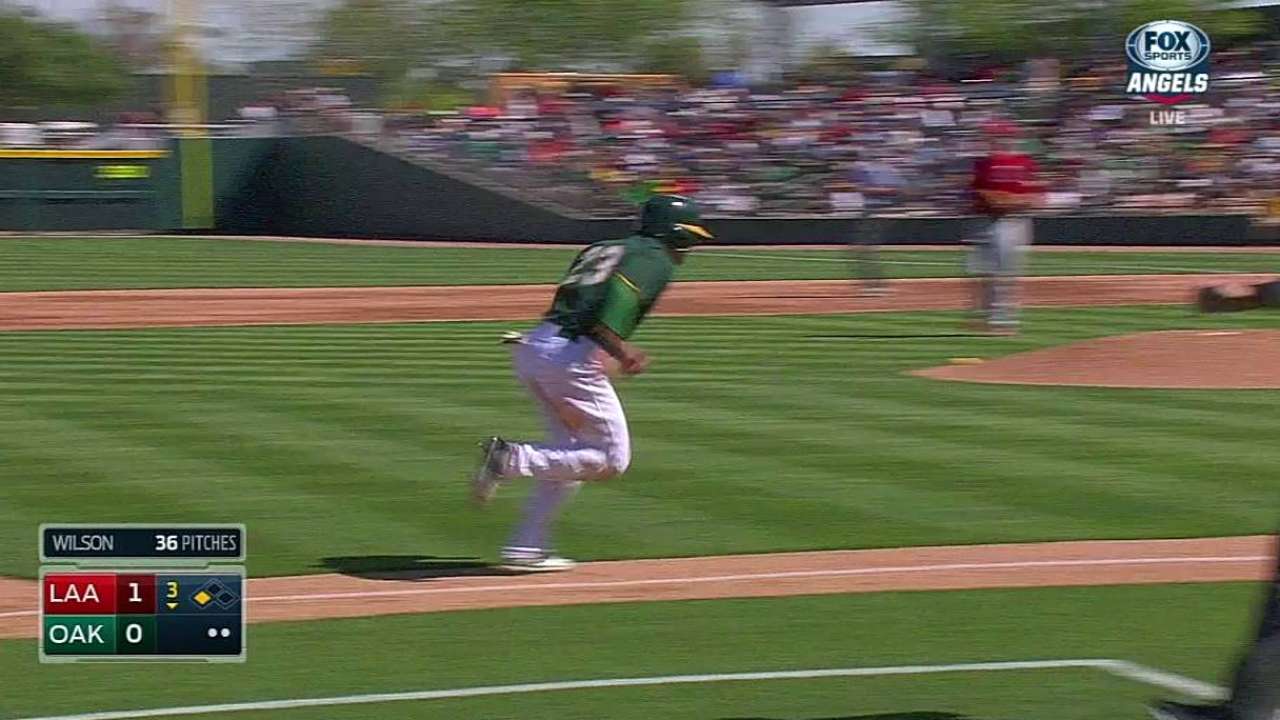 MESA, Ariz. -- A's outfielder Coco Crisp was a late scratch from Tuesday's lineup against the Cubs because of soreness in his right elbow, and he's expected to miss several more games after receiving a cortisone shot in the area.
Billy Burns replaced him in the leadoff spot, playing in left field and going 2-for-6 in the A's 14-2 win.
Crisp, who was seen wearing an ice pack on his elbow Tuesday morning, already missed a good chunk of time this spring because of the same issue.
He's totaled just 15 Cactus League at-bats, with only two hits to his name. But when asked about potential concern over his slow start, manager Bob Melvin said, "Coco's really the last guy we're worried about as far as being ready.
"He's probably the one guy here who could get 25 plate appearances and be ready to go. We've seen him be on a disabled list and not have to do a rehab assignment. It's all about keeping him healthy here. … We're just trying to get him to the finish line healthy."
• Third baseman Brett Lawrie, though expected back in the lineup Tuesday, was given one more day to recover from general soreness. He's tentatively scheduled to return Wednesday.
• Right-hander A.J. Griffin, rehabbing from Tommy John surgery, utilized all of his pitches for the first time in his latest bullpen session Tuesday and reported no issues, saying, "Everything feels good." He'll throw another bullpen Friday.
Jarrod Parker, meanwhile, will next pitch in a simulated game. Both starters remain on track for a June return.
• Outfielder Josh Reddick (right oblique strain) progressed to hitting soft toss on Tuesday. The A's are hopeful he could be back in a game sometime this weekend, which could give him enough time to be ready for Opening Day.
Jane Lee is a reporter for MLB.com. This story was not subject to the approval of Major League Baseball or its clubs.