Johnson pitches way into potential callup conversation
Another sharp outing has prospect among options to start for Boston if injury occurs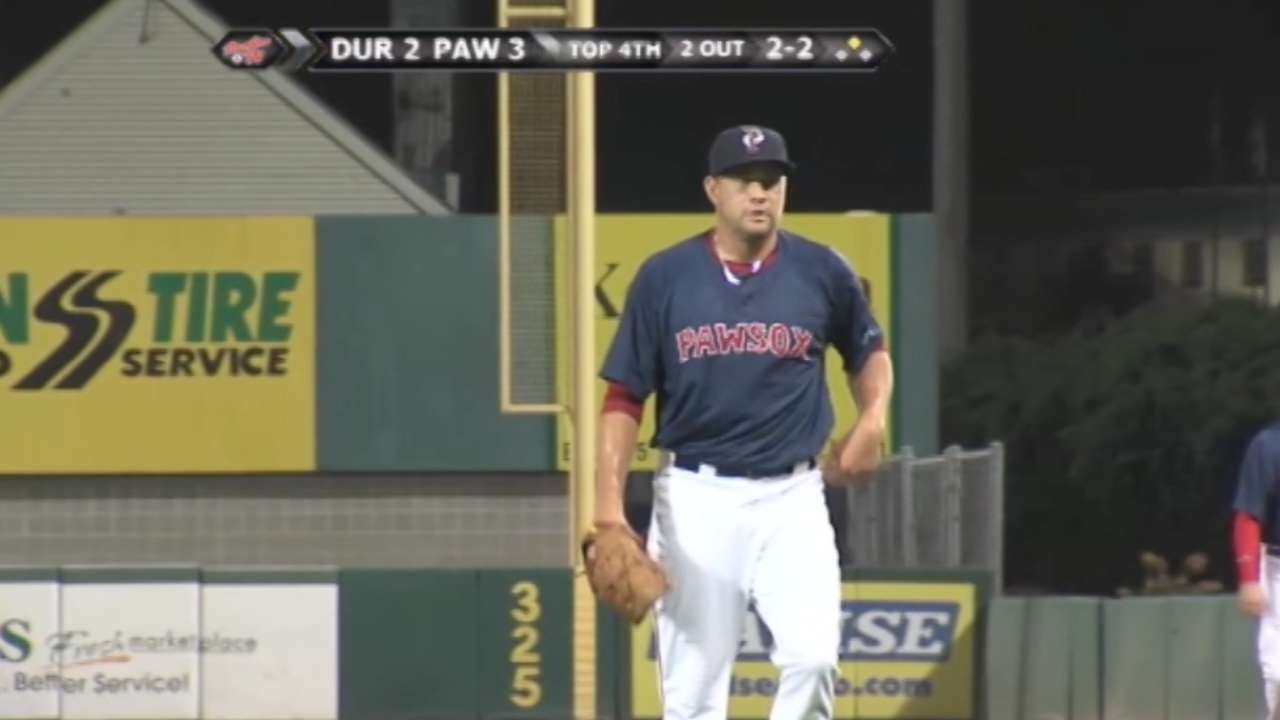 JUPITER, Fla. -- Brian Johnson, meet Giancarlo Stanton.
Much like everything else in his first Major League Spring Training, Johnson was unfazed by facing perhaps the most feared hitter in the game. In their first encounter, Johnson induced Stanton into a grounder to short. And in the third inning, the lefty struck out Stanton swinging on a sweet 75-mph curve.
"I've never seen him before, other than on TV," said Johnson. "He's a huge presence in the box; I didn't realize how tall he was. Other than that, I just tried not to put too much into that. Whatever [catcher Blake] Swihart put down was what I wanted to go with, and I just stayed locked in on the mitt."
Johnson won't break camp with the Red Sox, but he has emerged into a strong candidate to be called on for a spot start or two at some point in the near future.
Earlier in camp, manager John Farrell talked about trying to get a handle on a preferred order for depth starters if one of the regular rotation members suffers an injury. Knuckleballer Steven Wright and Johnson are the two who have clearly emerged from the pack.
"Honestly, I just try to go out there and make my presence felt," Johnson said. "Just go out there and do the best I can, and at that given point in time, hopefully it works out. I try to work as hard as I can on my five days and what leads up with that."
Johnson, a supplemental pick (31st overall) in the 2012 First-Year Player Draft, has impressed the Red Sox with his pace and command.
"I thought he threw the ball as good as he has in previous outings," said Farrell. "An occasional four-pitch walk, but he was able to get a ground-ball double play. He shows three very good pitches for strikes. The breaking ball curveball is what he continues to show increased sharpness and depth to it. I thought it was a solid outing for him today."
Over 3 2/3 innings, Johnson gave up one hit and one run while walking three and striking out five, lowering his Grapefruit League ERA to 2.38.
"He's been impressive with the strike-throwing ability, the overall stuff, the action to his breaking ball," said Farrell. "He's been impressive in Spring Training."
Things haven't gone as well for Henry Owens, who's ranked fourth among lefty pitching prospects by MLB.com. Pitching in relief against the Marlins, Owens was rocked for six runs (four earned) on four hits and a walk over 1 1/3 innings.
"Well, he didn't command the count, particularly in the second inning of work," said Farrell. "I thought they laid off some changes that otherwise he might have been accustomed to getting swings at some lower levels. He's not accustomed to coming into the bullpen late in the game.
"At some point we have to get him back to his normal routine and start to stretch him out. I think the experience against big league hitters has been invaluable for him, and just an indication that there's still some work to be done here."
Ian Browne is a reporter for MLB.com. This story was not subject to the approval of Major League Baseball or its clubs.