McCutchen not worried about being ready for season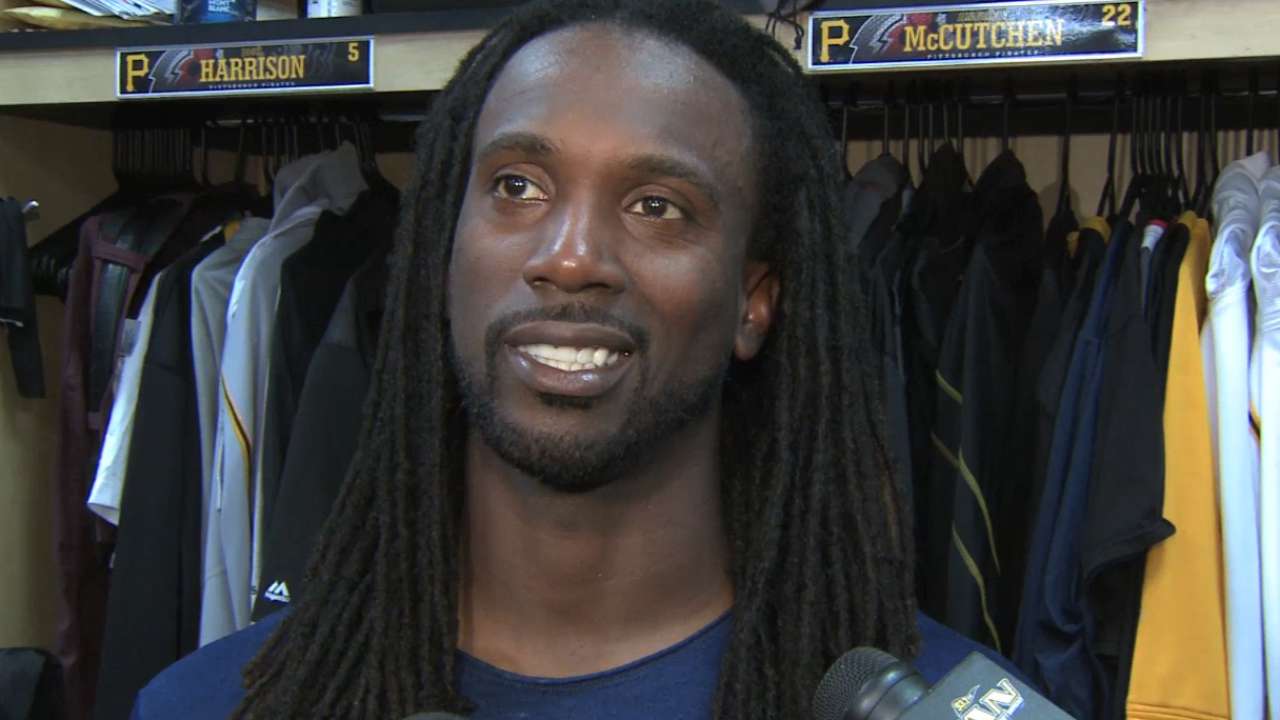 BRADENTON, Fla. -- In giving some insight into why he chose to lay low for a dozen days with "lower-body soreness," Andrew McCutchen also gave some insight into his makeup.
"There was no sense pushing it," McCutchen said on Tuesday following his first game action since March 12. "I'll make it worse when it counts."
That is, McCutchen reaffirmed that had this been the regular season, he would have been playing. Calling on his veteran wiles, he took the time out because "I wasn't worried about being ready for the season. That was never an issue."
McCutchen's body told him he was ready to play after "running, sprinting … feeling good."
McCutchen played only the first four innings of the Bucs' 9-2 loss to the Orioles on Tuesday in the field and went 0-for-2 at bat -- he flied out to right in the first and struck out swinging in the fourth. But merely seeing him between the lines was an elixir for the Pirates on an otherwise dour day.
Any curiosity about the condition of McCutchen's legs was quickly answered when Delmon Young conveniently lifted a fly to short center in the first. From his deep positioning for the power hitter, McCutchen ran in on a dead sprint to make the catch waist-high.
"I felt good. I caught it. And I got [a base hit to him] in," he said. "Same old …"
McCutchen will play consecutive games because an off-day Wednesday will precede Thursday's home game against the Braves. But he may still get a break from playing on consecutive days.
Although only 10 games remain on the spring schedule, and he has had only 15 plate appearances, McCutchen still has no doubts about answering the bell when it rings on April 6 in Cincinnati.
"I'll get back to where I need to be. If I have to, I can go to the Minor League camp to get a handful of at-bats [in Minor League exhibition games]," he said.
"He's in a good place," noted manager Clint Hurdle. "He said he felt good today. If he needs at-bats, we can get him six-to-eight a day in Pirate City. I don't have any concerns about him at all."
Although this might have been the preferred time to sit, McCutchen did not enjoy the inactivity any more than he had while on the disabled list last August -- when he hated it.
"I had to do it once during the season," he recalled, "and it wasn't fun. Doing it in Spring Training was different, but definiterly boring. I appreciate being able to play."
Given that mindset, McCutchen naturally did not want to hear of Hurdle's tentative plans to give all of his regulars more rest during the upcoming season.
"I'm not too fond of days off, unless something [physical] is hindering me," McCutchen said. "My goal is to get out there every day. Taking days off isn't my mentality."
Tom Singer is a reporter for MLB.com and writes an MLBlog Change for a Nickel. Follow him on Twitter @Tom_Singer. This story was not subject to the approval of Major League Baseball or its clubs.