MLB.com Columnist
Jonathan Mayo
MLB Pipeline checks in from Indians camp
Top prospect Lindor continues garnering praise; Frazier talks big league adjustments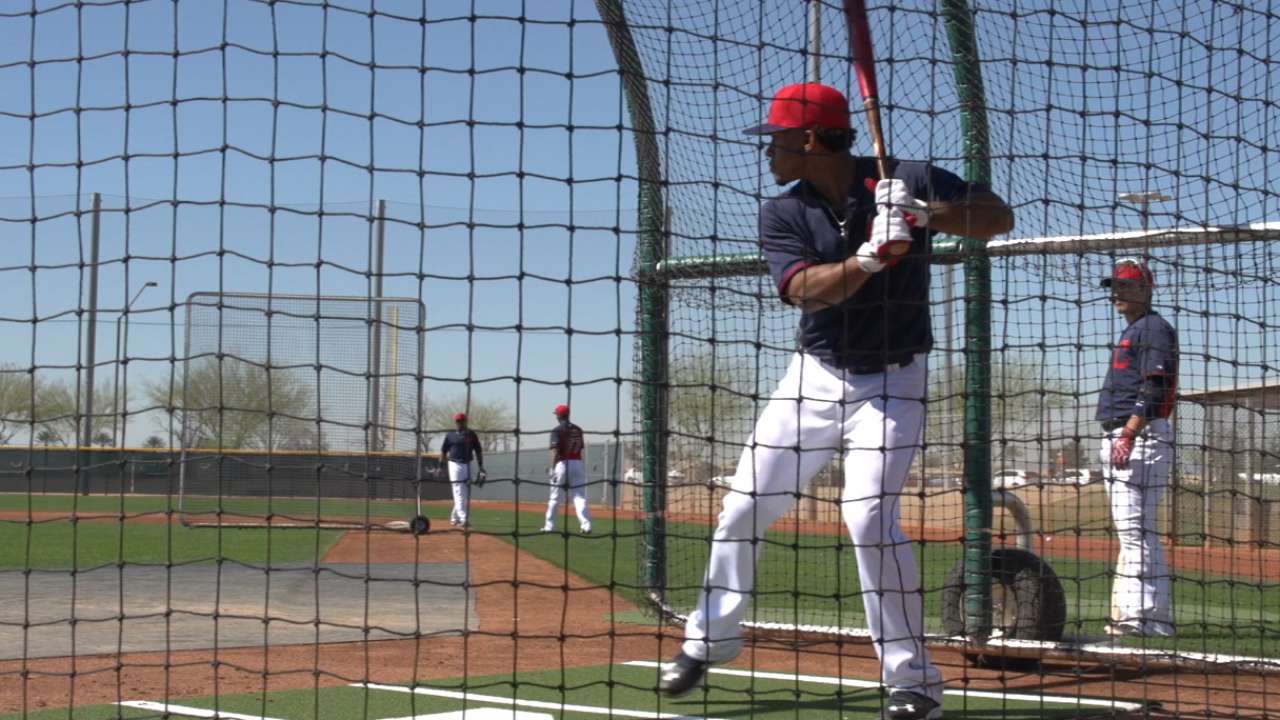 Every Spring Training, prospects get a chance to show what they can do as they prepare for the season ahead. Some are competing for jobs in big league camp, others are prepping for the season as they vie for spots at Minor League affiliates up and down a team's system. MLBPipeline.com will be visiting all 30 camps this spring. Today, we check in on the Cleveland Indians.
GOODYEAR, Ariz. -- When you have one big-time elite prospect in your organization, it would be easy to let him overshadow the rest of your system.
The Indians do have more than just Francisco Lindor to look forward to in the future, with last year's Draft particularly helping to build behind him. The 2014 Draft class takes up four spots in Cleveland's Top 30, and all are experiencing their first Spring Training now.
MLB Pipeline Spring Training Reports
But as much as the Indians may want to talk up the other guys in the pipeline, there's also an understanding that conversation will invariably turn to their prized shortstop, who continued to turn heads this spring. Given how he carries himself and goes about his business, no one is complaining about Lindor's shadow.
"We don't feel like there's a big gap with Francisco [and others in the system]," vice president of player personnel Ross Atkins said. "We feel there are a lot of very talented players. Having said that, the way we think about the benefit of having such a talented and on his way and impressive young man as Francisco Lindor, is he's also one of the hardest-working, most committed players we have. One of our most talented players is also raising the bar for himself every year, which sets an incredible standard and example for all of those other guys."
Camp standouts
Any standout conversation has to start with Lindor, who hasn't blinked at the spotlight and expectations thrust upon him. He's hit well and, of course, played outstanding defense at short, giving the Tribe a sign he might be forcing the team's hand sooner rather than later.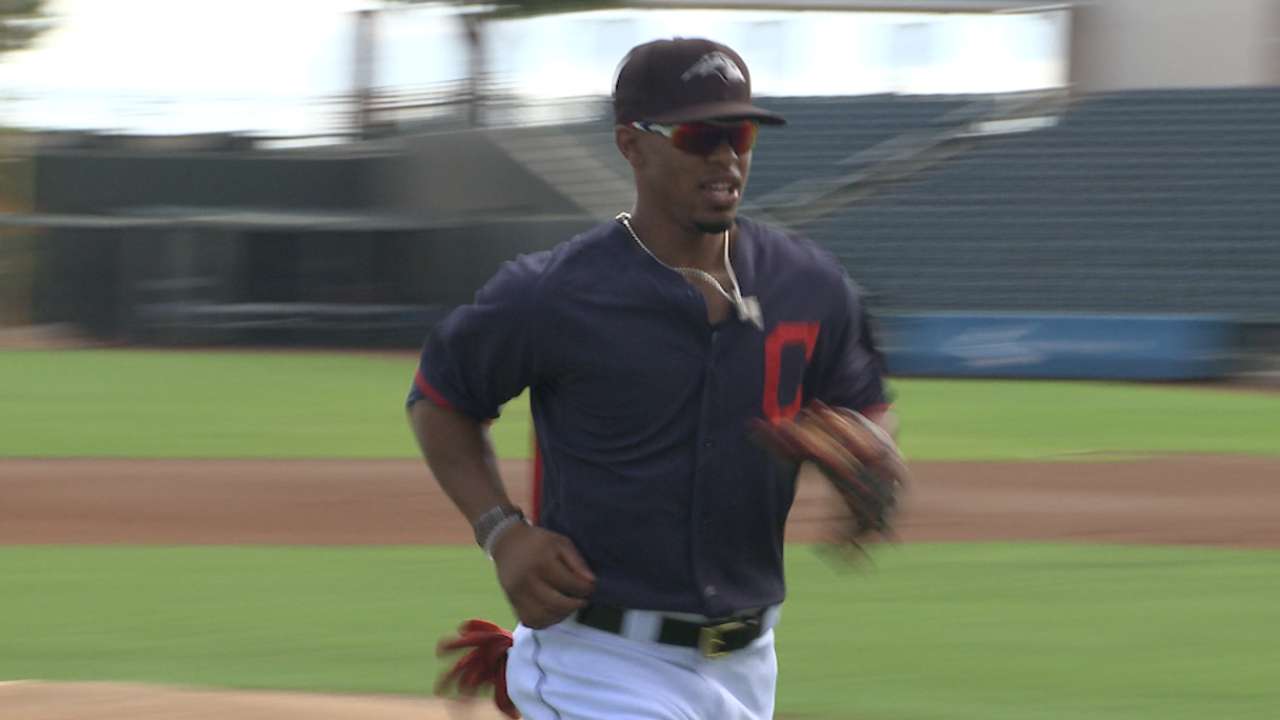 Outfielder Carlos Moncrief (No. 23) has already been optioned to Triple-A, where Lindor will join him eventually. He, too, impressed with how he went about his business in big league camp and how he reported ready to play the best baseball of his career.
"Those are the two guys who stand out because of how they've played in Major League Spring Training," Atkins said. "The shape they are in, their work ethic, the consistency of their routines has all been impressive."
So has lefty Ryan Merritt, who is No. 20 on the Indians' list. Coming off a breakout season in the Class A Advanced Carolina League, Merritt earned a spot on the 40-man roster and an invitation to big league camp. Merritt threw just three innings, but he stood out during his time there, and not just because he finished third in the pitchers' conditioning test.
"He has really focused on the right things," Atkins said. "He's thinking, 'How am I going to get better? How am I going to make an impact each inning, each day?' as opposed to, 'Where do I stand relative to the others?'"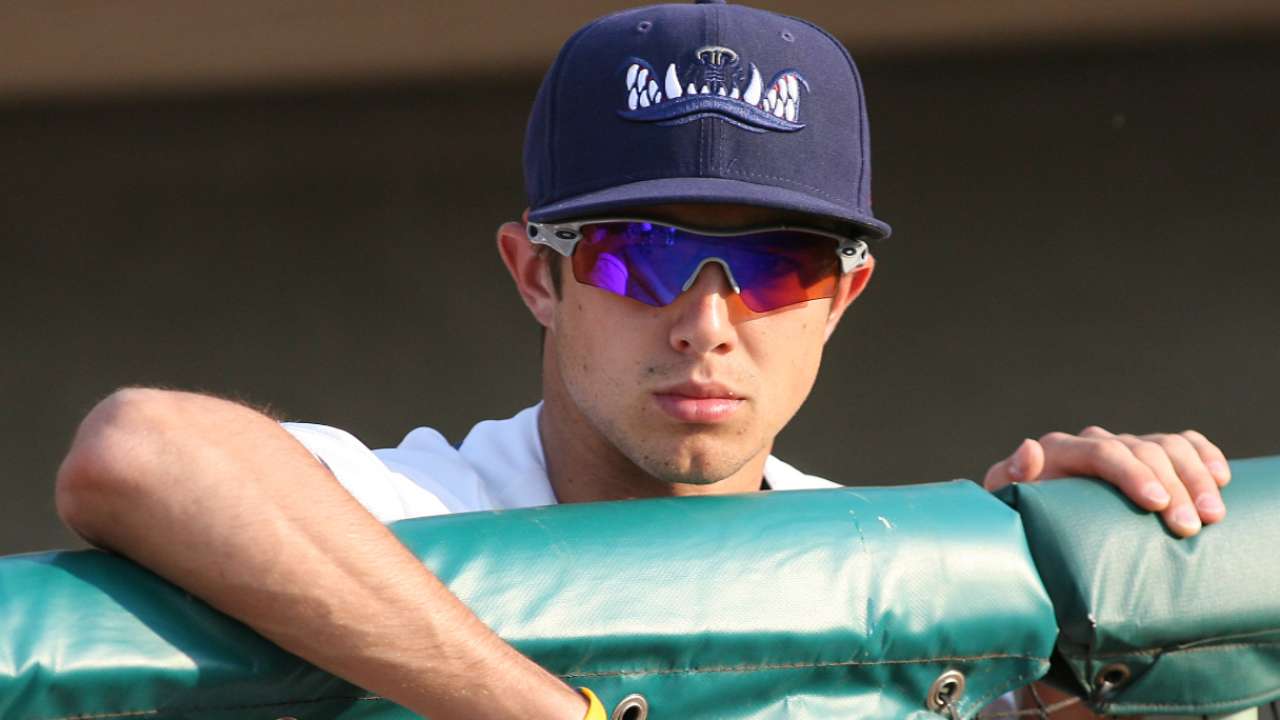 Breakout candidates
Nellie Rodriguez had a pretty solid 2014 season, tying for the Midwest League lead with 22 home runs. Sure, he struck out a bunch, but he also drew some walks. But the first baseman had been more about physical strength than anything else. Staying athletic when you're 6-foot-2, 225 pounds can be a challenge. That's why Cleveland thrilled to see its No. 27 prospect this spring and why the club thinks Rodriguez is primed to put it all together in 2015.
"He's always performed, always shown power," Atkins said. "But he's changed his body. He stayed out here the entire offseason. I would be shocked if it didn't translate into consistent results."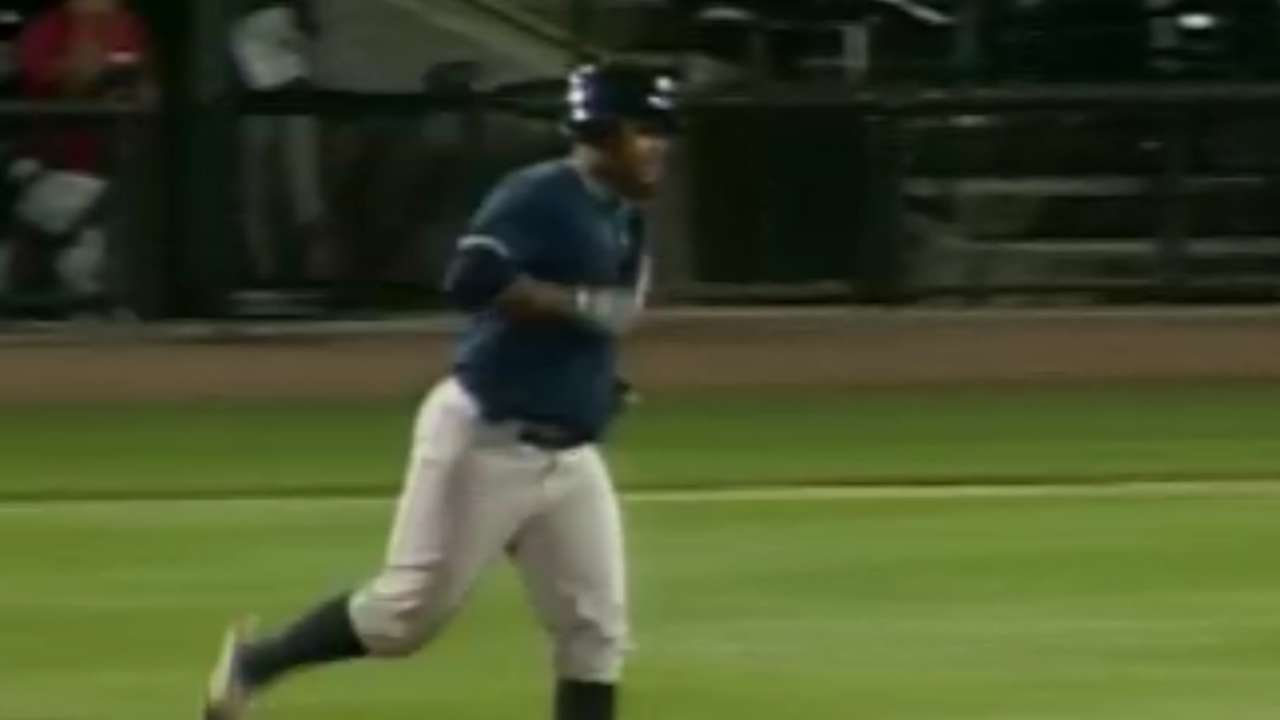 Right-hander Cody Anderson (No. 17), had a breakout in 2013, then took a step back last year, with an inability to repeat his delivery that hurt his command. So he decided to do something about it, and the Indians think he's ready to return to his 2013 form.
"He has made incredible progress from a flexibility and mobility standpoint," Atkins said. "He essentially changed his athleticism. He looks incredible right now. He's a guy who's always worked hard, but I think he's shifted what he's working hard at, which is a hard thing to do."
Three questions with Clint Frazier
Frazier was Cleveland's first-round pick in the 2013 Draft, taken No. 5 overall.
MLBPipeline.com: You got to play in a big league Spring Training game and homered. What was that experience like?
Frazier: It was very fun, just to be able to be a part of that game, be around the atmosphere, regardless of what the results were. It was a good learning experience for me, to be able to talk to Mike Aviles, see how he handles at-bats, to see TJ House out there throwing strikes, to seeing his sequence with his pitches. It was good for a younger guy to be around the older guys and see how they handle their business.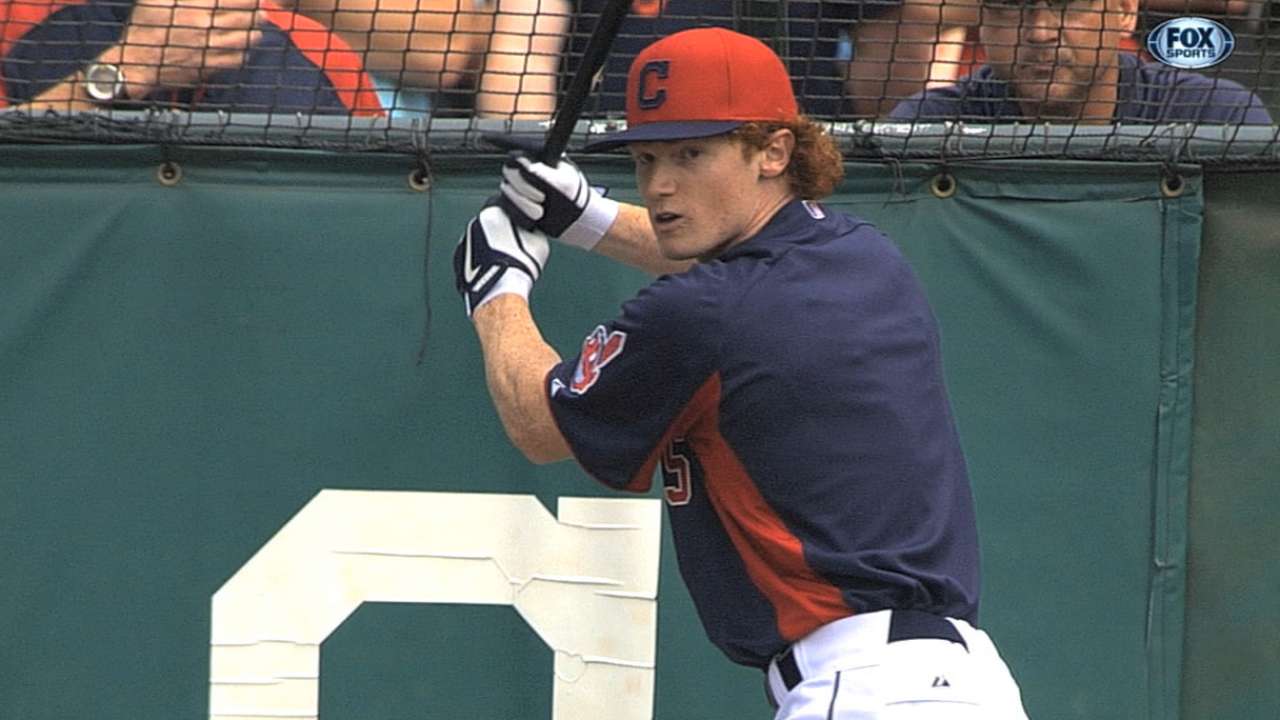 MLBPipeline.com: Did you get to talk with Terry Francona at all? What kind of message did he give you?
Frazier: He told me he's more focused on how I come back here and outwork everybody rather than the result of the game the other day. The kind of mentality I've been coming out here with, I'm just trying to put forth more effort and outwork everyone.
MLBPipeline.com: Your first full season was a little up and down. What were you able to learn from the struggles you had?
Frazier: From the struggles, it was more me experimenting what I could and couldn't do, like a leg kick. I went back to my early toe-tap that I used in high school. A lot of the struggles came from me standing up in my stance and not being able to recognize the ball as well. I had a lot of eye movement at the plate. When I started to do better, I started to go back to the things that got me where I was. I crouched down in my stance more, I went back to the toe tap. It was just a timing mechanism last year. I struggled with being consistent with what I wanted to go to the plate doing that day, approach wise, timing mechanism-wise. It was a fun experience and a very big learning experience.
Jonathan Mayo is a reporter for MLBPipeline.com and writes a blog, B3. Follow @JonathanMayoB3 on Twitter. This story was not subject to the approval of Major League Baseball or its clubs.