Rule 5 pick Rollins rolling at Mariners camp
Lefty, 25, making case for bullpen role after Seattle selects him from Astros' organization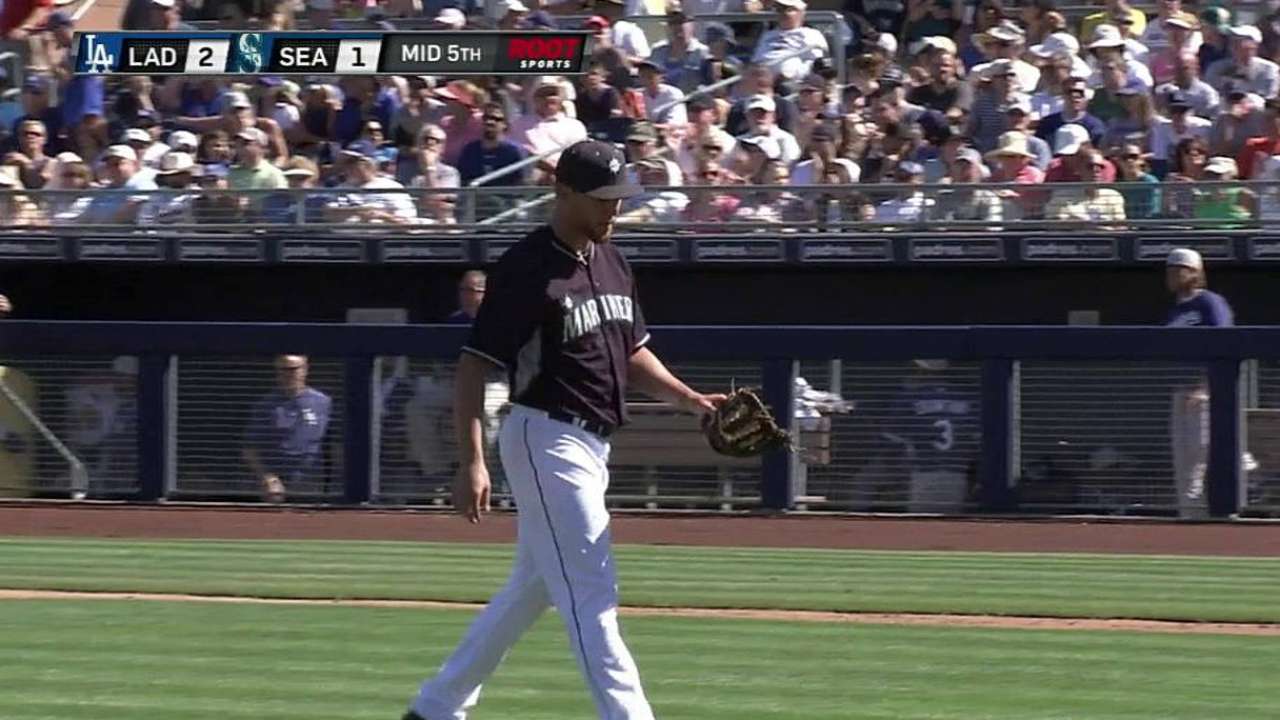 PEORIA, Ariz. -- David Rollins sits quietly at the very last locker in the back corner of the Mariners' lengthy Spring Training clubhouse. Across from him stands a row of blank nameplates and empty chairs, a stark reminder that most of the young players originally occupying his area have now been shipped out to Minor League camp.
"I've got a little extra space," the 25-year-old said with a smile. "I kind of sit back in my little area here and listen in to people talking and stuff. I'm fine with my little island."
He's at the far end of the clubhouse from the big-name players like Felix Hernandez and Robinson Cano, but he's made a bit of home in what he calls his "cubby hole," which on this Tuesday morning includes a pair of snakeskin cowboy boots that speak to his east Texas roots almost as much as his slow drawl.
Locker-room location aside, Rollins -- ranked among Seattle's top prospects -- has slowly forced himself into the Mariners' conversation with his performance as a Rule 5 Draft pick with an increasing chance of beating the odds and landing a spot on the 25-man roster.
Former Gonzaga standout Tyler Olson has earned considerable notice with his six stellar outings this spring (nine innings, one unearned run allowed), but Rollins has kept pace by allowing just one run with five hits, no walks and seven strikeouts in eight innings over seven relief outings.
While Olson can be safely sent to the Minors and brought back later, Rollins risks being returned to the Astros if he doesn't make the 25-man roster, per Rule 5 Draft rules.
"He's competing well," acknowledged manager Lloyd McClendon. "He's commanding the zone. Plus fastball, plus changeup. He's still working on his slider, but I like what I see."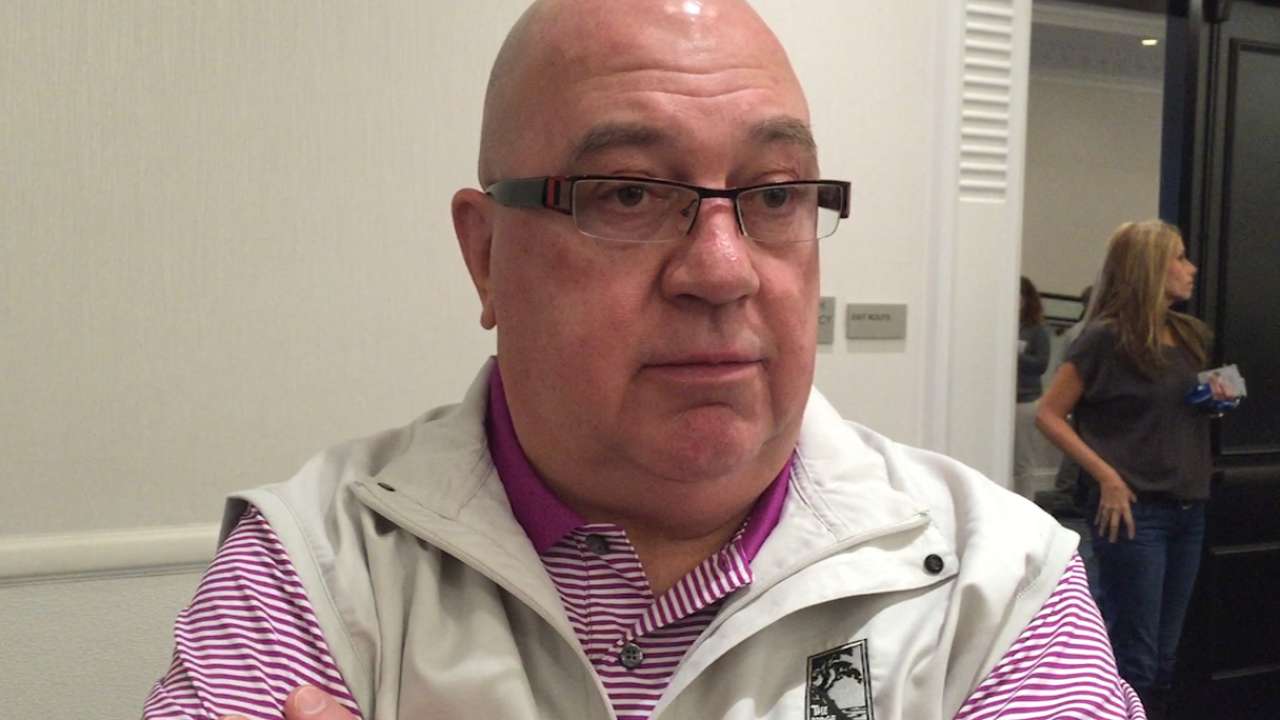 Rollins is the rare player who was drafted four times before signing a pro contract, and now added a fifth selection with the Rule 5 process. He was a 19th-round choice of the Dodgers out of high school but went to San Jacinto College. The Mariners picked him in the 23rd round in '09, but he opted to stay in school.
After tearing up his right, non-pitching shoulder while diving, and undergoing a pair of surgeries to repair his rotator cuff and labrum, Rollins was selected in the 46th round by Seattle again in '10 but figured he wasn't healthy enough yet to compete. After a medical redshirt season at San Jacinto, he got picked in the 24th round by the Blue Jays in 2011 and finally turned pro, eventually traded to the Astros in 2012 in a 10-player swap.
Is he destined to land with Seattle after being drafted twice and plucked in the Rule 5 process?
"It could be," he said. "Third time is the charm, right? It's pretty nice that they still wanted me."
For now, Rollins is just showing up for work each day and showing what he can do. He's begun adding a changeup against left-handers to give hitters something more to worry about. And with Olson, veteran Joe Saunders and himself as the only remaining southpaws competing for the club's second lefty-relief role, it's increasingly clear that Rollins remains thick in the hunt.
"I'm definitely enjoying it, that's for sure. This is my first big league camp, and it doesn't get any better than that," he said. "I try not to get starstruck when I see big-name guys and just attack them like I would anybody else."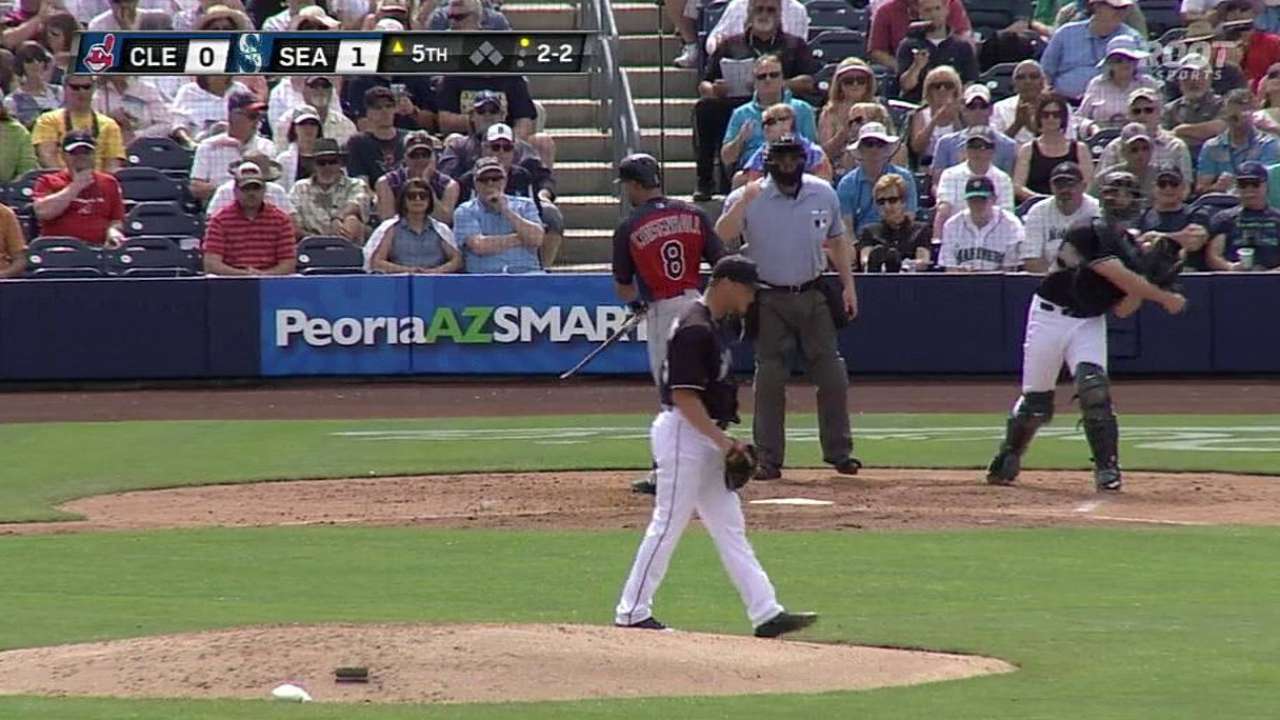 Rollins brings some Texas toughness to his trade. After rotator cuff surgery, his first concern was getting cleared to go bowhunting, convincing the doctors he wouldn't reinjure his right shoulder because he pulled back the bow with his left.
He said he still goes diving, but always feet first now. And he did wind up reinjuring the shoulder playing baseball, requiring a second surgery after tearing out the stitches and anchors in his arm when his pitching motion put more pressure on his non-throwing side than expected.
He's been healthy for four years now and is proving to be a worthy competitor. And as a former starter, McClendon sees a youngster who could provide some bullpen versatility.
"I don't really see him as a lefty specialist," McClendon said. "I think he has the ability to get righties out as well. The transition [to the bullpen] should be easy. His arm seems to be the type that can bounce back. He doesn't have a dip in velocity. He's gone out for two innings and done well. He's passing all the tests so far."
Greg Johns is a reporter for MLB.com. Follow him on Twitter @GregJohnsMLB as well as his Mariners Musings blog. This story was not subject to the approval of Major League Baseball or its clubs.