Terdoslavich injures hand on unassisted double play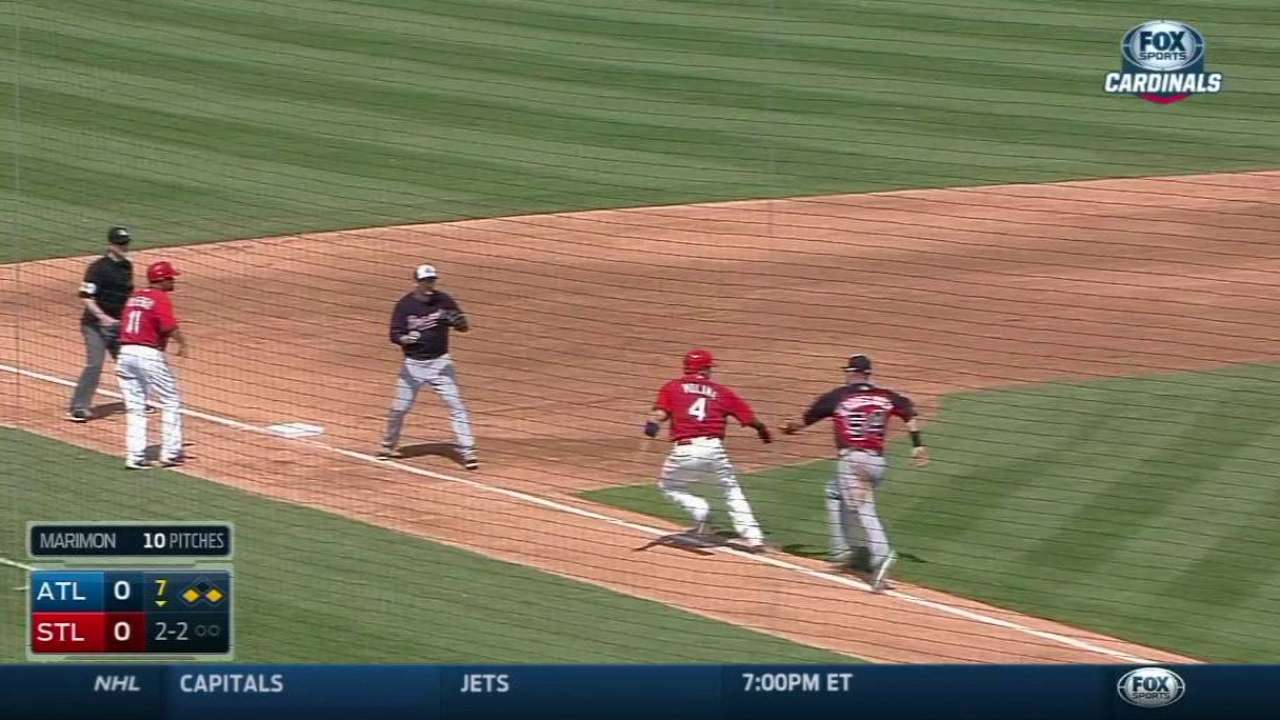 LAKE BUENA VISTA, Fla. -- Joey Terdoslavich has positioned himself for a potential spot on the Opening Day roster. But his candidacy has been weakened, as he's struggled at the plate recently and missed the past three games because of a left hand injury he sustained while completing a unique unassisted double play.
Terdoslavich injured his hand playing first base against the Cardinals on Saturday. He rolled on it while tagging Dean Anna to complete a double play that began with him fielding a bunt and tagging Yadier Molina between third and home plate. He has kept the injured area wrapped the past couple days, and he hopes to return to action for Thursday's game against the Pirates in Bradenton, Fla.
"I'm going to do everything I can to play," Terdoslavich said. "I was [in the trainer's room] on Sunday for seven hours. I didn't leave, because I just kept asking what else we could do. I think it's fine, but it's better to be safe than sorry."
Terdoslavich opened some eyes when he recorded six hits, including four doubles, in the 15 at-bats he totaled through his first eight Grapefruit League games. But he has recorded just four hits, including two doubles and a home run, in the 21 at-bats that have followed.
If Terdoslavich makes the Opening Day roster as a utility player, he would provide the Braves with left-handed power and the capability to play both corner-outfield positions. Kelly Johnson possess both of these traits, and he would provide the added versatility of being able to play each of the infield positions. Johnson has also enhanced his candidacy while recording seven hits, including two doubles and a homer, in his past 16 at-bats.
Mark Bowman is a reporter for MLB.com. This story was not subject to the approval of Major League Baseball or its clubs.