Bell's final toll: Longtime closer elects to retire
All-Star from 2009-11 with Padres, fiery reliever bows out after 11-season career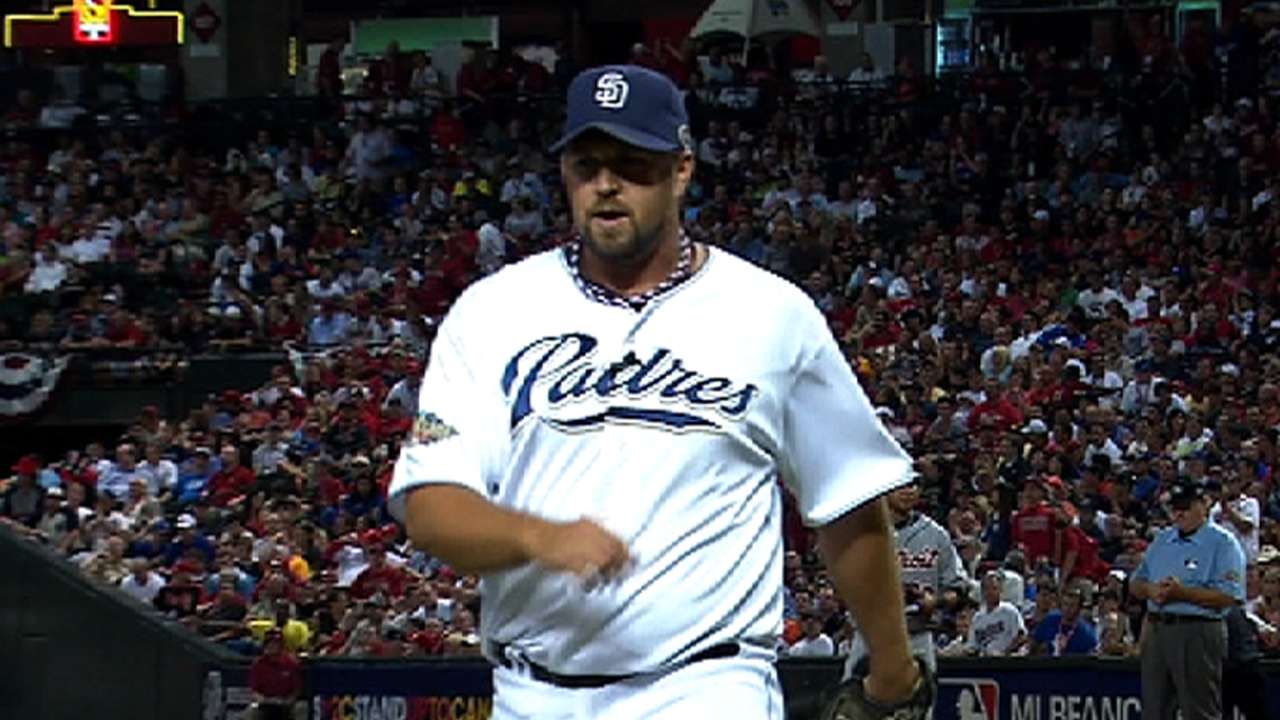 Heath Bell turned down the stereo long enough in his 31-foot Fleetwood RV on Tuesday afternoon to take a few questions about the next chapter in his life, although he didn't take the foot off the gas pedal, as he bombed his way across the Florida Panhandle.
A day after being released by the Nationals, Bell was only a few hours into what he was expecting to be a three-day solo drive back to San Diego, where he will join his wife, Nicole, and their four children for good.
The 37-year-old Bell, a three-time All-Star, told MLB.com that he's decided to retire rather than attempt to latch on to a team for another run at getting back to the big leagues. The reason, he said, was pretty simple.
A HUGE thank you to my fans who supported me through both good times and tough ones. Your cheers fueled me every time I sprinted in.

- Heath Bell (@HeathBell21) March 24, 2015
"My kids wanted me home," Bell said. "What's more important: my kids or the big leagues? I've already accomplished more than I ever dreamed of. Now it's time to help them accomplish their dreams."
Bell was in big league camp with the Nationals on a Minor League deal and earned the save in a victory over the Yankees on Monday. He was told after the game the team wouldn't have a spot for him. The team released him so he would have time to find another team.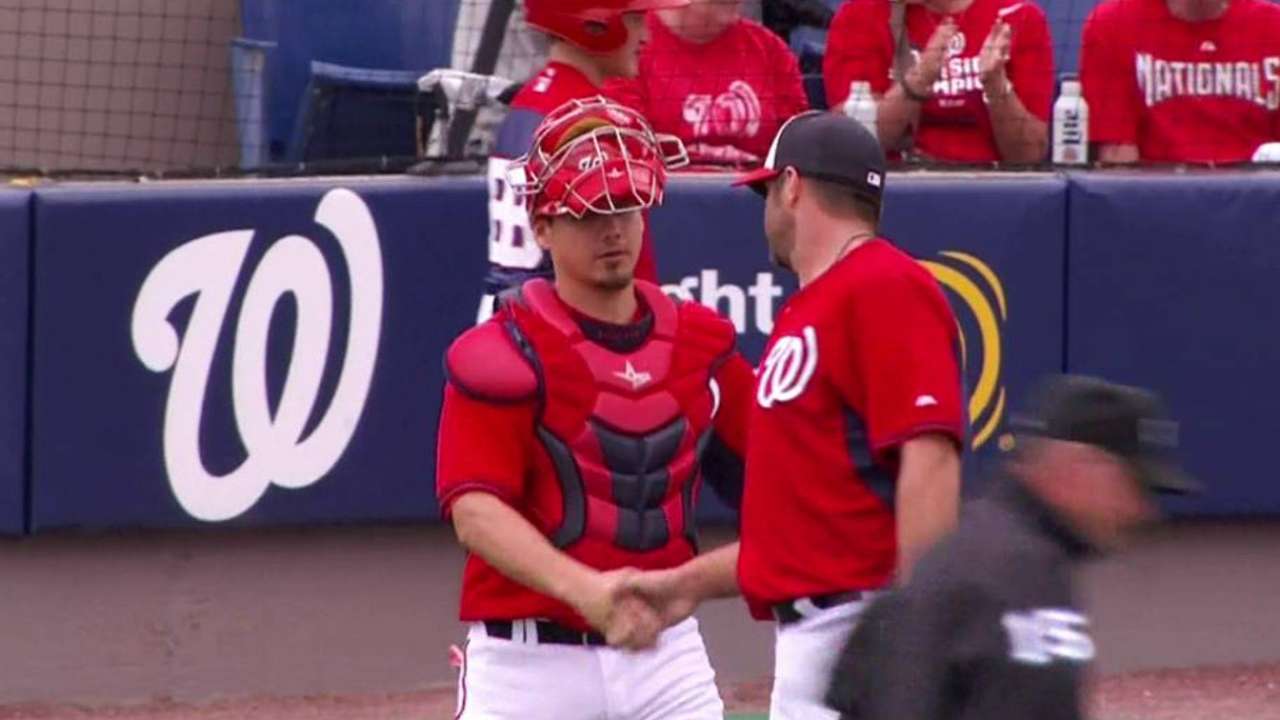 Initially, Bell thought he might do just that. He was still throwing in the low 90s and as high as 94 mph.
"I felt I still had it," he said. "I was doing pretty well, not the best."
But when he called home with the news, his 11-year-old son, Reece, had other ideas.
"He wanted me home. I said, 'All right, I'm coming home,'" Bell said.
So Bell loaded up the RV, one that he and his family -- wife Nicole, daughters Jasmyne (16) and Jordyn (13) and sons Reece and Rhett (5) -- drove from their home in San Diego to Florida, where the Nationals train in February. They made it a two-week trip.
"We wanted to see the country as a family," he said.
The drive back to San Diego, Bell said, will give him plenty of time to reflect on what's certainly been a wild ride of a career.
Signed by the Mets as a non-drafted free agent in 1998 for $500 -- "they only had 14 guys and needed 11 more ... they were desperate for guys," he said -- Bell reached the big leagues with New York in 2004 but found his niche after being traded to the Padres in the winter of 2006.
Bell served as icon Trevor Hoffman's setup man in 2007 and 2008, then got the opportunity to close in 2009 and ran with it, leading the NL with 42 saves while appearing in his first All-Star Game. He went on to have seasons of 47 and 43 saves before signing a three-year deal for $27 million with the Marlins before the 2012 season.
He bounced around the last few years, with Arizona in 2013 and the Rays last season. He was also signed and released by the Orioles and Yankees.
"I had so many good memories," Bell said. "Getting to the big leagues with the Mets, with the Padres in 2007, almost going to the playoffs, the great times with [Greg] Maddux, [Brian] Giles, Adrian [Gonzalez], [Hoffman], David Wells. It's been a great ride."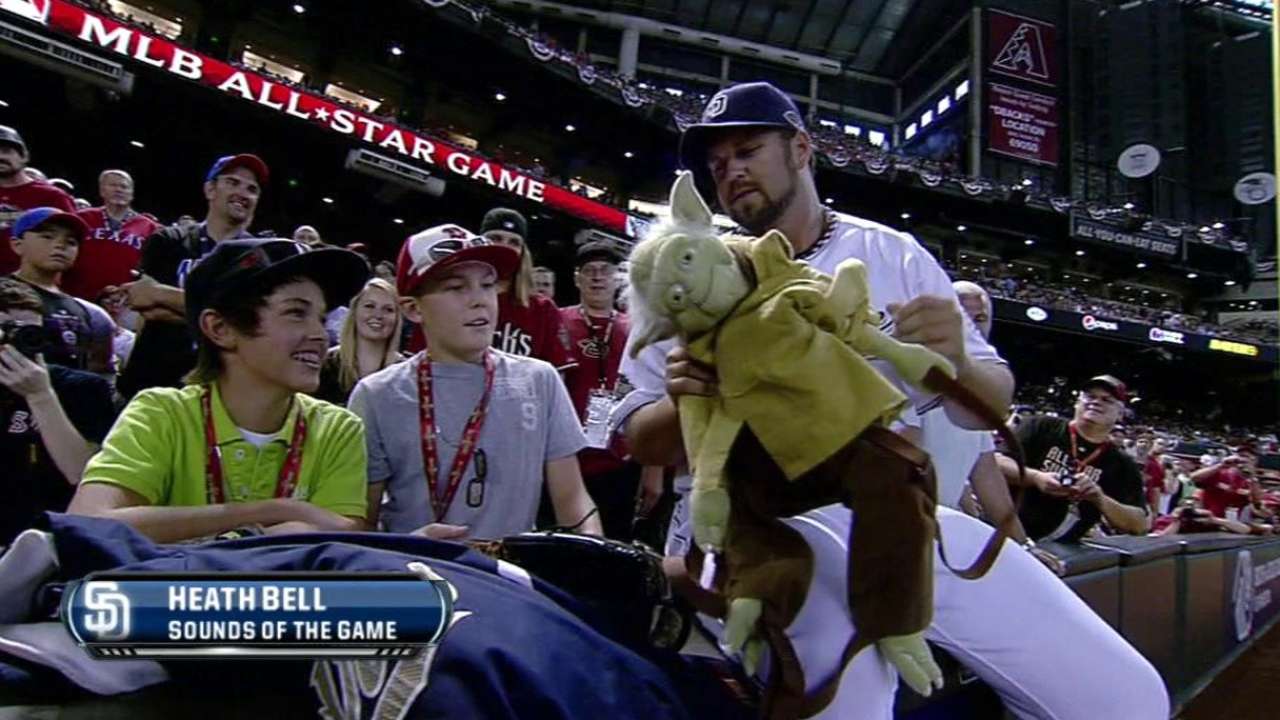 Bell said he'll be involved with Reece's baseball team and would love to get involved with coaching the game at some level, citing how Wells currently coaches high school baseball in Point Loma, Calif. He's been told he would be a natural for broadcasting, too; that his gregarious, amiable personality would play well on television or radio.
For now, though, all of that will have to wait.
"You know, [the Nationals] released me but I really believe I'm still walking away the way I wanted to walk away, for the right reasons," Bell said. "It's a really happy moment for me. I can say I'm a dad and I'm a husband. I can focus on that."
Well, that and the two-plus days of driving that were still ahead of him. Just Bell, the road, his thoughts and that stereo.
"I've had it cranked up pretty loud," he said. "I've been singing here, and the people driving next to me probably think I'm crazy."
Corey Brock is a reporter for MLB.com. Keep track of @FollowThePadres on Twitter. This story was not subject to the approval of Major League Baseball or its clubs.