With hot spring, Phelps emerging as bench candidate
Non-roster invitee capable of playing infield and outfield positions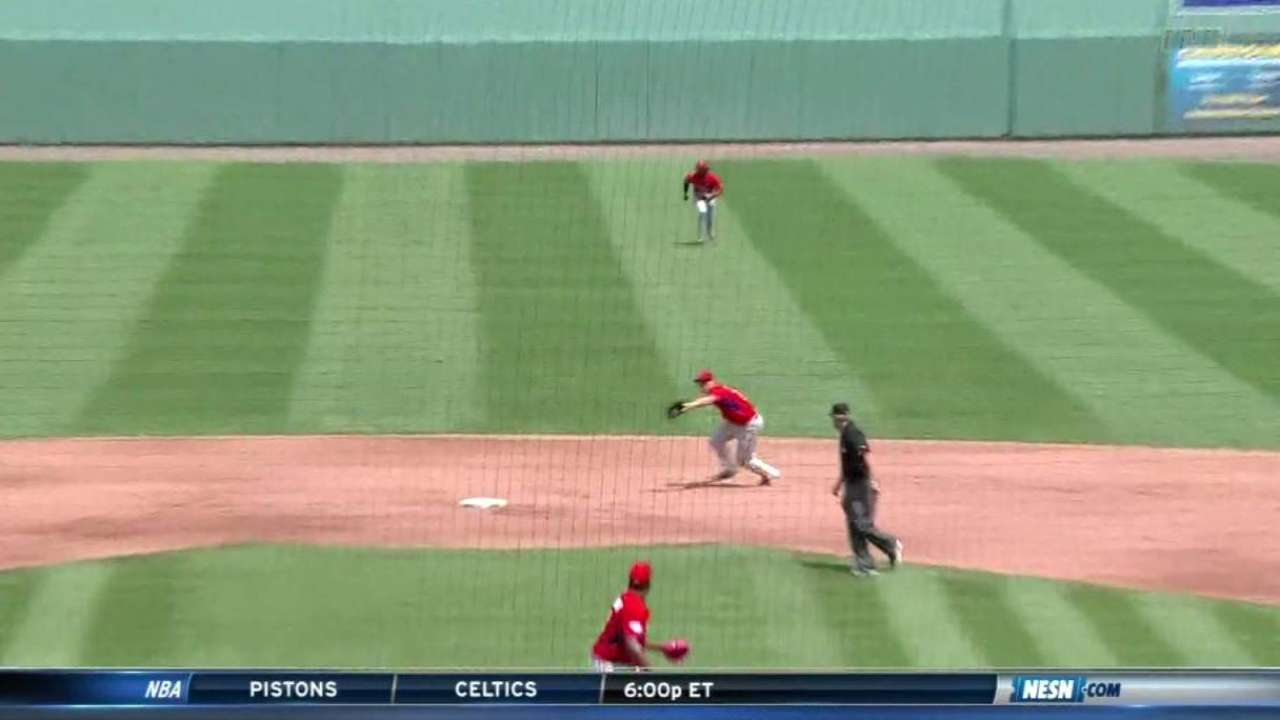 LAKE BUENA VISTA, Fla. -- It is pretty clear that Cord Phelps has made a favorable impression on Phillies coaches this spring.
Phelps, who is a non-roster invitee, hit third for the Phillies in Tuesday's 5-3 win over the Braves at Champion Field. In 13 games, he is hitting .303 (10-for-33) with one double, one home run, five RBIs, seven walks, six strikeouts and an .849 OPS. Phelps has emerged as a legitimate candidate to make the Phillies' bench as a utility player with Opening Day only 13 days away, although he might have to beat out Cesar Hernandez.
Hernandez entered camp as a favorite if for no other reason than that he is out of options, and the Phillies' front office places considerable importance on that. But Hernandez entered Tuesday hitting a mere .088 (3-for-34) with two doubles, one RBI, four walks, six strikeouts and a .352 OPS in 16 games.
"You want to show what you can do and try to take advantage of every opportunity," Phelps said. "That's just good preparation for the season, because you never know how things are going to play out. That's a skill we try to develop. Maybe you don't know when you're going to get in there, but when you do, you try to perform at your highest level. I feel like I'm having good at-bats. I feel like I'm putting balls in play with hard contact."
The Indians selected Phelps, 28, in the third round of the 2008 First-Year Player Draft. He has hit .280 with an .800 OPS in 681 games in the Minor Leagues, but just .155 in 126 plate appearances in the big leagues.
"This game is a crazy game," said Phelps, when asked why his Minor League numbers have not translated into a longer look in the big leagues. "Everybody does the best they can to play and get an opportunity. You've got to be a really good player, but you also have to be in the right situation. That's what everybody is hunting for. We prepare, but there is a lot of stuff out of your hands. You just hope you get into a situation where your skill set matches their needs."
Right place, right time.
"That's life in general," Phelps said.
Phelps could be in the right place with the Phillies. Odubel Herrera, Darin Ruf and Cameron Rupp appear to have a hold on three bench jobs. (Herrera could find himself in the Opening Day lineup as well as he has played.) Phelps and Hernandez are competing for a fourth spot as a utility infielder. Jeff Francoeur, Brian Bogusevic and Jordan Danks could be fighting for an outfield job. Andres Blanco remains a possibility if the Phillies want a second utility infielder.
Phelps came up as a second baseman, but has played first base, third base, shortstop, left field and right field. His versatility helps his cause, especially on a National League team.
"He's come in and done a nice job," Phillies manager Ryne Sandberg said. "He shows his versatility. He's a switch-hitter. He's hit the ball well. He's done situational hitting very well. He's competing for a job."
Todd Zolecki is a reporter for MLB.com. This story was not subject to the approval of Major League Baseball or its clubs.