MLB.com Columnist
Tracy Ringolsby
Brett's love for baseball didn't end with playing career
Drawn-out farewell wasn't for Royals legend, who remains close to the game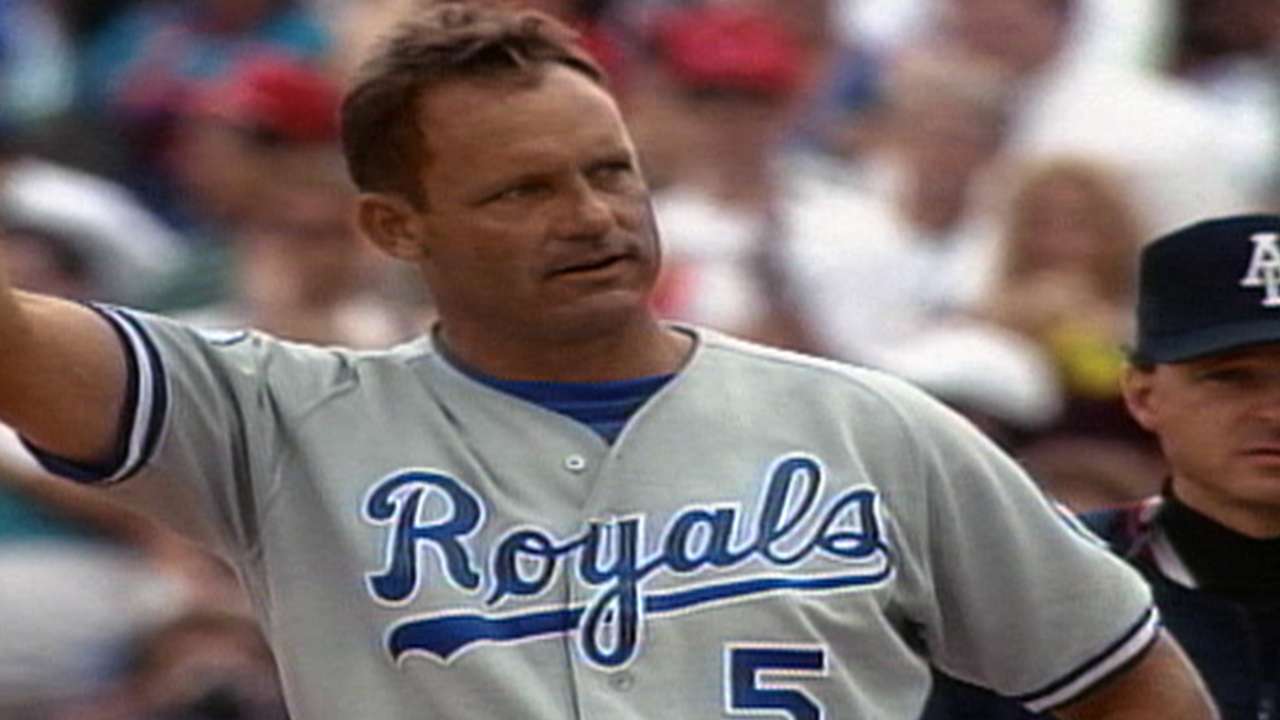 SURPRISE, Ariz. -- Three years ago, Chipper Jones announced his plans to retire in advance, and he spent the season enjoying a sendoff from fans in Atlanta and other Major League cities. Two years ago, it was Mariano Rivera who enjoyed his farewell tour. And last year, it was Derek Jeter.
Hall of Famer George Brett knows he could have never done that. He still enjoys being a part of the game and welcomes the chance to put the uniform back on every spring to work with the Royals. But when Brett decided his career was over, it was over.
"One day in August [1993], I got in the car to go to the park and thought, 'I'd like to stay home,'" Brett said. "I'd never felt like that before. I knew it was time."
Brett never lost his love of the game. He just lost that internal passion that pushed him during a 21-season career, all of which was spent with the Royals, who signed him as a second-round Draft choice in 1971.
"When I did something good, I didn't get goose bumps," Brett said. "If there were runners on first and third with one out and hit into a double play, it didn't eat at me anymore. I thought the game deserved better than that."
That's not knocking Jones, Rivera or Jeter.
Brett was impressed with how well they played and how well they handled the hoopla in their farewell tours. He enjoyed being at Kauffman Stadium when the Kansas City fans had a chance to bid adieu to Jeter and Rivera. Jones and the Braves did not play the Royals in Jones' final season.
"I was not the player I once was, and it was hard for me to accept playing the game and not being who I had been," said Brett, who retired at the age of 40. "My last year, I hit .266 with 19 home runs and 75 RBIs. If I had hit .280, maybe it would have been different. Maybe failure would have still upset me."
That August afternoon when he knew it was time to move on in life, Brett walked into the office of manager Hal McRae, his longtime teammate, and told him that he was ready to hang it up at the end of the season.
"He said, 'George, you are making a mistake,'" said Brett. "I told him I knew I could still play, but not at the level I used to, and I can't do that. I was 40 and a DH my last year. You have to have a special mentality to do that.
"I'm a better player when I could hit and play defense."
Any doubts were erased on Sept. 26, 1993, in Game 156. Brett had hit a two-run home run off Angels right-hander John Farrell in the bottom of the fourth to put the Royals up, 4-3. Then in the bottom of the 10th with two out, he drove a pitch from Paul Swingle to lift Kansas City to a 9-8 victory.
"I hit what was my last home run, and it was no big deal," Brett said. "It was a walk-off. Before, I would have been fired up -- it would have been emotional. I just hit in, circled the bases and touched home plate. That was it. That wasn't how it had been for me."
What Brett remembers most is not anything he did in particular, but rather that "we went to the playoffs seven times in 10 years. That's why you play, to win a championship."
The Royals did that in 1985, overcoming 3-1 deficits in both the American League Championship Series against the Blue Jays and the World Series against the Cardinals. Brett was the MVP of the ALCS that year; he hit .360 in the postseason.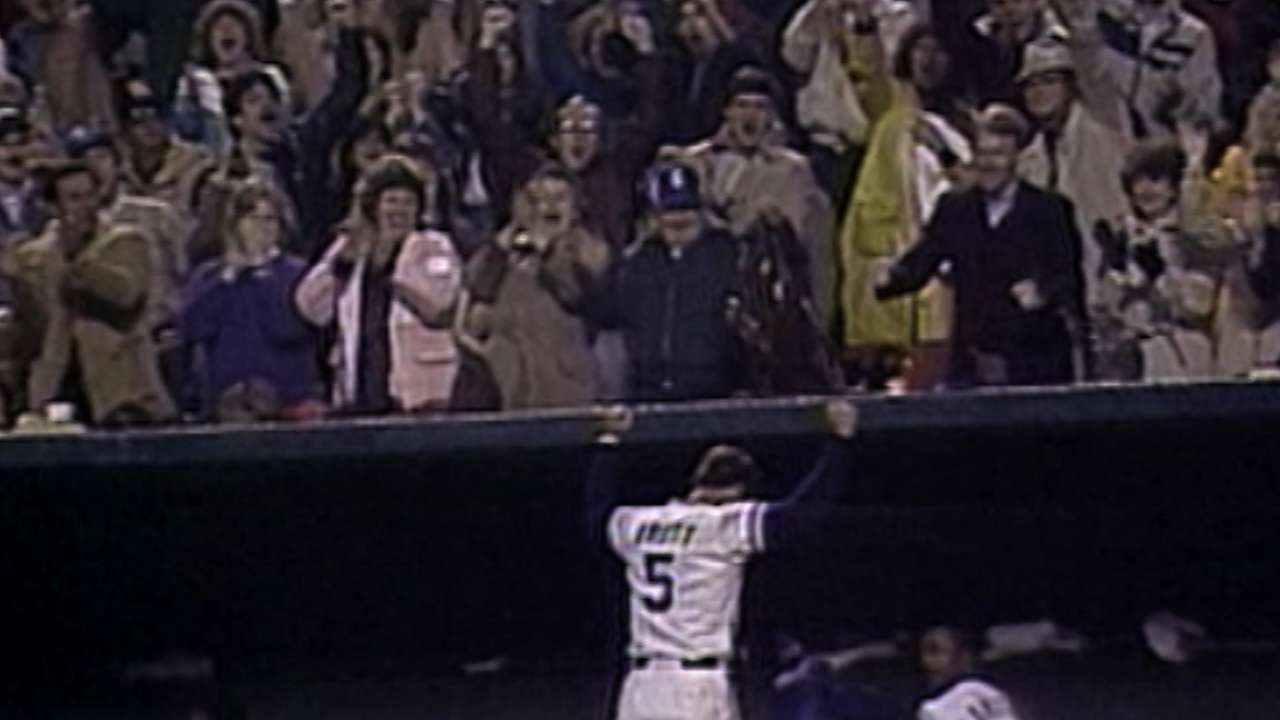 "It doesn't get better," he said.
The good part for Brett is that in his role as a vice president with the Royals, he is still around the game.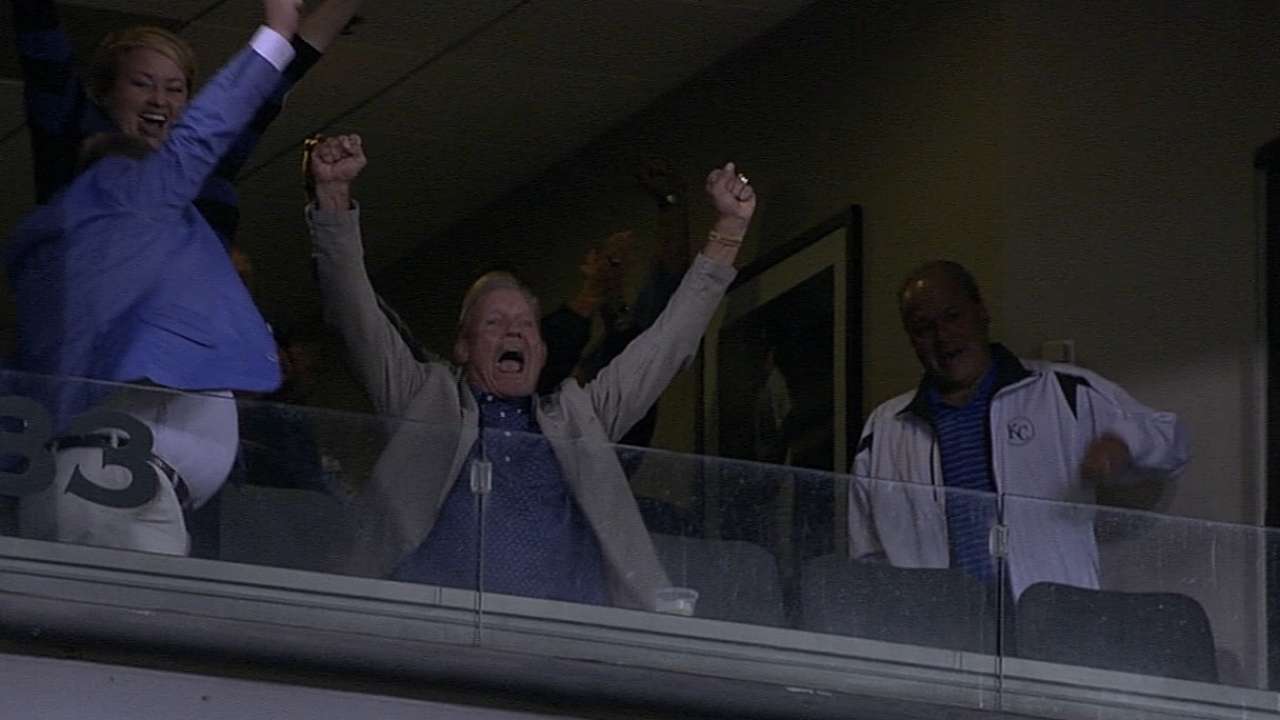 Brett admits the emotions were flowing when Kansas City advanced to the World Series last October, the Royals' first postseason appearance since that magical 1985 campaign. He was told he looked more nervous sitting in the private box during that World Series than he did standing at the plate in 1985.
"I was,'' Brett said. "I was a fan last year. I had my team I was rooting for, but I couldn't do anything about it. In 1985, I was on the field.''
Brett occasionally gets a reminder of how good he was and how good he demanded himself to be.
"Some of the young guys will ask how many years I played and why I retired," Brett said. "I tell them, 'I wasn't the player I was and couldn't live with that.' They'll ask what I hit my last year, I tell them and they say, 'I'd take that every year.'"
Brett paused and smiled.
"That," he said, "is the difference between how you and I think."
Tracy Ringolsby is a columnist for MLB.com. This story was not subject to the approval of Major League Baseball or its clubs.