Blue Jays weighing options on several roster spots
Decision on second base might not come until end of Spring Training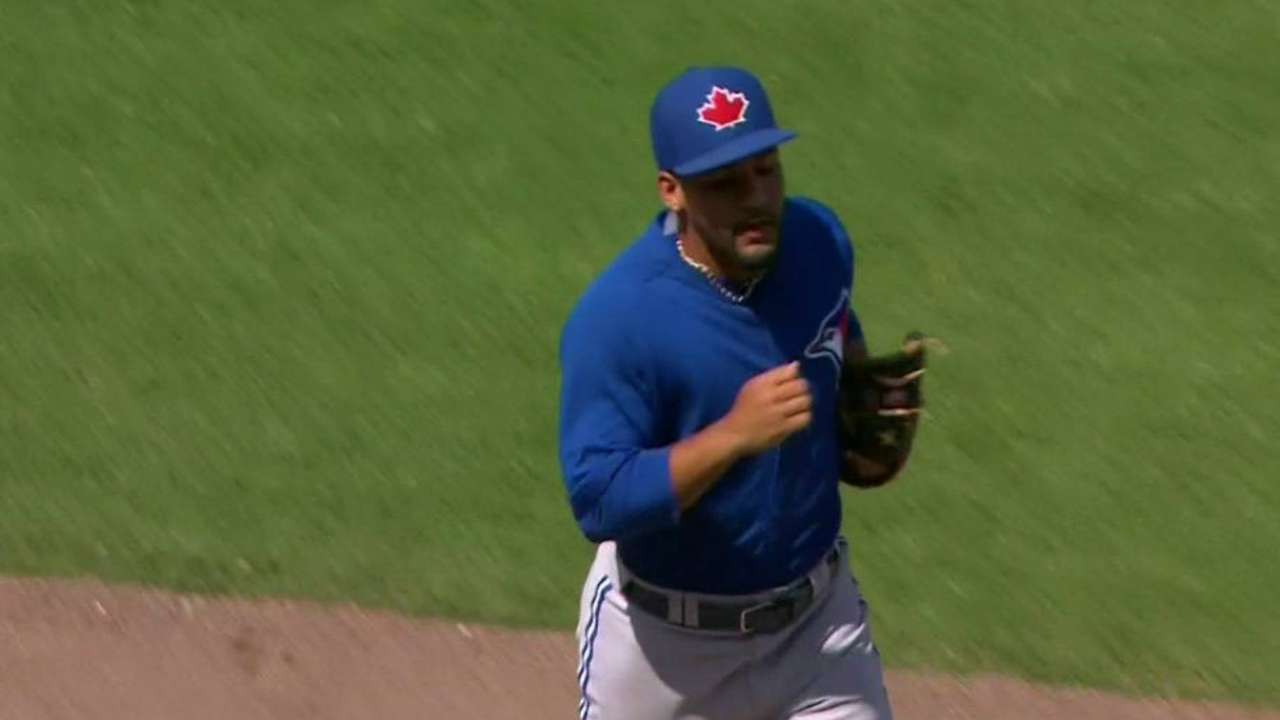 FORT MYERS, Fla. -- The Blue Jays have some significant decisions to make regarding their Opening Day roster, but some of those calls will not come until the last minute.
"There are some things we have a pretty good idea of right now," manager John Gibbons said on Tuesday. "But yeah, for the most part, to be fair to some of the guys still involved and things like that, there will be a lot of things we won't announce until the end."
The unsettled situations concern first base, second base, catcher and the bullpen.
Several factors must be considered, and not all of them have to do with how the candidates play on the field. Take second, where ninth-ranked prospect Devon Travis, Ryan Goins and veteran Steve Tolleson are in the mix with Maicer Izturis dealing with a strained groin. Unlike the others, Tolleson is out of options, meaning he can't be sent to the Minors unless he clears waivers.
"You like to keep guys around if you can," said Gibbons, speaking generally about options. "If two guys are equal and one is out of options, there's a good chance he's gonna stay. But that's not the overriding factor.
"You always weigh it, because everyone runs into depth problems."
Still, performance and talent matter, and Travis has that in his favor. Acquired from the Tigers in November, he entered Tuesday hitting .368 (14-for-38) with six doubles this spring, and he has impressed Gibbons on both sides of the ball.
"Every scout that's watched him play, and the guys in the Detroit organization that we've talked to, they all say this kid can flat-out play," Gibbons said. "You just watch. He's getting great results right now, but you just watch him in the box, this kid's got a great swing, a short stroke. He's got an idea up there. He's not just swinging, just letting it fly.
"You watch his defense, he looks great there, too. You've got to weigh all that."
Ultimately, Gibbons and general manager Alex Anthopoulos will have to come up with a final 25 before Opening Day on April 6 at Yankee Stadium.
Andrew Simon is a reporter for MLB.com. Follow him on Twitter @AndrewSimonMLB. This story was not subject to the approval of Major League Baseball or its clubs.