Ryu to be re-evaluated after rest and rehab
Friedman: News on lefty's shoulder 'wasn't nearly as severe as I probably feared'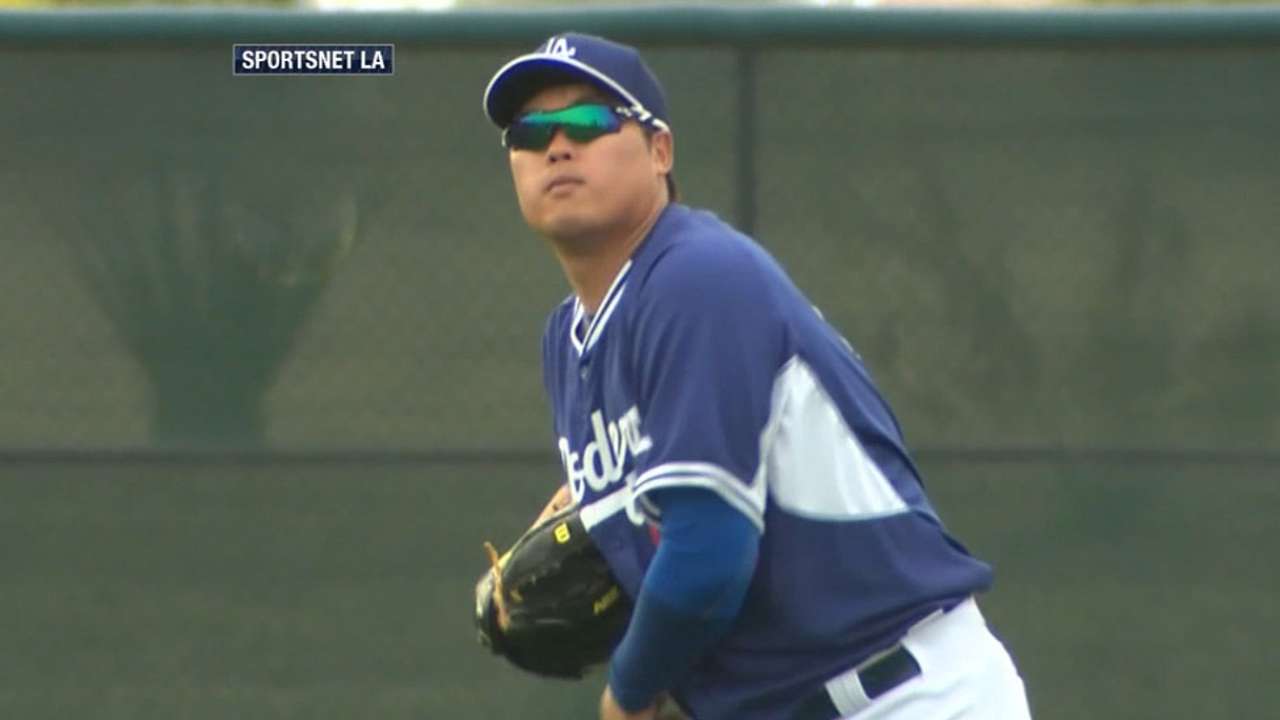 GLENDALE, Ariz. -- Dodgers starting pitcher Hyun-Jin Ryu was ordered by doctors to rest and rehab his sore left shoulder for two weeks, which club president Andrew Friedman considered a good thing.
"It wasn't nearly as severe as I probably feared," said Friedman, who probably had considered season-ending surgery on Ryu's shoulder, which has flared up three times in the past year.
"In two weeks, we'll have more information," said Friedman. "All in all, the visit was a good one on the potential spectrum of outcomes."
Ryu was sent on Monday to Dr. Neal ElAttrache in Los Angeles for a contrast MRI, which "looked the same as the one in 2012 when he signed," Friedman said. So whatever damage Ryu has now, he had then.
The Dodgers believe they can get through the first three weeks of the season with spot starters for Ryu's slot, but a longer absence would seemingly put management in position to acquire a proven starter. Friedman was non-committal on the next step.
"I don't think we're ever comfortable with pitching depth," he said. "Things happen during the course of a season, we know it's inevitable. We have the mindset of adding guys, and we continue to be on the lookout to add more depth."
Friedman said he "didn't know the answer" to a likely return date for Ryu.
"I think the current course of action is a prudent one," he said. "We'll take two weeks and re-evaluate. Talking to Dr. ElAttrache, I'm optimistic that when we get to the two-week marker, [Ryu] will be able to pick up the throwing process and put himself in position to return as quickly as possible."
Ryu spent three weeks on the disabled list early last season with shoulder inflammation and missed the final three weeks of the regular season with a flare-up.
Because of scheduled off-days, the Dodgers need a fifth starter only twice in the first three weeks of the season. If it's determined that Ryu is out for the short-term, the most likely replacement candidates are starting pitchers who were already sent to the Minor Leagues: Mike Bolsinger, Joe Wieland, Zach Lee and Carlos Frias -- the latter two who are the Dodgers' No. 14th- and 17th-ranked prospects, according to MLB.com.
There are complications, however, with each of those 40-man-roster players. Once they are optioned back to the Minor Leagues, they must remain there for 10 days. Also in the mix are non-roster swingmen David Huff and Chad Gaudin.
Ken Gurnick is a reporter for MLB.com. This story was not subject to the approval of Major League Baseball or its clubs.