MLB.com Columnist
Jim Callis
Pipeline Perspectives: Nats' system has had best five-year run
No. 1 Draft picks Strasburg, Harper are just part of Washington's homegrown success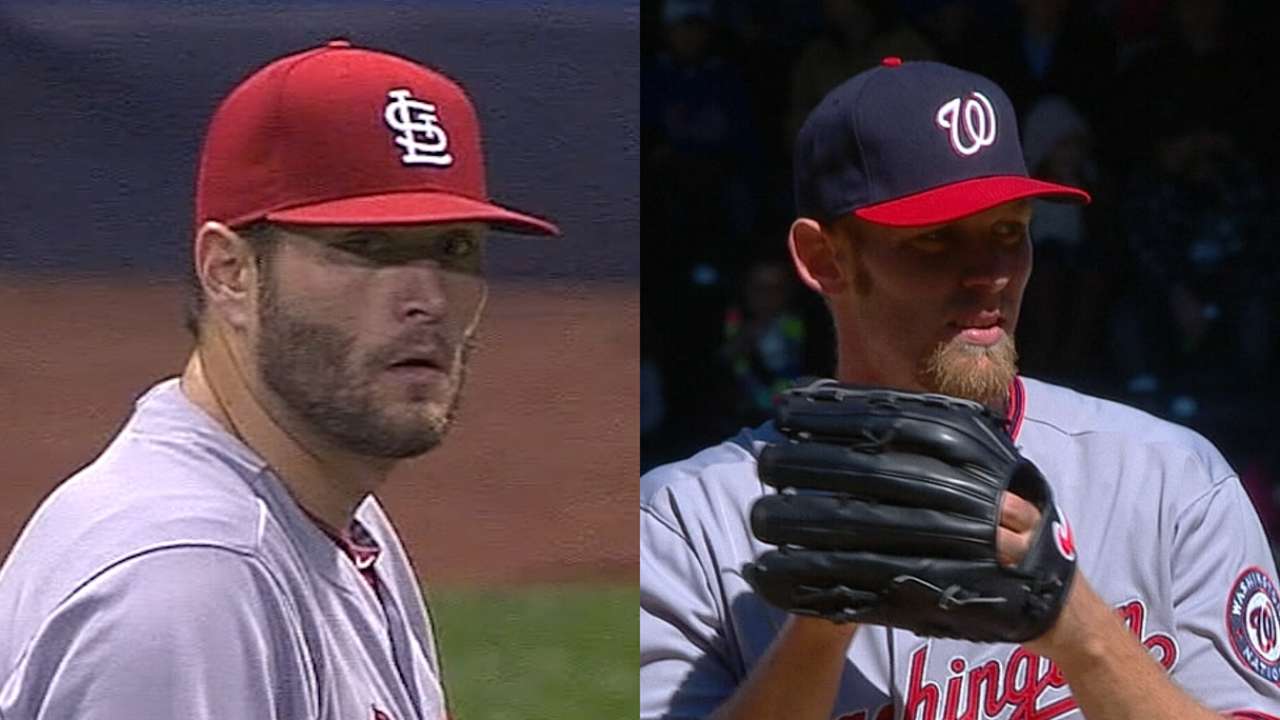 There's a good amount of subjectivity regarding baseball prospects. With the evaluation of talent being in the eye of the beholder, finding consensus is often difficult. Even Jim Callis and Jonathan Mayo of MLBPipeline.com don't always see eye to eye. They discuss their viewpoints regularly in a feature called Pipeline Perspectives. Submit a topic for them to debate.
Until the Expos moved from Montreal in 2005, Washington hadn't had a Major League team since the Senators bolted for Texas after the 1971 season. The Nationals did a poor imitation of a big league club in their first five seasons, averaging 93 losses and finishing last in the National League East four times.
The past five seasons have been much more enjoyable for fans in the nation's capital. Washington has averaged 86 victories and is coming off three consecutive winning seasons, something the city hadn't seen since the 1931-33 Senators. The Nationals have advanced to the playoffs in two of the past three seasons after two editions of the Senators reached the postseason just three times in 71 tries.
The biggest reason for that turnaround is that no franchise has had a more productive farm system in the past five years. In this week's Pipeline Perspectives, Jonathan Mayo makes a compelling case for the Cardinals, but they can't match the superstar talent that the Nats have graduated since the end of the 2009 season.
By the time they're finished, Stephen Strasburg, Bryce Harper and Anthony Rendon could give Washington the best three-year run of first-round picks in Draft history. The Nationals paid dearly for all three, giving them each big league contracts. Strasburg's $15.1 million guarantee after being the No. 1 overall pick in 2009 is the largest in Draft annals. Harper's $9.9 million as the No. 1 choice in 2010 is the most ever for a teenager and the third-highest overall, and Rendon's $7.2 million as the No. 6 selection in 2011 ranks ninth.
A case can be made that Strasburg was the best prospect of the Draft era and that Harper was the best power-hitting prospect (and certainly the most hyped), while Rendon was the top position player available in a loaded Draft. So far, they're living up to their billing.
Strasburg bounced back from 2010 Tommy John elbow surgery to make the All-Star Game two years later and lead the NL with 242 strikeouts last season. The 2012 NL Rookie of the Year Award winner, Harper is a two-time All-Star who hit 55 homers before turning 22, a total exceeded by just 11 sluggers in big league history. Rendon topped the NL with 111 runs and ranked fourth with 6.5 wins above replacement last year, his first as a full-time big leaguer.
Spawning three potential MVP Award winners or Cy Young Award winners in a five-year span would be fine work for any farm system. But Washington didn't come close to stopping there.
Ian Desmond didn't hit much in his first three pro seasons after signing as a third-rounder in 2004, but he finally got going at the plate and cracked the Nats' lineup in 2010. He has won three straight Silver Sluggers, joining Barry Larkin and Edgar Renteria as the only NL shortstops honored that many times, and he was an All-Star in 2012.
Derek Norris, a 2007 fourth-rounder, never played for Washington before he went to the Athletics as part of the Gio Gonzalez trade in December 2011. He has been one of the best-hitting catchers in the Majors ever since and earned All-Star recognition last season.
The Nationals found two more regulars in Danny Espinosa (third round, 2008) and Wilson Ramos (trade with Twins, 2010), and some bench power in Tyler Moore (16th round, 2008). Drew Storen became one of Washington's best relievers shortly after signing as the 10th overall pick in 2010, Tommy Milone (10th round, 2008) and Tanner Roark (trade with Rangers, 2010) have been effective starters, and Blake Treinen (trade with Athletics, 2013) emerged as a useful bullpen piece last year.
The farm system has produced plenty of trade fodder, too. Milone and Brad Peacock (41st round, 2006) also were key components in the Gonzalez deal, as was since-reacquired right-hander A.J. Cole (fourth round, 2010). Alex Meyer (first round, 2011) yielded Denard Span in a straight-up swap with the Twins in November 2012.
In a transaction that looks exceedingly one-sided, the Nats stole Doug Fister from the Tigers for Robbie Ray (12th round, 2010), Ian Krol (trade with Athletics, 2013) and Steve Lombardozzi (19th round, 2008) in December 2013. They were at it again last December, using Steven Souza Jr. (third round, 2007) and lefty pitching prospect Travis Ott (25th round, 2013) to grab two of the Padres' best prospects (shortstop Trea Turner, the presumptive player to be named, and right-hander Joe Ross) in a three-team deal that also included the Rays.
That's a fabulous five-year run for the farm system, not to mention an impressive display of trading acumen by general manager Mike Rizzo. It already has resulted in two division titles and has helped make the Nationals one of the current favorites to win this year's World Series. A Series championship has been won in the nation's capital just once, in 1924, making it only a slightly more rare occurrence than Washington's recent production.
Jim Callis is a reporter for MLB.com and writes a blog, Callis' Corner. Follow @jimcallisMLB on Twitter. This story was not subject to the approval of Major League Baseball or its clubs.