Torre's impact on Cards exemplified by HOF candidacy
Cooperstown inductee played, managed six seasons apiece for club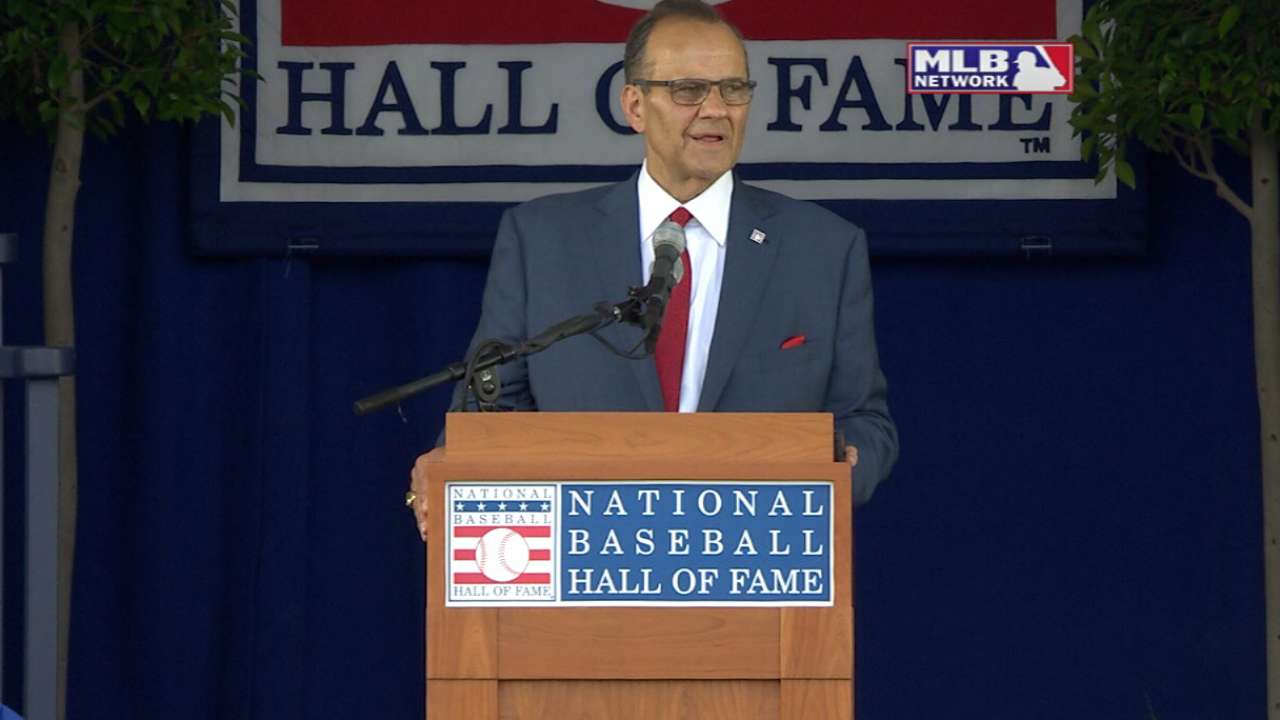 This is the third in a series of stories profiling the eight modern candidates on the Cardinals' 2015 Hall of Fame ballot.
Joe Torre and Major League Baseball have often been one and the same.
From his 17-year playing career and his 29 managerial campaigns to his five-plus years in the broadcasting booth and his current position as MLB's executive vice president of baseball operations, Torre has been immersed in the game for nearly all of his adult life.
"I know very few ballplayers who have ascended in the game as comfortably as Joe Torre has," said Tim McCarver, one of Torre's former Cardinals teammates. "His ascendency in the game was as natural as a staircase that went one step at a time, and he mastered every part of the game with which he was involved."
And while it's only one piece of Torre's distinguished baseball pedigree, his time with St. Louis was nonetheless significant. Torre played six seasons with the Cards from 1969-74, winning the National League Most Valuable Player Award in 1971, the year he led the NL in batting with a .363 average. He later managed the club from 1990-95.
Now, the recent Cooperstown inductee -- Torre entered the National Baseball Hall of Fame last July -- is in the running for a place in the Cardinals Hall of Fame gallery, located in Ballpark Village.
From now until April 20, fans can visit cardinals.com/HOF to vote for up to two of the eight candidates: Torre, Ted Simmons, Steve Carlton, Edgar Renteria, Bob Forsch, Keith Hernandez, Mark McGwire and Matt Morris. The two leading vote-getters will be enshrined during an Aug. 15 ceremony, joining the 26 Cardinals already enshrined.
Torre arrived in St. Louis shortly before the 1969 season via a trade with the Braves, for whom he'd been a five-time All-Star catcher. Playing primarily at first base in '69, then catching again before moving permanently to third base in '70, Torre drove in more than 100 runs in each of his first three seasons with the Cards.
In Torre's MVP season, he led the Majors in hits (230) and RBIs (137). He also hit 24 homers. Torre batted .308 with a .382 on-base percentage in 918 games with St. Louis, and he was an All-Star from 1970-73.
"Anytime you play with the Cardinals, I always had a sense that you were regarded as royalty," Torre said. "There's such a respect in that city for members of the Cardinals. It was just such a cool feeling going there."
Torre would return years later as manager, taking over for Whitey Herzog midway through the 1990 season. In his first full season as skipper, the Cards, projected by many for a down year, defied expectations with 84 wins and a second-place finish.
Torre's St. Louis teams never reached the postseason, and he was dismissed after the 1995 season as the Cardinals soon transitioned into a rebuilding phase under new ownership. He felt incomplete for what he never accomplished as a player or a manager -- winning a World Series.
"I always thought there was something missing out of my resume," Torre said. "I went to St. Louis [as a player], and the one thing that always caught my attention was walking through the office in there and seeing all the celebrations of all the championships."
Torre would later fill that championship void, leading the Yankees to the postseason in each of his 12 seasons as manager and winning the World Series four times, in 1996 and 1998-2000.
Chad Thornburg is a reporter for MLB.com. This story was not subject to the approval of Major League Baseball or its clubs.