MLB.com Columnist
Anthony Castrovince
Drive to surprise pays dividends for Dozier
Contract extension shows Twins believe in second baseman's numbers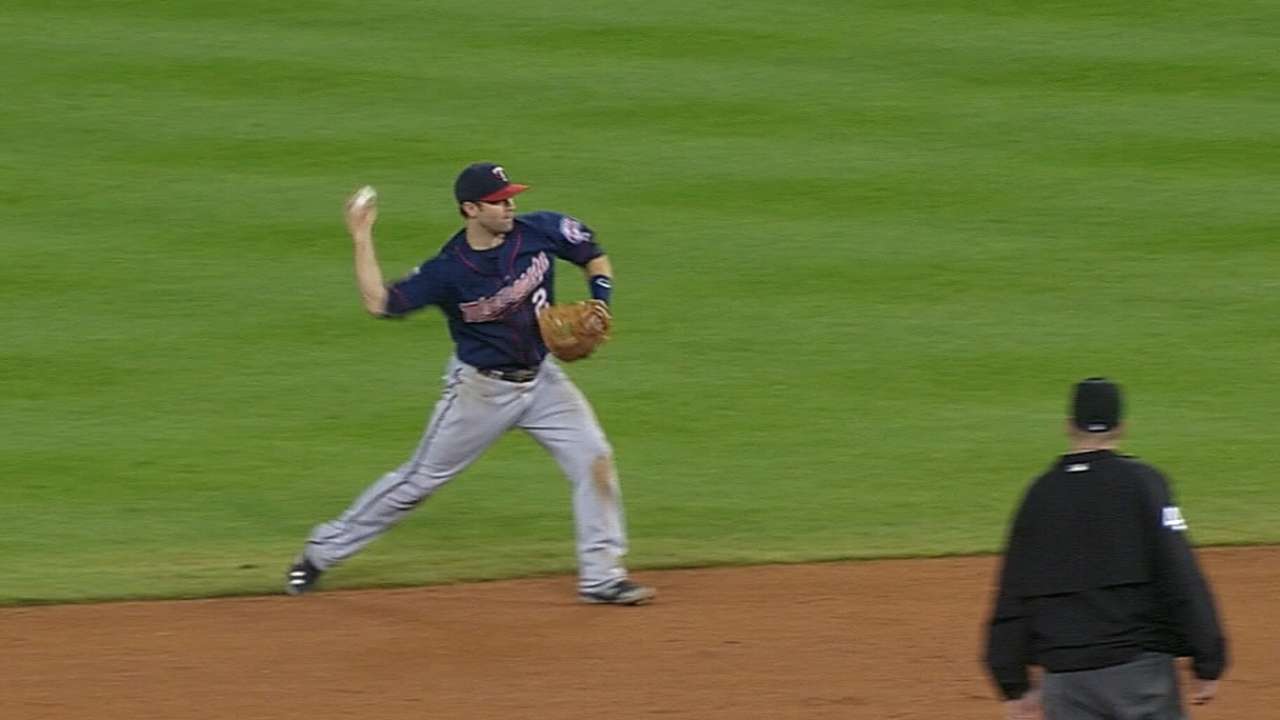 FORT MYERS, Fla. -- Kirby Puckett, Joe Mauer, Tim Teufel, Todd Walker and, most recently, Byron Buxton, are among the Twins' prospects over the years who have served as cover boys for Baseball America. Brian Dozier never did. But that he was here -- in a lunch room at the CenturyLink Sports Complex surrounded by those young faces on the enlarged reproductions of the magazine touting tools and talents -- having his four-year, $20 million extension announced is a testament to his ability to exceed expectations.
"That's been the case my whole entire baseball career, dating back to high school," Dozier said. "No SEC school ever offered me [a scholarship]. And then not being drafted as high out of college. That's all been a big motivation of mine. Underrated is better than being overrated. That's what drives me to be the best I can be."
Dozier might have been an eighth-round pick who didn't stick at his natural shortstop position, but he is nothing short of a top-five second baseman in the big leagues. The Twins rewarded him for sustaining the second-half breakout he displayed in 2013, giving themselves some cost certainty through Dozier's arbitration years.
It was odd to see a long-term contract that does not serve as an extension. Dozier remains free-agent eligible after 2018, but now he knows his exact earnings in the time leading up to that. If a WAR output of 5 is his new norm for the next four years, then Dozier, who at 27 is seemingly just entering his prime, has significantly undervalued himself.
Or maybe the Twins -- mindful of how rare (and difficult to repeat) Dozier's 23-homer, 33-double, 21-steal season as a second baseman really is -- are taking on all the risk here.
Dozier has come a long way from September 2012, when Minnesota opted not to make him a late-season callup. He had struggled on both sides of the ball at shortstop in an 84-game look that year, and he had struggled upon his option to Triple-A. The struggles were thorough enough that the Twins weren't even willing to give Dozier one of those token end-of-year roster spots and a few more at-bats.
"That was devastating for him," general manager Terry Ryan said. "That was probably the first time he ever failed in the game."
But the need to make adjustments was not a new development for Dozier. And he demonstrated those adjustments as 2013 evolved. For one, he quickly got the hang of a transition to the keystone -- particularly the change in scenery on double plays -- which is more difficult than it looks.
"You're so used to having everything in front of you at short," Dozier said, "whereas at second, everything is from your peripheral or blind side."
Dozier hit us from the blind side in 2013. Though his Minor League numbers were solid, they didn't necessarily lead you to expect an 18-homer, 14-steal season was in the offing. Minnesota considered extending Dozier after that season, but the value equation was too difficult to discern, because it was an open question whether Dozier could sustain those stats.
Turns out, Dozier didn't sustain them in 2014. He exceeded them.
Per Baseball Reference, only 12 players in the modern era have had a 20-homer, 30-double, 20-steal season at second base. Last year, Dozier became the first since Dustin Pedroia and Ian Kinsler did it in 2011. And while 18 of his 23 homers were hit in the first half, it was notable that he recovered from a July swoon to get back to the pitch-taking, pull-hitting approach that earned him a berth in the Home Run Derby at the All-Star Game.
Ryan is the first to admit he never would have guessed Dozier would end up in the Home Run Derby, and obviously that was a nod to the Midsummer Classic hosts. It's debatable whether Dozier can post another 20-homer season, especially if he does alter his approach (he mentioned the need to continually "ad lib" at this level) at all to try to use the whole field and boost his .242 batting average.
But right-handed power is rare in today's game, especially at Dozier's position. So while opposing pitchers will undoubtedly continue to adjust to him, it's not the worst idea in the world to continue to exploit that ability to catch up to fastballs and punch them out to the pull side.
We'll see if Dozier can repeat last year's feats, but it's good to see a hard worker and strong representative of the organization get rewarded in this way. Dozier gives a Twins team with a rather underrated offense a nice blend of power and speed, and his defensive play -- which comes complete with that fun little leg-first slide as he grabs grounders -- is an up-the-middle asset.
Dozier also posted up. We're in an era of platoons, pulled obliques and occasional rest from the rigors. Dozier was one of just eight players to log 700 plate appearances last year, and that was no small consideration in Minnesota's decision to do this contract.
The Twins are all about building blocks at the moment. Though he was never considered a top prospect, Dozier has established himself as a big one around here.
"I'm a winner, I love to win and I don't put too much emphasis on what I do individually," he said. "We're headed in the right direction, and that factors into everything that I do."
Anthony Castrovince is a reporter for MLB.com. Read his columns and follow him on Twitter at @Castrovince. This story was not subject to the approval of Major League Baseball or its clubs.