Elite prep talent in action at NHSI
USA Baseball event brings top high school teams, players together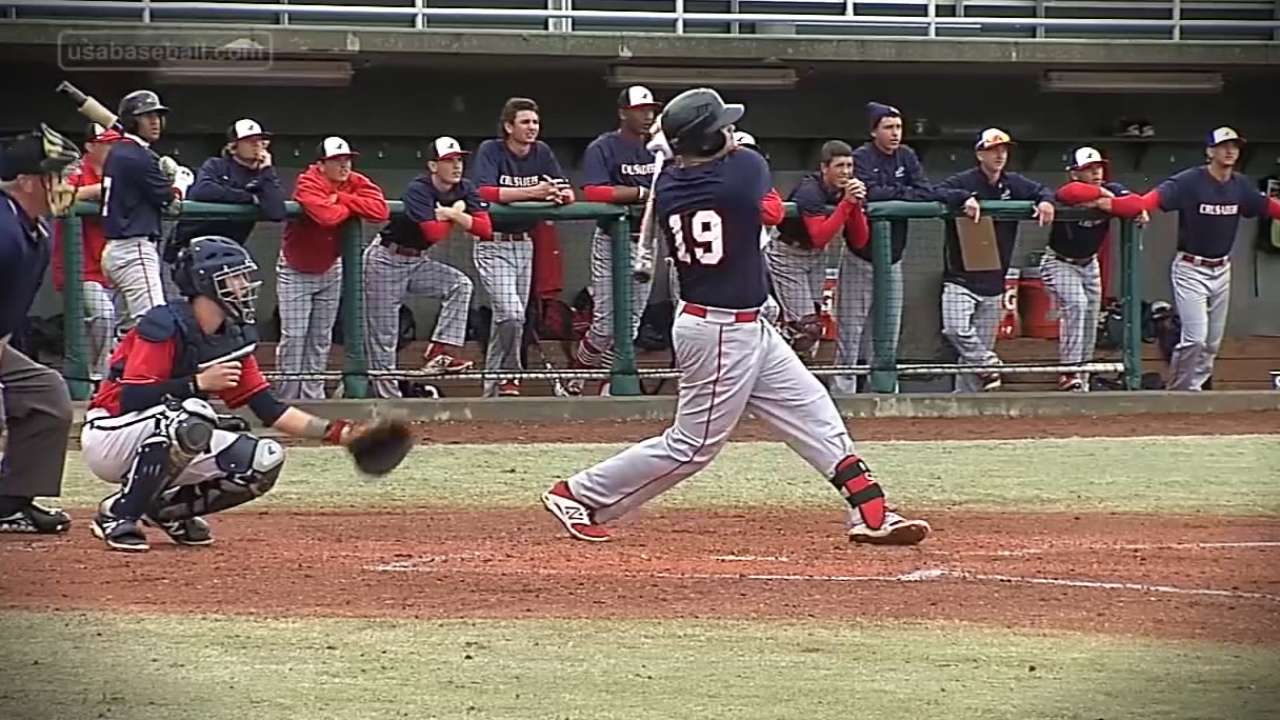 Though it is just four years old, the USA Baseball National High School Invitational has already established its place on the spring calendar. It returns this week as 16 of the best high school teams in the country converge on the USA Baseball National Training Complex in Cary, N.C., for the premier prep tournament.
Play began Wednesday, and the single-elimination tournament continues until Saturday's championship game at 12:15 p.m. ET, which is one of seven games that can be seen live on MLB.com. Regardless of how far they advance, all teams are guaranteed to play four games.
This year, in addition to the tournament, the event includes the International Prospect Series, bringing players from six countries in Latin America to the complex to play two high school teams from North Carolina.
The NHSI brings together 16 teams from 10 states. California is supplying four teams -- College Park High School, Huntington Beach High School, Junipero Serra High School and San Clemente High School -- and Florida has three representatives -- Mosley High School, St. Thomas Aquinas High School and Trinity Prep. Rounding out the field are College Station (Texas) High School, DeSoto (Miss.) Central High School, Farragut (Tenn.) High School, Horizon (Ariz.) High School, Lambert High School (Suwanee, Ga.), Leesville Road High School (Raleigh, N.C.), Loyalsock Township (Pa.) High School, Puyallup (Wash.) High School and Whitewater High School (Fayatteville, Ga.).
Led by left-handers Foster Griffin and Adam Haseley, The First Academy (Orlando, Fla.) won the 2014 NHSI. Griffin was drafted 28th overall by the Royals and is now their No. 7 prospect. Haseley elected to attend Virginia, where he is now a freshman.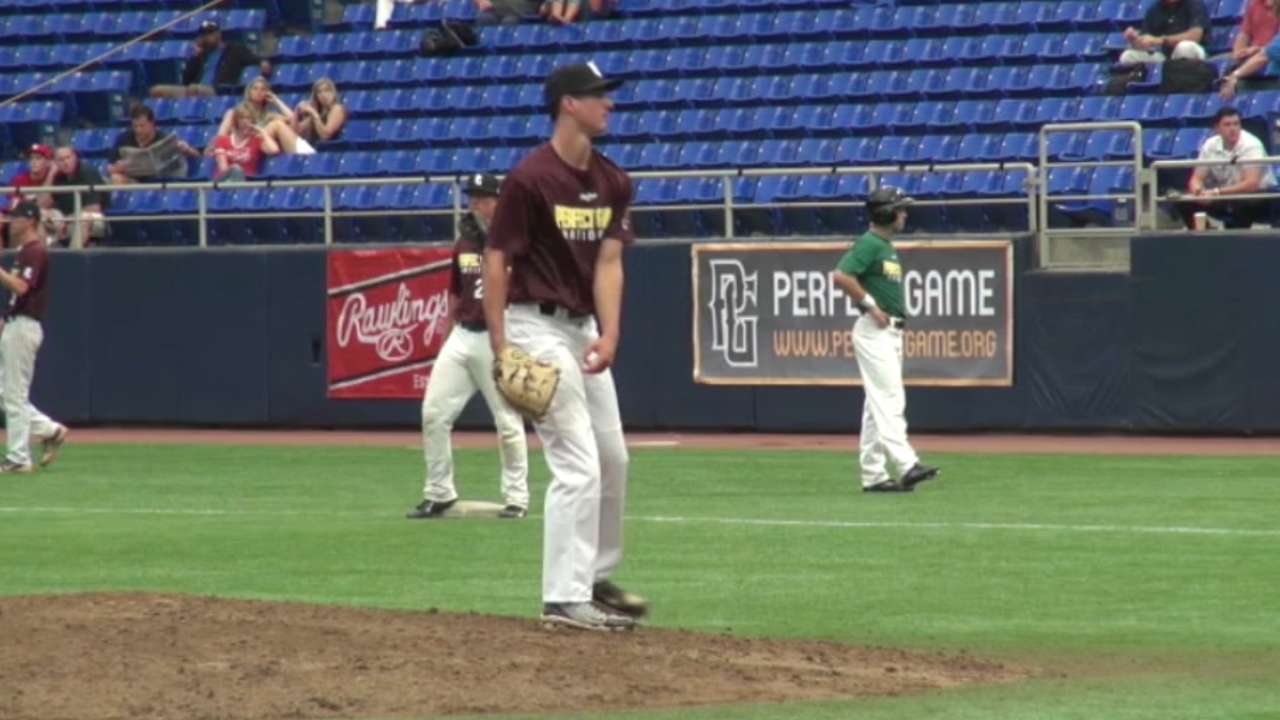 In addition to Griffin, several other players who have appeared in the event have gone on to become first-round picks, including outfielder Braxton Davidson, right-hander Jack Flaherty, left-hander Max Fried, outfielder Courtney Hawkins, outfielder Austin Meadows, left-hander Justus Sheffield, right-hander Touki Toussaint and shortstop Cole Tucker.
This year, a whole new set of players look to use the NHSI as a springboard into the first round of the Draft.
Players to watch
San Clemente left-hander Kolby Allard, ranked No. 7 on MLBPipeline.com's Top 50 Draft prospects list, had been expected to highlight the NHSI field, but he was sidelined last week due to a stress reaction in his back, and he will be out for about two months.
Even with Allard out, there are still plenty of players for scouts to watch this week in North Carolina. Some prospects to keep an eye on:
Seth Beer, OF, Lambert, 2016
J.J. Bleday, LHP, Mosley, 2016
Hagen Danner, RHP, Huntington Beach, 2017
Kyle Datres, SS/RHP, Loyalsock, 2015
Joe DeMers, RHP, College Park, 2015
Lucas Herbert, C, San Clemente, 2015
Ryan Johnson, OF/RHP, College Station, 2015
Austin Riley, RHP/3B, DeSoto, 2015
Brady Shockey, 3B/OF, Junipero Serra, 2016
Chase Strumpf, SS, Junipero Serra, 2016
Broadcast schedule
Games streamed live on USABaseball.com
Wednesday
College Park vs. Farragut, 12 p.m. ET
San Clemente vs. Lambert, 3:30 p.m.
Thursday
Huntington Beach vs. Puyallup, 12 p.m.
Mosley vs. Whitewater, 3:30 p.m.
Friday
Huntington Beach (Calif.) vs. San Clemente (Calif.), 11 a.m.
Mosley (Fla.) vs. College Park (Calif.), 30 min. after conclusion of Game 1
International Prospects vs. South Caldwell (N.C.), 4:15 p.m.
Teddy Cahill is a reporter for MLB.com. Follow him on Twitter at @tedcahill. This story was not subject to the approval of Major League Baseball or its clubs.