Wieters focuses on health, not Opening Day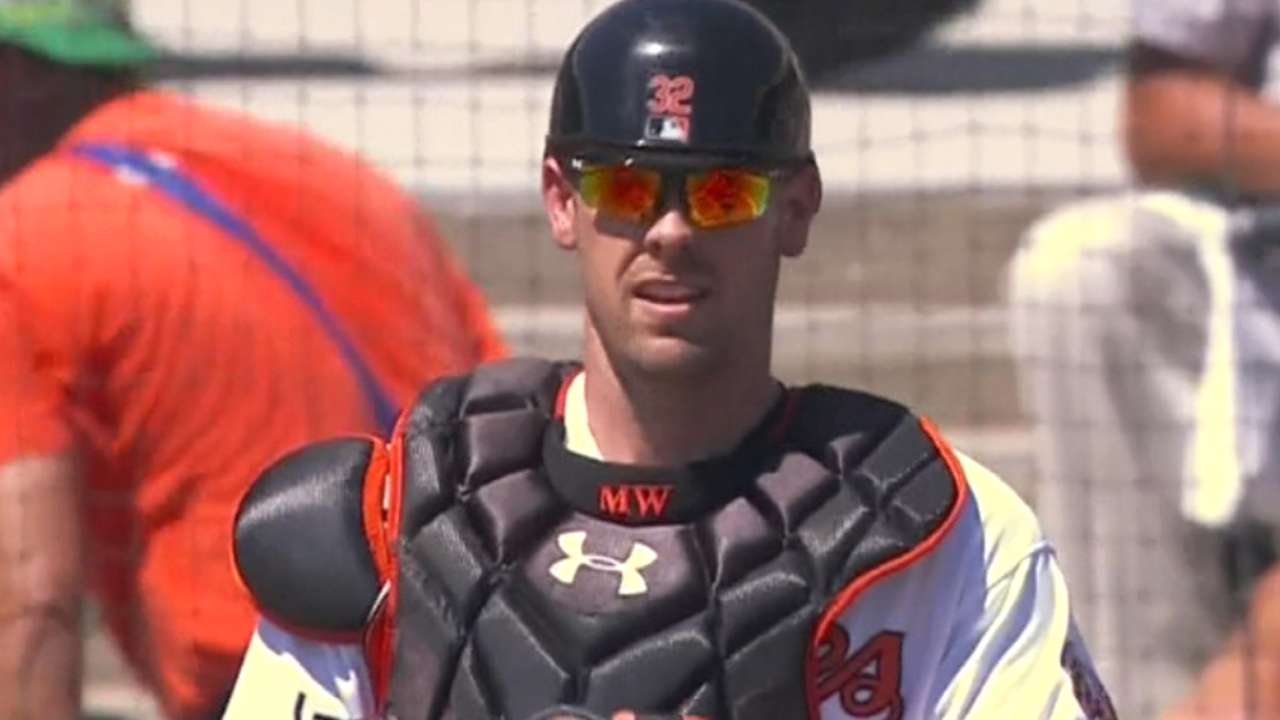 SARASOTA, Fla. -- With Opening Day all but officially out of the question for Matt Wieters, the Orioles' catcher has simply set his sights on a healthy return.
Working his way back from Tommy John surgery, Wieters had been on track to be ready for Opening Day against the Rays until the O's shut him down last week, one day after his Spring Training debut behind the plate.
Wieters said Tuesday that his new goal is "not a matter of a date."
"It's more when it's ready," Wieters said. "I think that's the thing that's probably a little bit easier for me than trying to say, 'OK, we have to be ready by here or we have to be ready by here.'
"I want to be ready as quick as possible and where I feel like once I start playing, I'm going to be able to keep improving and we're not going to have any issues throughout the course of the year, then I'll be confident."
For now, Wieters said his surgically repaired right elbow is responding well to rest and treatment. It's unlikely that he will return to Grapefruit League games this spring, but he could see time in a few Minor League games.
If Wieters begins the season on the 15-day disabled list, he would be eligible to return April 11 against the Blue Jays.
"Opening Day was always the goal. It was always something that I was shooting for, just because throughout the course of a long offseason, you want to have that end goal in sight," Wieters said. "I think once I came to terms, that probably wasn't going to be the best thing for my arm, as well as for the team. At that point, it was a little bit easier to sit back and say, 'OK, now let's just let it calm down, and when it's ready, it's ready.'"
Wieters went 0-for-23 with a walk in seven Grapefruit League games. He caught six innings against the Twins on March 17, exactly nine months after undergoing surgery.
When asked about the possibility of breaking camp as a designated hitter, Wieters said his focus right now is set squarely on his preparation behind the plate. But not on Opening Day.
"It's always fun to experience it, but at the same time, I want to be there at the end of the year," Wieters said. "And I'd much rather be playing for the playoffs as opposed to playing on that Opening Day date."
Adam Berry is a reporter for MLB.com. Follow him on Twitter at @adamdberry. This story was not subject to the approval of Major League Baseball or its clubs.