MLB.com Columnist
Jim Callis
MLB Pipeline checks in from Angels camp
Versatile Featherston impresses; Green talks return from back injury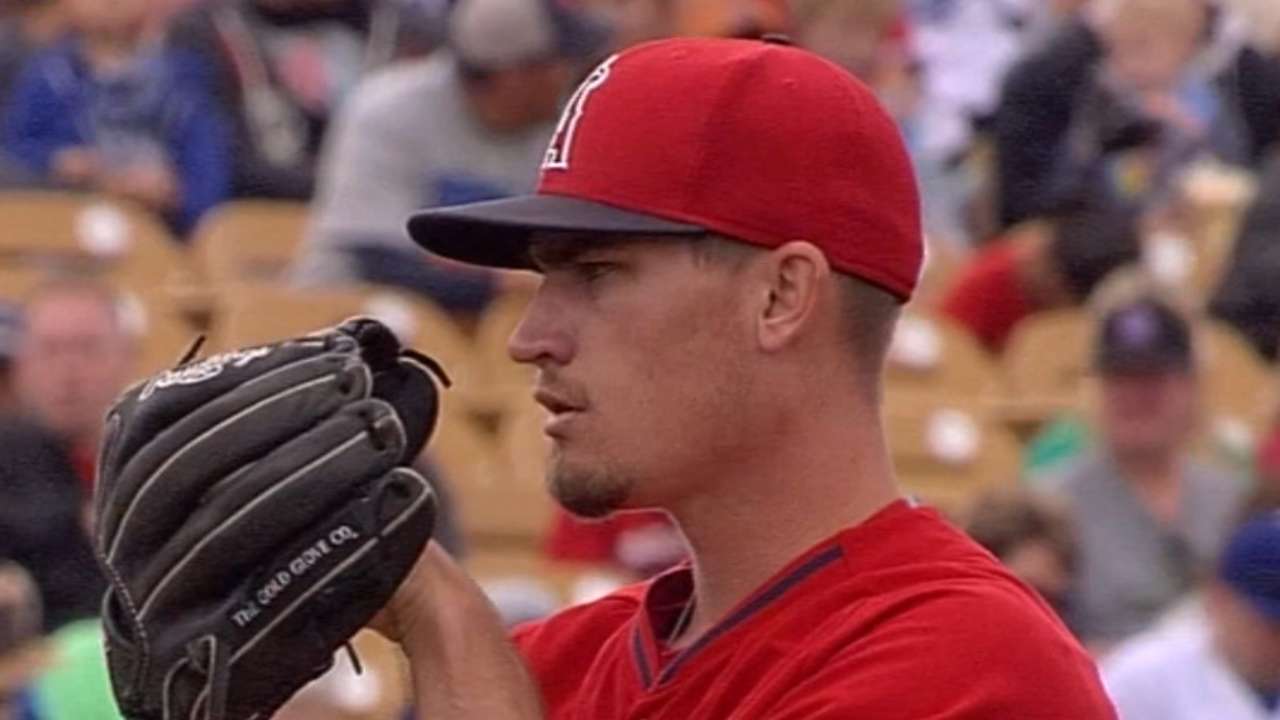 Every Spring Training, prospects get a chance to show what they can do as they prepare for the season ahead. Some are competing for jobs in big league camp, others are prepping for the season as they vie for spots at Minor League affiliates up and down a team's system. MLBPipeline.com will be visiting all 30 camps this spring. Today, we check in on the Los Angeles Angels.
TEMPE, Ariz. -- The Angels pulled off a difficult feat in 2014. They won at the big league level, topping all teams with 98 victories, while also starting to rebuild their farm system.
The first five players (and 10 of the first 12) on MLBPipeline.com's Angels Top 30 Prospects list have joined the organization in the past nine months. Left-handers Andrew Heaney and Nate Smith, right-hander Nick Tropeano and third baseman Kyle Kubitza arrived via trades, while lefty Sean Newcomb and righties Joe Gatto and Chris Ellis were products of the First-Year Player Draft. Shortstops Roberto Baldoquin and Julio Garcia were signed on the international amateur market, and infielder Taylor Featherston was selected in the Rule 5 Draft.
MLB Pipeline Spring Training Reports
There's still plenty of work to be done, but Scott Servais, the club's assistant general manager in charge of scouting and player development, is encouraged by the progress made in the past year.
"To win 98 games and get Heaney and Kubitza through trades and pick up Newcomb in the first round of the Draft and add to the mix with Baldoquin and Garcia, we needed it," Servais said. "We didn't have a first-rounder for a couple of years.
"When I was with Texas and we had the old rules, I thought you could rebuild a system in two years if you had back-to-back strong Drafts and killed it internationally. Now it's more of a four-year process, and we don't want the big league club to take a step back. It's a longer process, but you've still got to make good choices."
Camp standouts
Selected from the Rockies, Featherston could make the jump from Double-A and stick with the Angels as a utility infielder. If he doesn't, they'll have to put him on waivers and offer him back to Colorado for half of his $50,000 Rules 5 Draft price. After leading the Texas League with 53 extra-base hits and 218 total bases last season, he got off to a hot start this spring before cooling off in the past week.
"[Featherston] was a great pickup," Servais said. "We were light on utility guys in our system, and he has a little bit of an edge to him. He can play all three infield positions and he has enough arm to make plays at shortstop. I thought when I first saw him that his swing might be a bit long, but he's making adjustments."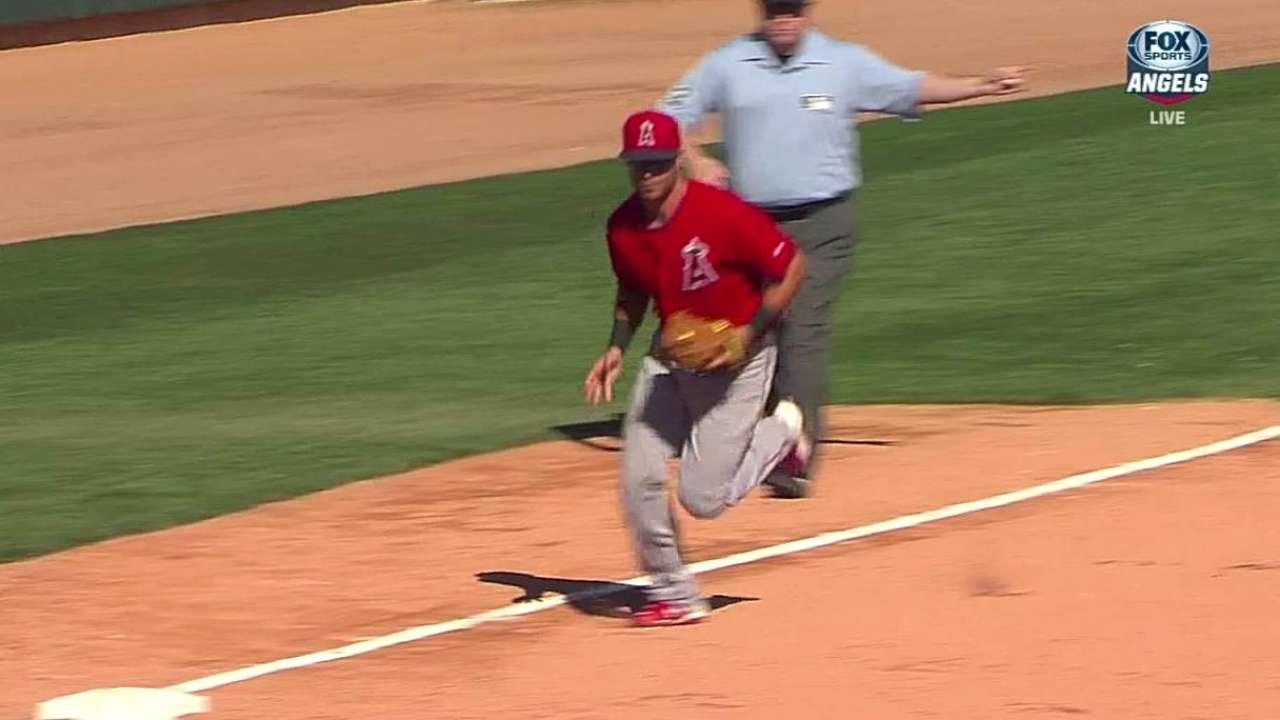 Fifteenth-round Draft picks rarely get a look in big league camp during their first spring as a pro. But the Angels like left-handed reliever Greg Mahle's moxie and ability to keep hitters off balance, and he required just 10 pitches to get six outs in his first three appearances before the Giants tagged him for two runs on Saturday.
"He throws from multiple angles," Servais said. "He throws 90-93 mph from three-quarters and 90-91 from totally sidearm. He throws strikes, can spin a curveball and can turn over a screwball. He's going to be a guy. We'll probably start him in high A and let him roll."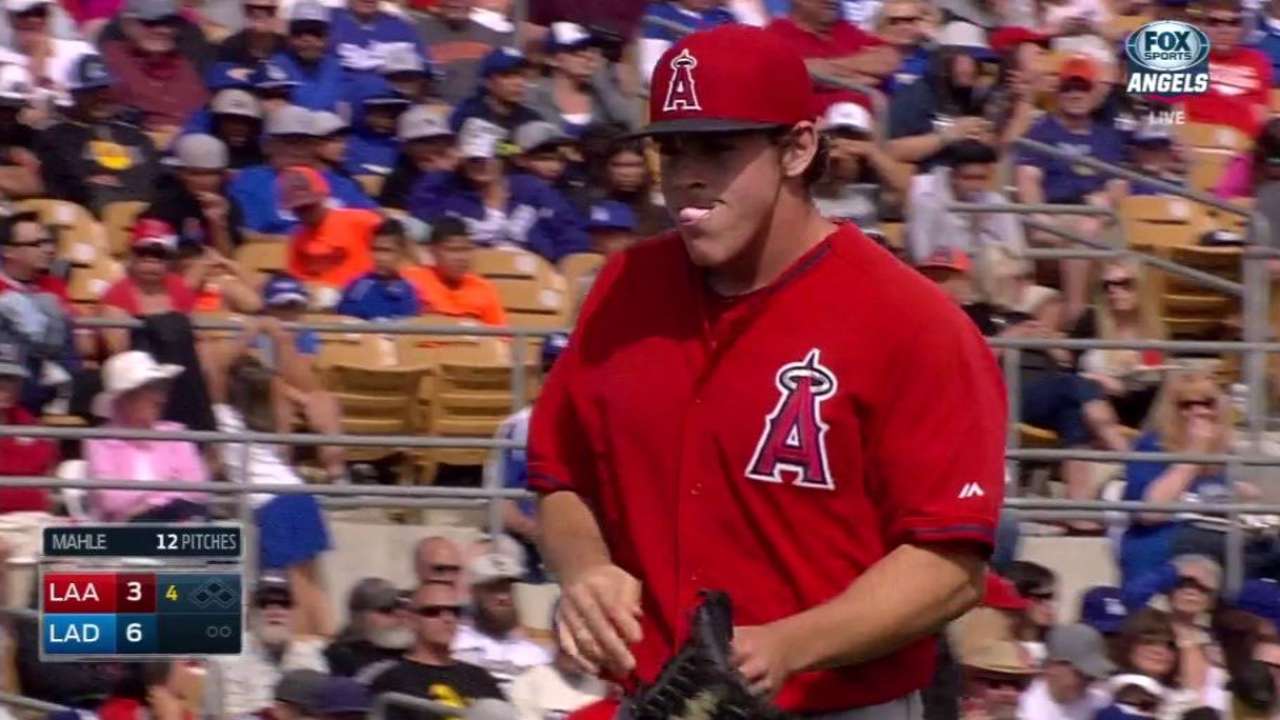 Breakout candidates
The Angels have high expectations for Baldoquin after paying him an $8 million bonus in January, a franchise record for an amateur. They believe in his offensive upside and ability to stay at shortstop, and they also love his makeup and take-charge attitude.
"He has looked awesome," Servais said. "He can play shortstop. I was with Texas when we traded for Elvis Andrus, and it's a very similar package. He's not an explosive runner like Elvis, but he's maybe going to have more bat."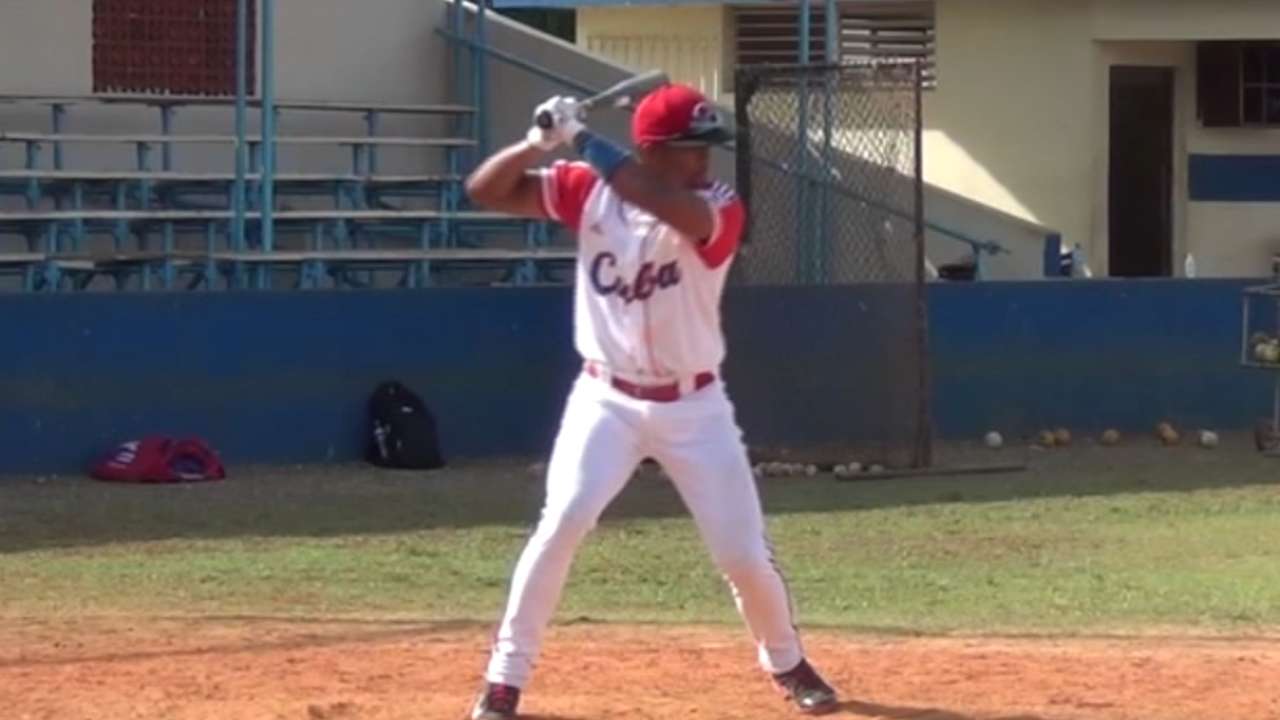 Right-hander Victor Alcantara has hit 100 mph, though he learned that velocity alone wouldn't suffice when he got tagged for a 7.47 ERA in Rookie ball in 2013. He bounced back last year, earning a spot in the Futures Game after improving his secondary pitches and control. If Alcantara can make similar strides this season, he could move quickly and have a future as a starter.
"He has been throwing a lot of strikes," Servais said. "His fastball and slider are very good. We hope to get him to Double-A in the second half."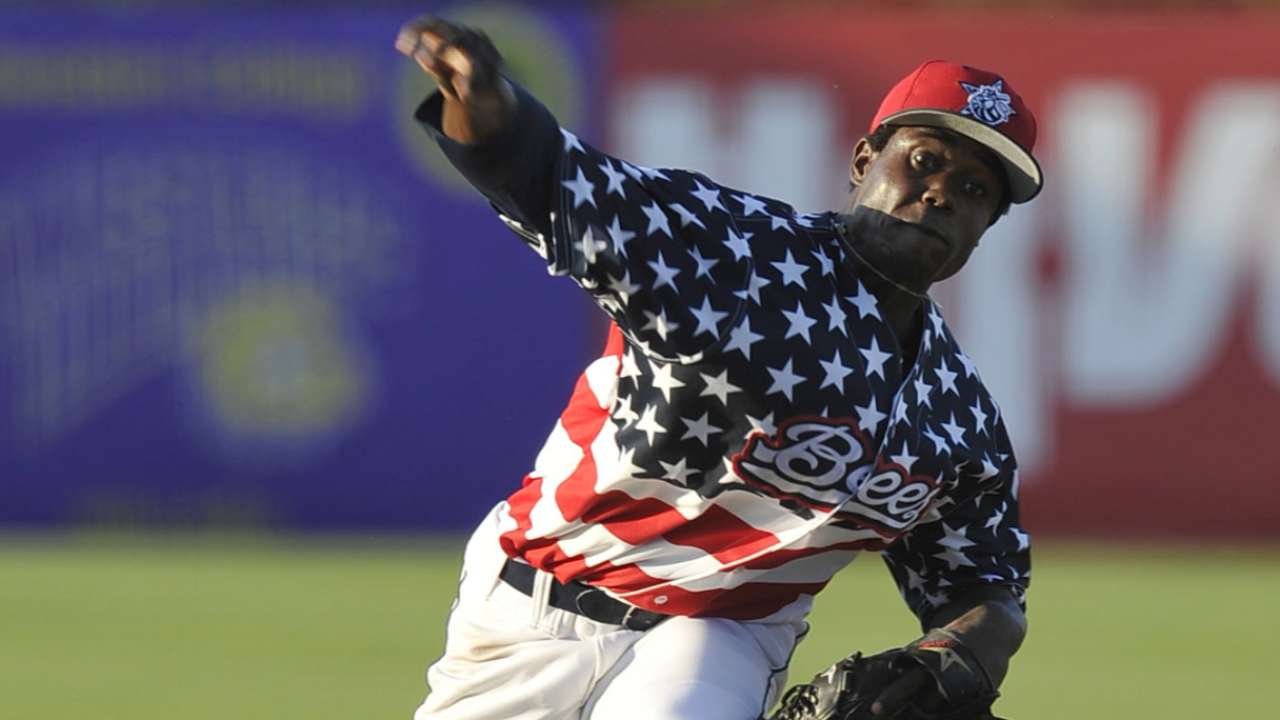 Three questions with Hunter Green
The Angels forfeited their 2013 first-round choice for signing Josh Hamilton, so second-rounder Green was their top pick that June. The Kentucky high school product has pitched just 16 2/3 pro innings since signing for $942,000, missing all of 2014 because of back issues that started with a stress fracture during his sophomore year of high school.
MLBPipeline.com: The obvious first question is, how's your back?
Green: Everything is great. I've stayed on top of everything they've given me to do in rehab, and it's paid off. This is probably the best I've felt in a long time. Even better, I'm back pitching again. At first last year, I thought I'd only be out a week, but it never got better. It was awful having to rehab all day.
MLBPipeline.com: Now that you've returned to the mound, what are you trying to work on?
Green: The main thing I need to work on is my control, my effort level, just worry about throwing strikes. I'm focusing on hitting spots and commanding three pitches rather than throwing hard. So far, it's paid off. I'm throwing a lot more strikes than in the past.
MLBPipeline.com: In your Draft year, some scouts thought you had the potential for three plus pitches. The consensus was that your lively low-90s fastball was your biggest weapon, but what's your best secondary offering?
Green: My changeup is my go-to offspeed pitch. I made my high school team in seventh grade, and my high school pitching coach wouldn't let us throw a breaking ball until our sophomore year. So in my first three years on my high school team, I threw a lot of changeups.
Jim Callis is a reporter for MLB.com and writes a blog, Callis' Corner. Follow @jimcallisMLB on Twitter. This story was not subject to the approval of Major League Baseball or its clubs.