MLB.com Columnist
Jim Callis
MLB Pipeline checks in from Rockies camp
Righty Gray shines on mound; lefty Freeland talks transition to pros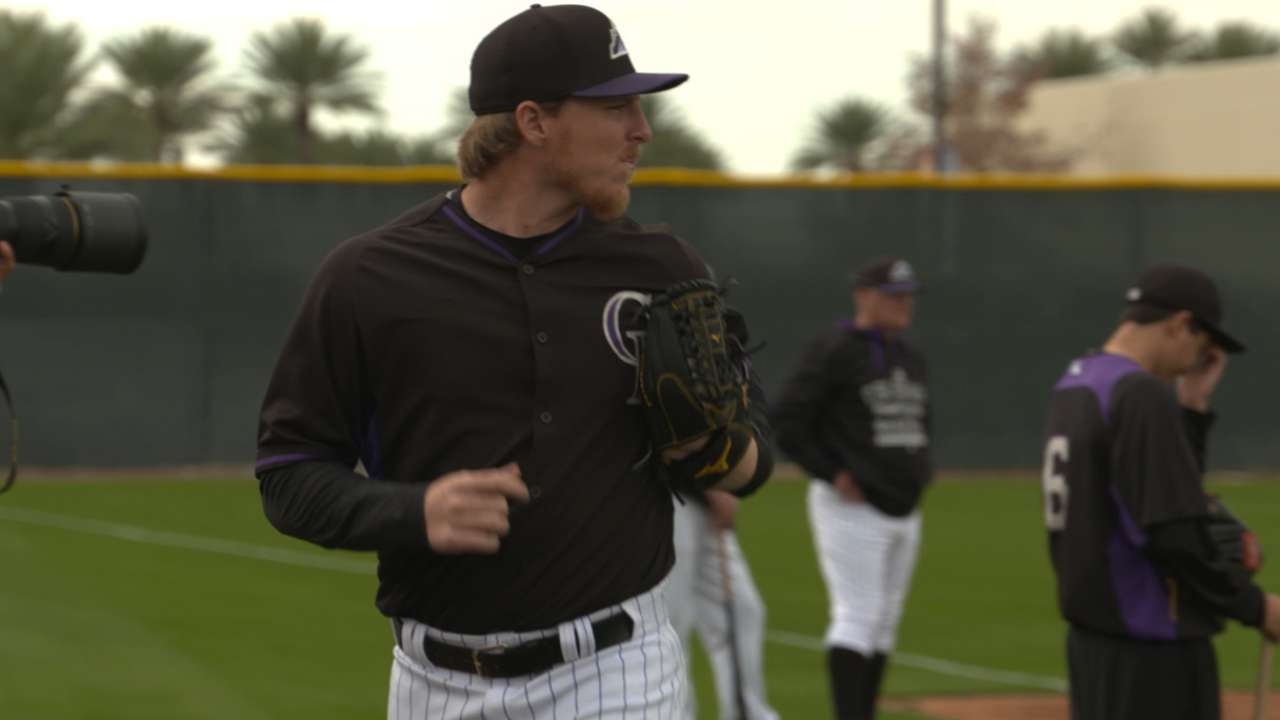 Every Spring Training, prospects get a chance to show what they can do as they prepare for the season ahead. Some are competing for jobs in big league camp, others are prepping for the season as they vie for spots at Minor League affiliates up and down a team's system. MLBPipeline.com will be visiting all 30 camps this spring. Today, we check in on the Colorado Rockies.
SCOTTSDALE, Ariz. -- Mile High Stadium and Coors Field certainly haven't made it easy, but the Rockies have had very little success signing and developing pitching. Since they came into being 23 years ago, they've had just three homegrown All-Stars on the mound: Shawn Chacon, Aaron Cook and Ubaldo Jimenez.
Colorado has finished in the upper half of the National League in ERA just twice, in 2007 and '09, which not coincidentally are two of the three seasons in which it has reached the playoffs. After the Rockies spent three of their past four first-round Draft picks on pitchers -- Tyler Anderson (2011), Jon Gray ('13) and Kyle Freeland ('14), as well as supplemental first-rounder on Eddie Butler in '12 -- their farm system may be better armed than ever, and it could be about to produce results at the big league level.
MLB Pipeline Spring Training Reports
"We've got quite a stock of arms up and down our system," senior director of player development Zach Wilson said. "There's Gray, Butler and Anderson at the top; Freeland and Antonio Senzatela and Alex Balog in the middle; Ryan Castellani, Helmis Rodriguez and Sam Howard at the lower levels. Up and down, we've got guys who can be pretty special for us."
Camp standouts
Gray has looked special for much of big league camp, and he threw four scoreless innings against the Brewers on Monday to lower his spring ERA to 2.08 in 13 innings. He pitched mostly with a mid-90s fastball and mixed in a mid-80s slider versus Milwaukee, typical power for the No. 3 overall choice in the 2013 Draft. He could make the jump from Double-A and open the season in the Rockies' rotation.
"There was talk that his velocity was down last year, but that was never a concern for us," Wilson said. "He was working on things to get better. His changeup was his focus, as was his fastball command. All these things he was working on have shown up very well this spring and he has carried himself tremendously."
Colorado's top two position prospects, outfielder David Dahl and third baseman Ryan McMahon, reported early and have looked sharp in Minor League camp. They teamed together at low Class A Asheville in 2014, earning postseason South Atlantic League All-Star honors, and could be reunited at high Class A Modesto to begin this season.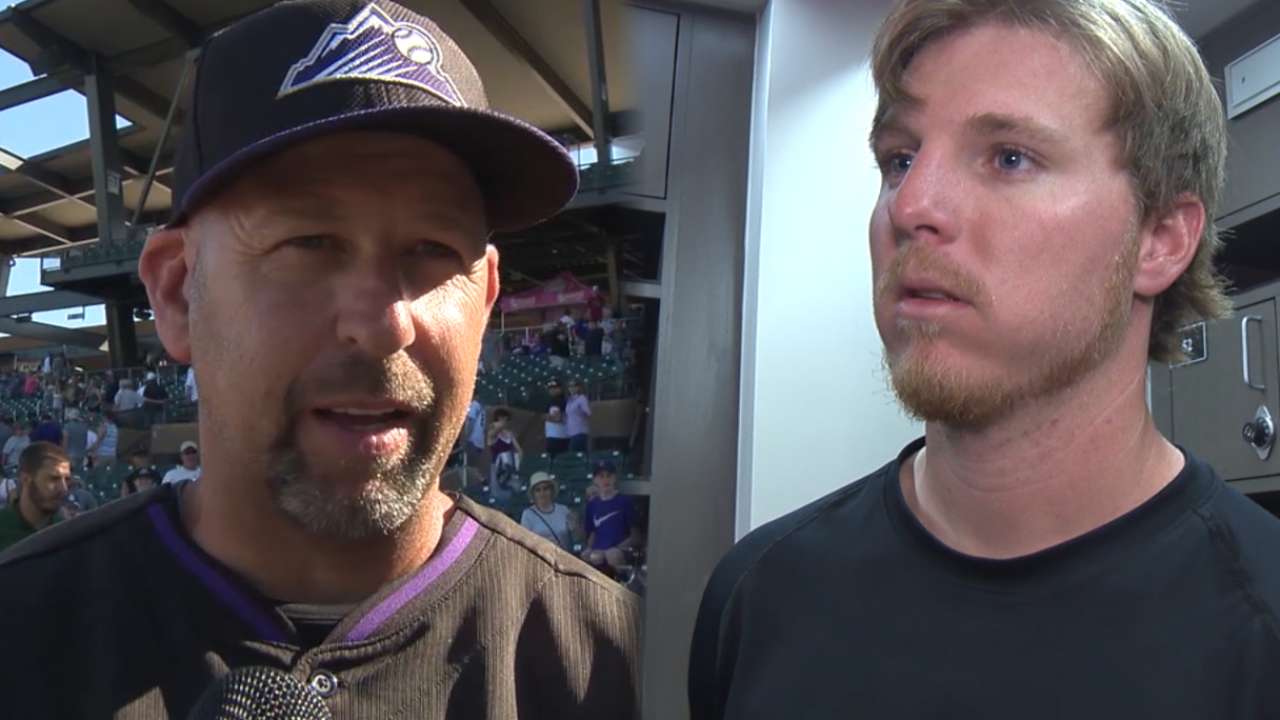 "David Dahl opens eyes more and more every time," Wilson said. "He came in here at the end of January ready to go. He's been swinging the bat great.
"Ryan McMahon pretty much spent his entire offseason here on his own. They've really put in a lot of effort and made the most of their offseason. They're leaders that way, and the other guys are feeding off that."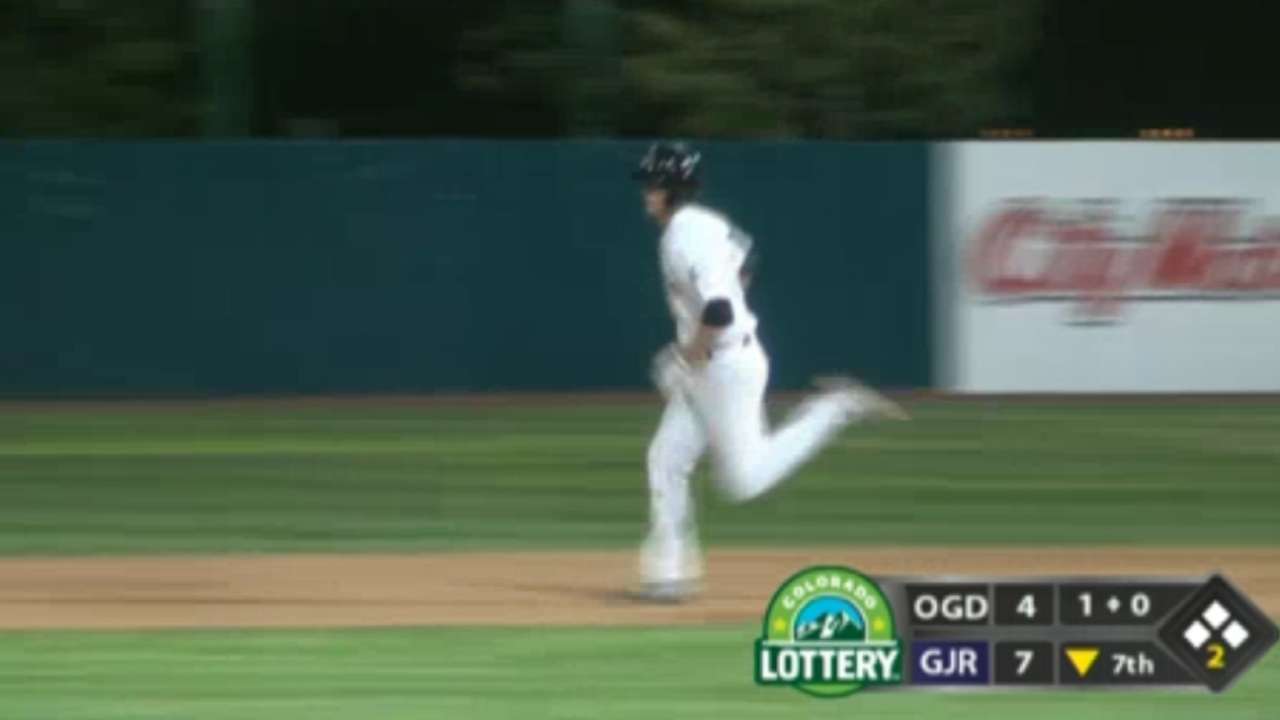 Breakout candidates
When the Rockies drafted Forrest Wall 35th overall last June, he became the first high school second baseman taken that early since the Rays selected (and didn't sign) LeVon Washington at No. 30 in 2009. Some scouts considered Wall the best pure prep hitter in the 2014 Draft, and he batted .318/.416/.490 in his pro debut at Rookie-level Grand Junction. He could have gone higher if shoulder surgery in 2011 hadn't led to worries about his throwing arm, though his well-above-average speed means he'll still profile well in center field if he can't stick in the infield.
"Forrest Wall showed up in great shape and physically stronger," Wilson said. "He did what he needed to do with his nutrition and training, and it shows. From the time we got him last year and now, his arm has improved leaps and bounds, and it's more than usable at second base. When you see a bat like that, you've got to credit [scouting director] Bill Schmidt and the scouting department."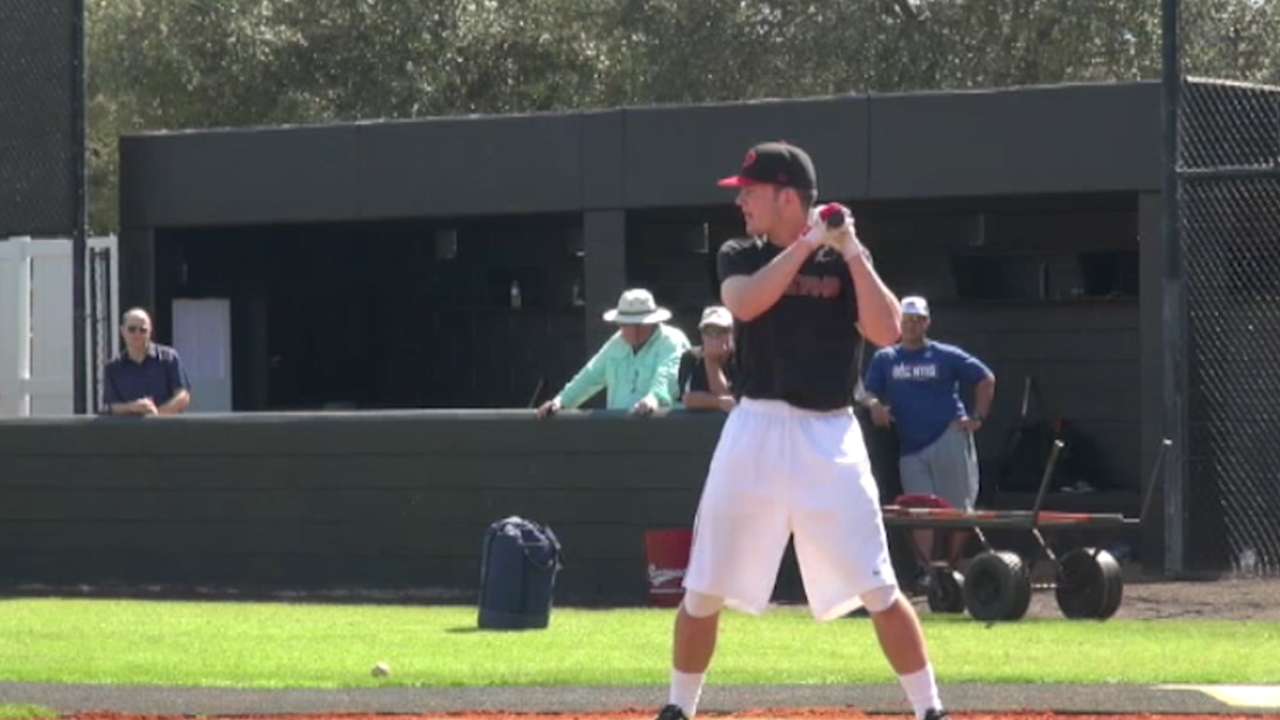 Since signing for $800,000 as a sixth-round pick in 2013, Dom Nunez has spent two seasons at Grand Junction, where he hit .313/.384/.547 last summer. Part of the reason Colorado held him back is that he moved to catcher in 2014 after playing second base in his pro debut, and the transition behind the plate is going well.
"He has natural ability to receive," Wilson said. "He embraced it and has turned himself into maybe our top receiver. He has very quiet hands, he's athletic and he can move side to side very well. I think he's a future potential impact catcher on both sides of the plate, because he has a smooth, classic left-handed swing with some power."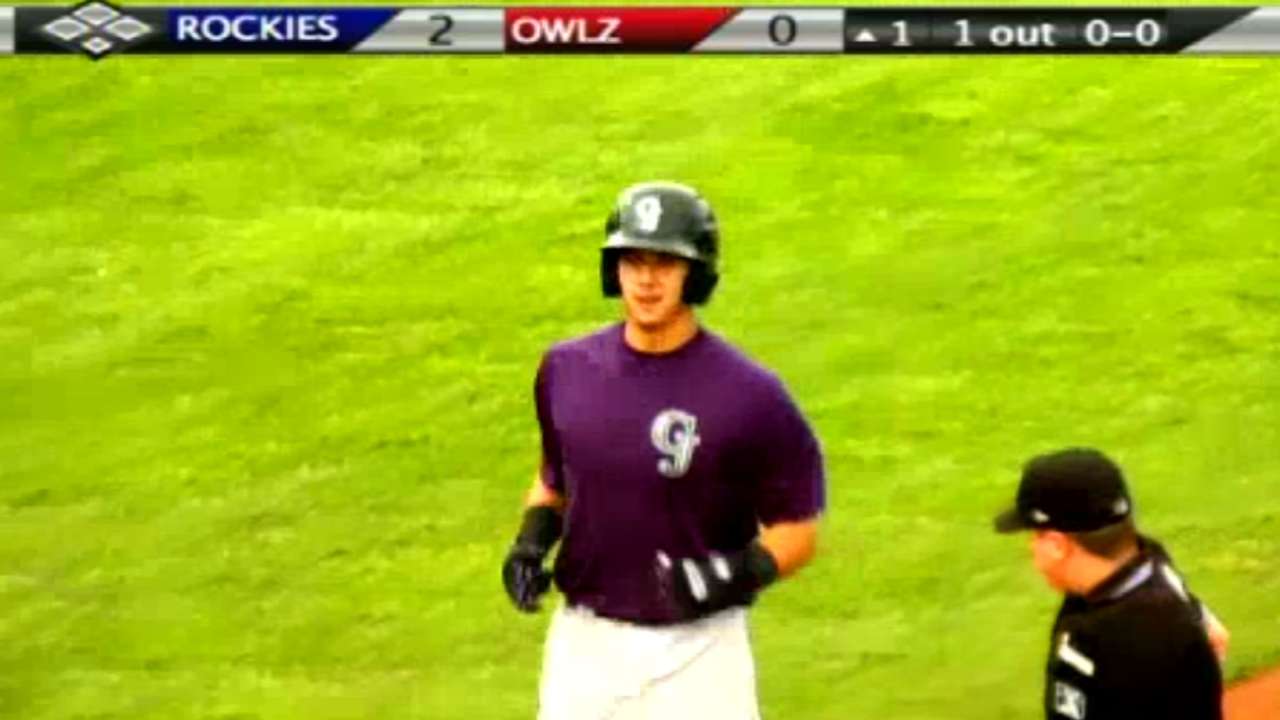 Three questions with Kyle Freeland
Freeland was one of the top pitchers in college baseball last spring, ranking second in NCAA Division I in strikeouts per nine innings (11.6), third in K/BB ratio (10.7) and sixth in strikeouts (128) for Evansville. After signing for $2.3 million as the eighth overall pick in the 2014 Draft, he posted a 1.15 ERA in 10 regular-season starts and won a game in the low Class A South Atlantic League playoffs.
MLBPipeline.com: Even though you didn't miss a start in three years at Evansville, concerns about your elbow arose last spring because of a notation by a radiologist on a medical report from minor surgery you had as a high school freshman. What was it like dealing with that?
Freeland: It was a little frustrating, but at the same time, I knew the truth about my elbow. I didn't lie to anybody. I had to deal with it, and it was aggravating and annoying, but I got to see a different side of baseball. I got to see the business side of it.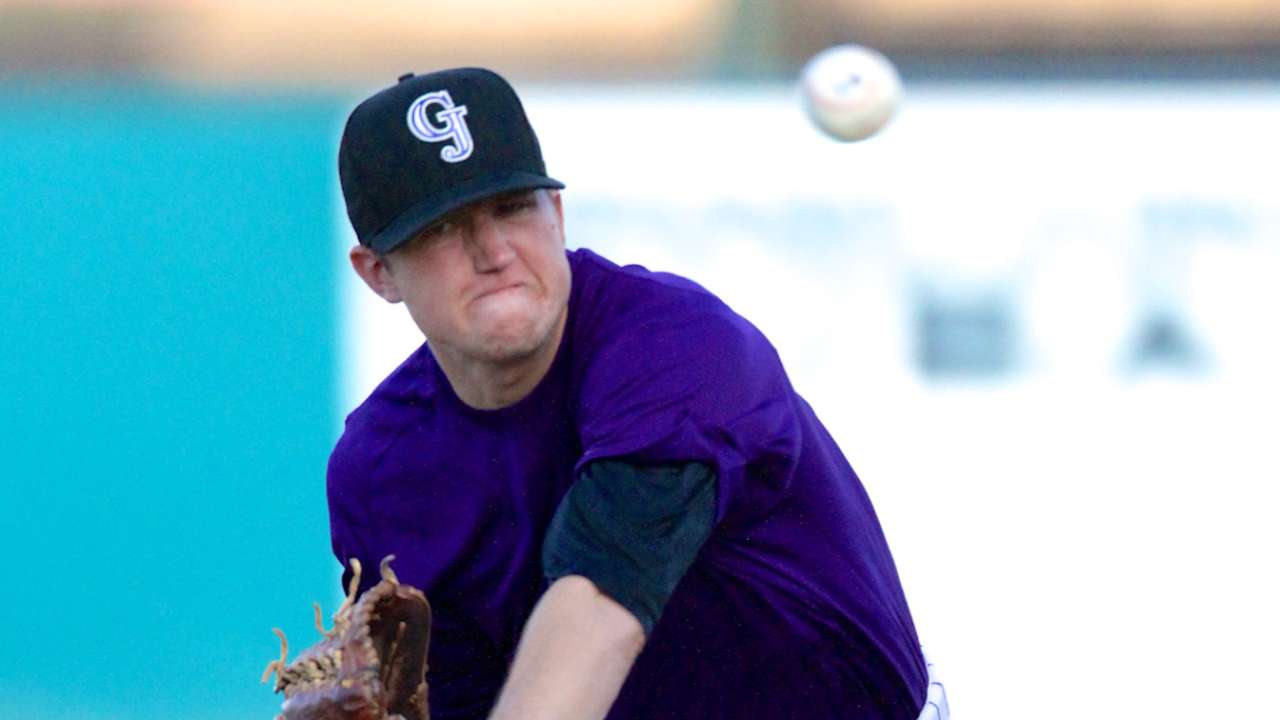 MLBPipeline.com: What have you been working on since turning pro?
Freeland: The changeup is the one pitch we've focused on. I really didn't need it in college. With my fastball/slider combo, I threw maybe two or three changeups a game. It's really progressed a lot since I started throwing it 10 or 15 times a game. I changed my grip, kind of like a twisted two-seamer, to get a bit more sink and run. I'm more confident with it than I was in college.
MLBPipeline.com: Scouts rave about your uncanny command. How long has that been your strong suit?
Freeland: I've always had that, since high school, even travel ball and grade school. I was taught by my pitching coach when I was young to fill up the strike zone. When you pitch, you're going to have the advantage, because a good hitter is going to make an out seven out of 10 times. So fill up the strike zone.
Jim Callis is a reporter for MLB.com and writes a blog, Callis' Corner. Follow @jimcallisMLB on Twitter. This story was not subject to the approval of Major League Baseball or its clubs.