MLB.com Columnist
Mike Bauman
With room to grow, Elvis ready to make it happen
Andrus looks to bounce back from difficult 2014 season with renewed consistency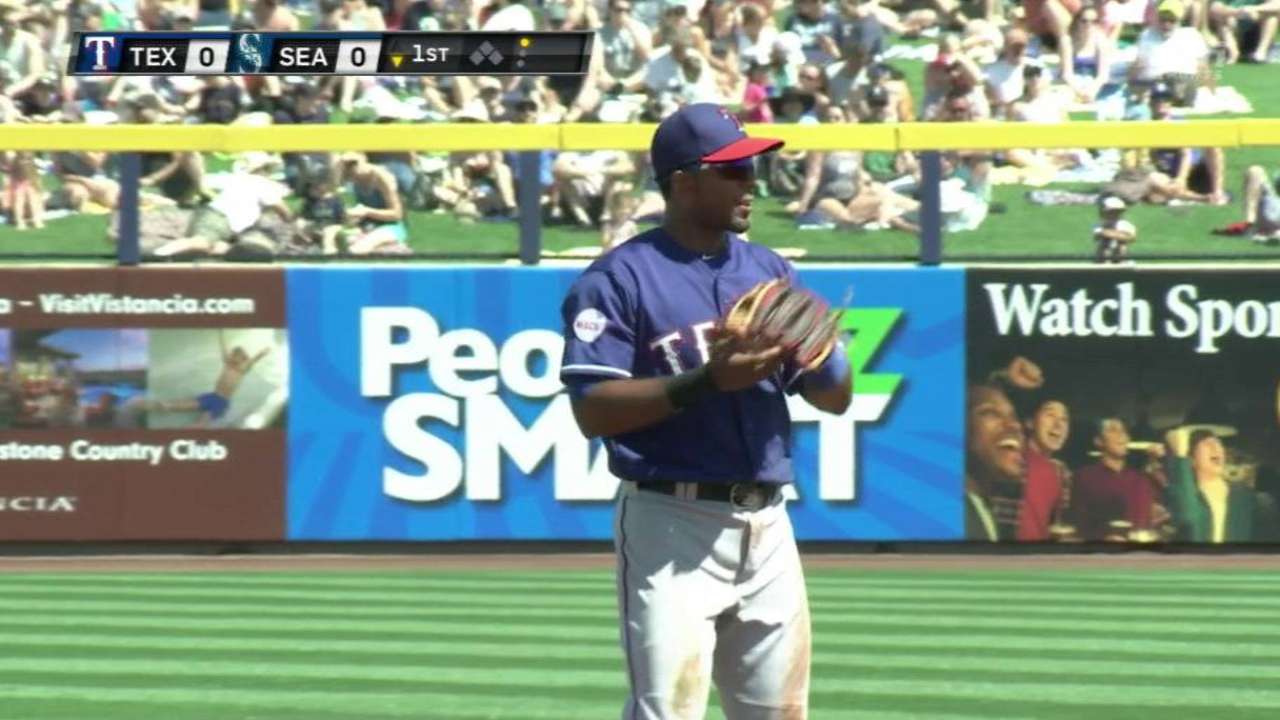 SURPRISE, Ariz. -- In the Texas Rangers' clubhouse at Surprise Stadium, shortstop Elvis Andrus is contemplating the anticipated improvement in his performance.
Andrus has been a regular for six seasons, but he is still only 26. He is an established Major Leaguer and yet, there is still room for his career to grow.
"You learn from the mistakes, you learn from the past, and for me it's been a learning process," he said Monday. "Every year you learn something new.
"I believe that I'm getting to a point," he added with a smile, "where it's time to do it instead of just learning about it."
When asked where he can improve, Andrus responded: "Everywhere. I know that so far in my career I haven't had a career year yet. That's why I want to work harder and get after it, and that way I can maximize my qualities and my tools. So far this year, I'm in great shape and I'm feeling really well on the field, physically and mentally."
The rest of the Rangers organization carries legitimate hopes for a better Elvis Andrus. When general manager Jon Daniels is asked whether Andrus' improvements can be defensive or offensive, he replies.
"All of the above."
"We invested in him because we thought he was arrow-up. We've been encouraged this winter and this spring by the feeling that he's kind of recommitted, after last year being below his standards.
"We don't see why he can't be one of the best defensive players and baserunners in the game. He controls the bat, he can get on base, do some different things. I don't expect him to hit for power, but I think he can be an impactful player. He's a winning player."
The Rangers' $120 million investment in Andrus extends through 2022, and illustrates a firm belief in his abilities. This isn't all projection. Andrus has twice been an All-Star and in two seasons has been the shortstop for a pennant-winning team. Over the last six seasons, he is fourth in the Majors in stolen bases. He is an established Major Leaguer, but a higher level beckons.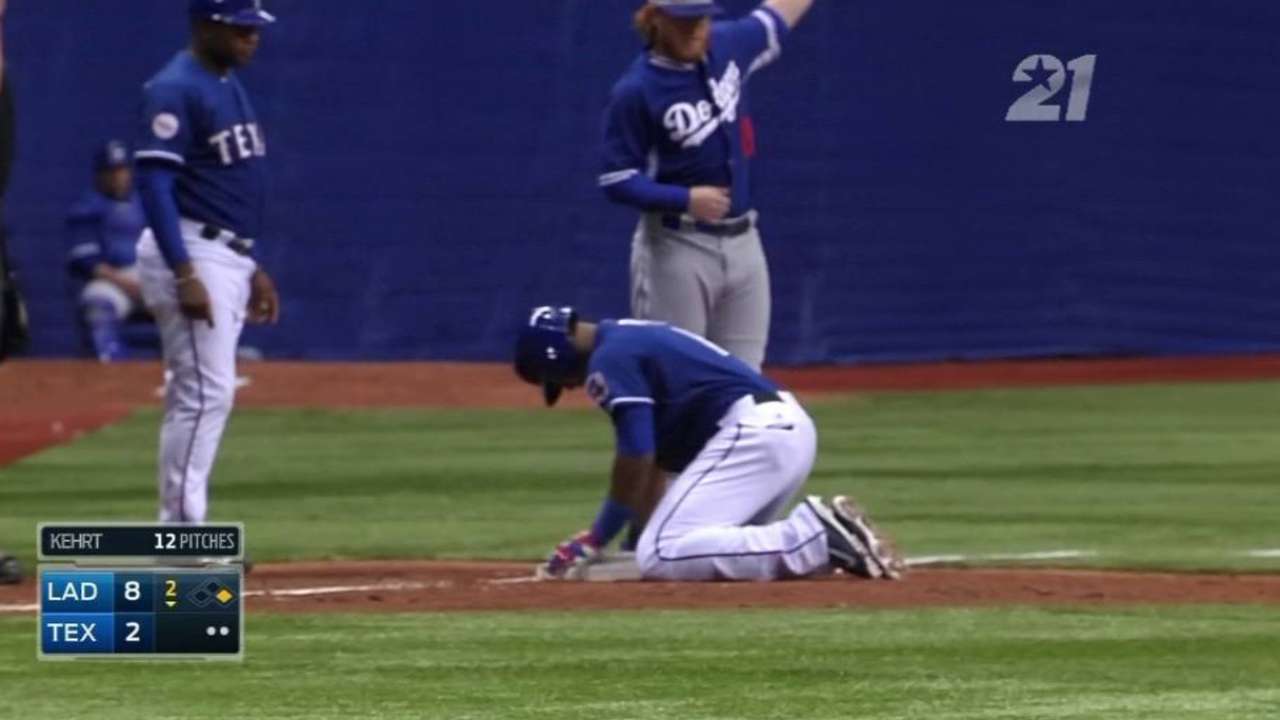 This spring, the new Rangers manager, Jeff Banister, suggested that Andrus should be capable of winning Gold Glove Awards. The potential is there. Andrus has considerable range and has demonstrated the ability to make the spectacular play.
"I'm working on it," Andrus said. "It's easy to say. But you have to go out there and be consistent, especially on routine ground balls. That's one of the things I'm working on right now. I know that if I can make that happen, I would have a chance to win.
"But to win a Gold Glove is about the routine plays, and that's what I've been having a little bit of trouble with in my career. I feel really well now, especially defensively. My legs are good. I'm in great shape. My range is back."
Andrus has a Cactus League slash line of .440/.462/.600, which is suitably encouraging. "I want to have the consistency that I had in 2012, from beginning to end," he says. "Don't waste any at-bat, don't take any at-bat for granted. Knowing that there are going to be some good days and some bad days, but as long as I can maintain my approach at the plate, my timing and consistency, even those games where I don't have a hit, I can find a way to help the team win."
Last year was a down year for Andrus offensively. In the middle of a tidal wave of injuries, he and the rest of the Rangers were confronted with something that had not been experienced since Andrus joined the club in 2009 -- a losing season, and a fifth-place season to boot. It was a difficult adjustment.
"He'd never lost before," Daniels said. "He'd never struggled personally and we'd never struggled as a club. He came up in 2009 and we were good from then on. And he was a big part of that, changing the complexion of the club. [Last year] he learned those lessons.
"Hopefully," Daniels added with a smile, "he doesn't have to apply those lessons again."
"It was a mix of everything," Andrus said. "Last year was the first time since I've been here that we were in such a hole, losing. As a player, when you're used to winning and then you see the other side of the coin, it gets tough. It takes a little away from your game. It shouldn't, but I had spent August and September in the past fighting for the postseason. I learned from that."
Andrus is optimistic, not only for himself. "Right ahead of us could be a great season," he says. "Our mindset is in the right spot."
He acknowledges that the team was hurt when Yu Darvish required Tommy John surgery, but says: "Our pitchers have a ton of talent, we have a lot of pitching depth." Andrus has words of praise for the new manager, but he does not neglect to express his gratitude to his former manager, Ron Washington.
"I think the addition of Jeff is going to be huge," Andrus says. "Since I got here, Wash was a guy who taught me so many things, made me feel so comfortable here in big leagues, that I don't have even words to say thanks to him. I hope he's doing well right now.
"But Jeff has been amazing so far. He's such a passionate guy. They have a lot of similarities as managers and human beings. Most important, we've got great communication. He communicates with everybody on the team."
Elvis Andrus likes his situation with the Rangers. He'll like it even better when his considerable talent and his drive take his game to a higher level.
Mike Bauman is a national columnist for MLB.com. This story was not subject to the approval of Major League Baseball or its clubs.