Posey's tip gives Peavy new pitching weapon
Catcher urges veteran to try throwing four-seam changeup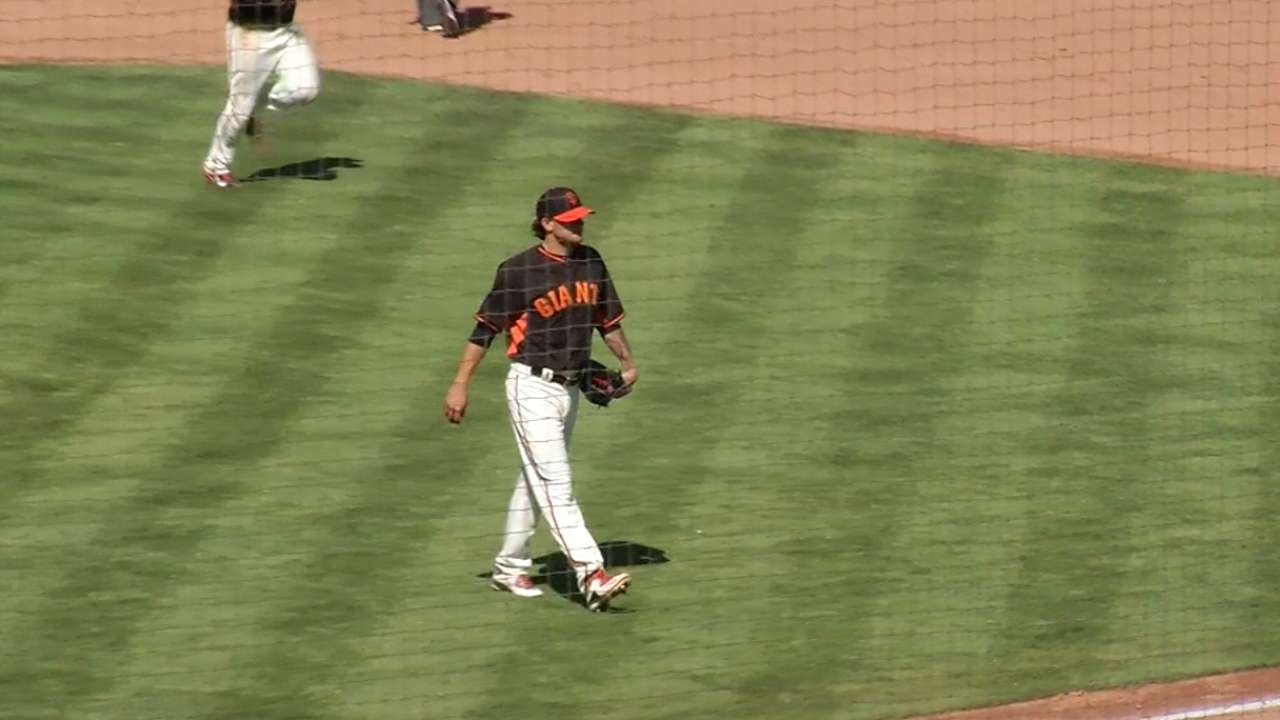 SCOTTSDALE, Ariz. -- After making 337 career starts across 13 Major League seasons, Jake Peavy is still learning.
Peavy used the modest setting of Monday's Royals-Giants exhibition at Scottsdale Stadium as a personal classroom. At catcher Buster Posey's urging, Peavy tried throwing a four-seam changeup for the first time in his life. The right-hander estimated he flung at least five of them in the dirt before throwing a couple of them effectively, including one on his final pitch that struck out Lorenzo Cain to end the fifth inning and strand the potential tying run at second base. Peavy left the game with a one-run lead as the Giants proceeded to win, 8-3.
"I watched guys in the league, from the time I've been in it, reinvent themselves," Peavy said, citing seven-time Cy Young Award winner Roger Clemens as an example. "If you can do different things to combat an opponent, why not?"
Peavy, 33, said Posey was inspired to suggest experimenting with the changeup by facing Angels left-hander C.J. Wilson on Sunday. Wilson's four-seam changeup has helped him compile an 86-62 record in 10 seasons.
Peavy credited Posey for pushing him to try something new.
"If you have one of the best hitters in the league as your catcher, and he acts like he's batting when you're facing the opponent. ... He's a special talent," Peavy said. "It's not hard to figure out the success around here. He's a huge staple of what makes this team go and why he's so valuable behind the plate and not at other positions."
Peavy summarized the changeup's value by explaining that it looks like a four-seam fastball when it leaves his hand. Then it travels toward home plate at a slower velocity, ideally fooling the hitter into swinging early. Peavy sounded eager to add the pitch to his repertoire.
"I'm throwing the kitchen sink," Peavy said. "I'm excited about it. Mix and match."
Chris Haft is a reporter for MLB.com. Read his blog, Haft-Baked Ideas, and follow him on Twitter at @sfgiantsbeat. This story was not subject to the approval of Major League Baseball or its clubs.