Stewart: Catcher Navarro too expensive for D-backs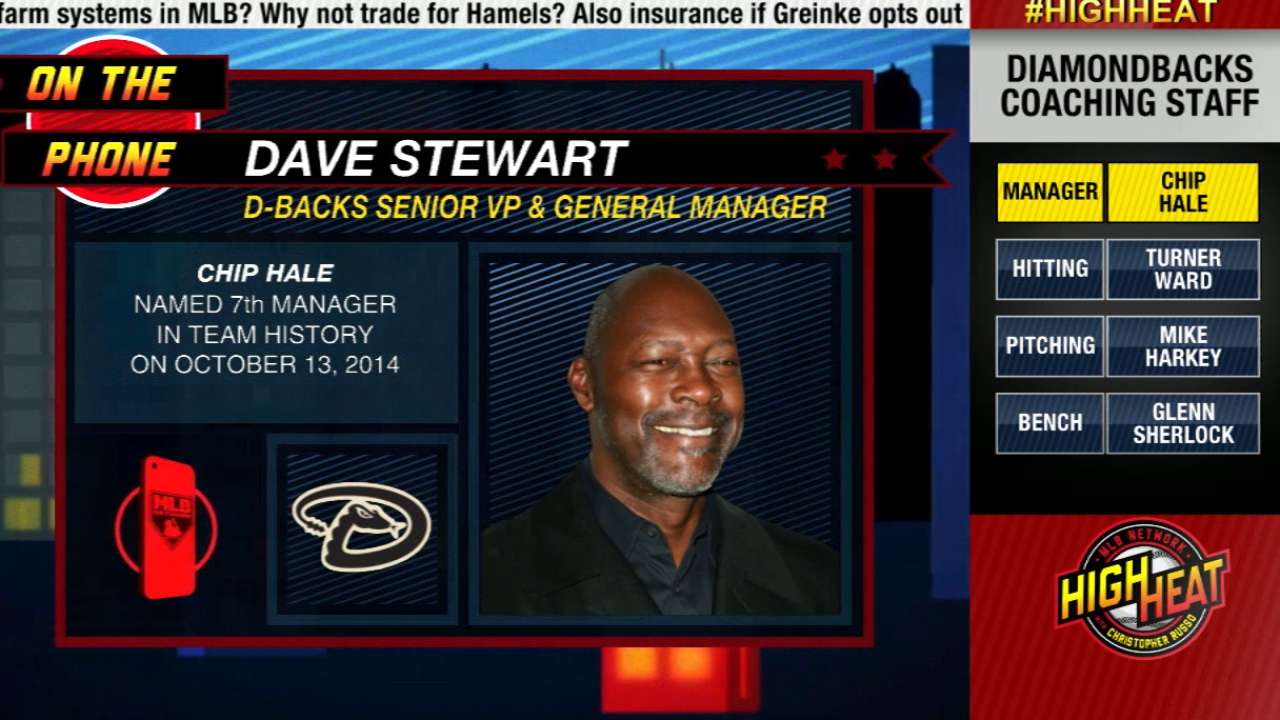 GLENDALE, Ariz. -- Rumors of the D-backs' interest in Blue Jays catcher Dioner Navarro persist, but general manager Dave Stewart said once again that it was not going to happen.
Navarro is in the final year of a contract that pays him $5 million in 2015.
"Nothing to that," Stewart said of the rumor. "I don't know where some of this stuff comes from. Right now, quite frankly, we can't take on another $5 million. So that's not going to work for us. The money doesn't fit."
Plus, Stewart said, the team has been pleased with what it's seen from catcher Tuffy Gosewisch so far this spring.
The backup role for Gosewisch seems to be a battle between Gerald Laird and Blake Lalli, with Jordan Pacheco also in the mix.
Competition for jobs and spots on the roster is what Stewart and manager Chip Hale have emphasized all spring.
"No jobs were promised," Stewart said. "Well, [Paul Goldschmidt's] job was promised, [A.J. Pollock's] job was promised, and we knew [Mark Trumbo] was going to play some place in the outfield, and we knew [Chris Owings], if he was healthy, was going to play somewhere. We knew he was going to be a starter for us. Second base, properly, was not given to Aaron Hill. Shortstop was not given to [Nick Ahmed], third base was not given to [Jake Lamb] or [Yasmany Tomas]."
As for who does finally make the roster, the decisions will be made by Hale and his staff and Stewart and the baseball-operations staff.
"As time goes, guys are separating themselves, and at some point I won't have to say this is our starting shortstop or this is our starting second baseman, this is who is going to play third base," Stewart said. "You'll start to see it as time goes. Guys are separating themselves as to who should be playing and who shouldn't be playing."
Stewart said that he does not feel the team needs to go out and acquire a lefty to join Oliver Perez in the bullpen.
Internal candidates include Andrew Chafin and Matt Reynolds, along with non-roster invitee Dan Runzler.
"And even Robbie Ray might be an option, if he doesn't make our rotation," Stewart said.
Steve Gilbert is a reporter for MLB.com. Read his blog, Inside the D-backs, and follow him on Twitter @SteveGilbertMLB. This story was not subject to the approval of Major League Baseball or its clubs.