Parra seeks bounceback season after injury-plagued 2014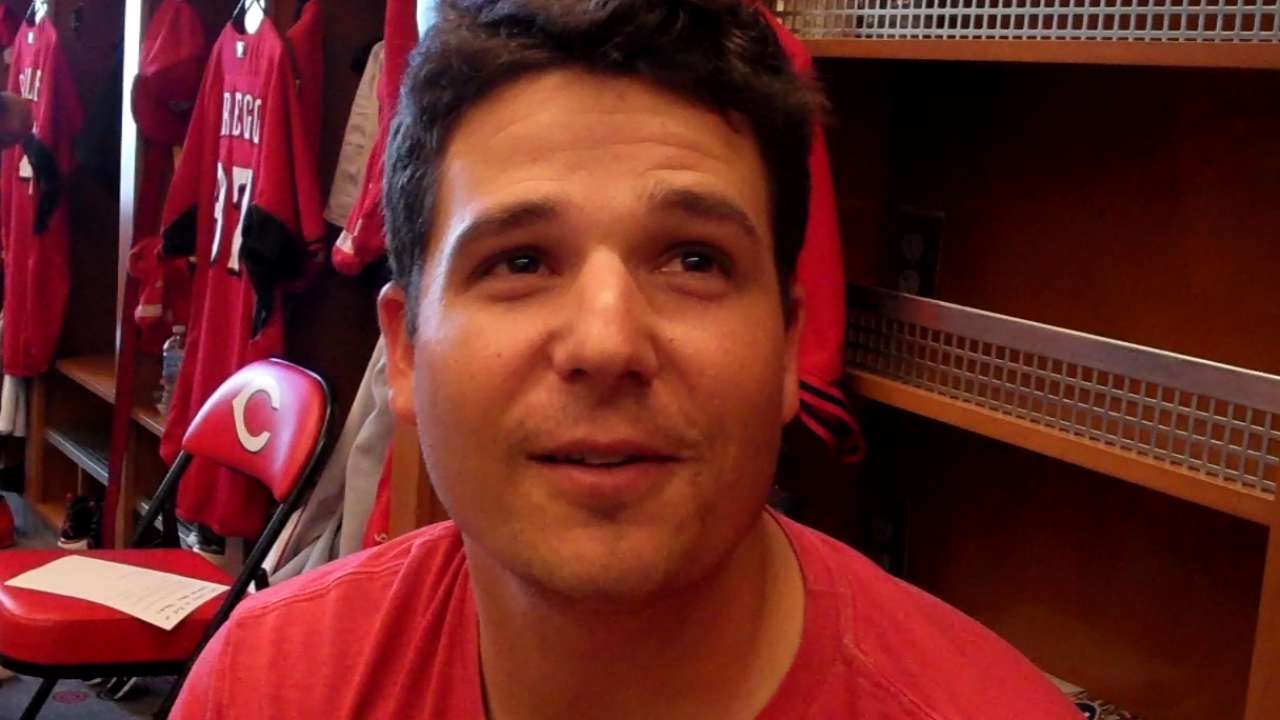 GOODYEAR, Ariz. -- The Reds had 15 players spend time on the disabled list last season, but left-handed reliever Manny Parra wasn't one of them. But the injuries Parra endured did pile up, leaving periods of time that made him quietly unavailable to pitch despite manager Bryan Price's daily lineup card indicating otherwise.
Parra missed 10 days at the end of June with a sore shoulder and missed an additional 12 days around the end of July because of back spasms. He didn't pitch after Sept. 17 because of a sore elbow.
When the season ended, Parra needed to rehab an achy shoulder, had a debridement operation to clean out his elbow and underwent surgery to remove a bunion from his big left toe.
"I tried to go out there and do my best and compete, but I had to shut it down at certain points," Parra said. "At the All-Star break, we were in [the race] and I wanted to make sure we were ready for the second half and strong. You do what you can."
Parra, 32, had a 0-3 record and 4.66 ERA in 2014, while his 53 appearances were fourth most on the club. Of his 36 inherited runners, six scored while he walked 18 and struck out 34 in 36 2/3 innings. It was a step back from 2013, when he had a 3.33 ERA in 57 games and stranded 25 of 30 inherited runners.
There were stretches last season where Parra was highly effective, including a time in April when he retired a season-high 16 batters in a row. Before being shut down, he had a 6.15 ERA over his final 15 appearances with 16 hits and six walks over 11 2/3 innings.
"I had pretty good periods of time, and then I would have some bad periods of time, so it threw things off," Parra said. "I was happy with some things. Toward the end of the year, I was really barking. My split, I couldn't throw it at times because I wasn't strong enough to get through it all the way, and it was getting left up and getting crushed."
Feeling good following the surgeries and the rehab to his shoulder and elbow, Parra has pitched well this spring. In three games, he has a 3.00 ERA and has allowed one runs with two hits in three innings -- plus worked cleanly in a "B" game and an intrasquad game. He will earn $3.5 million this season in the second year of a two-year contract.
"I think Manny has looked great," Price said. "There's no reason to think he won't have a bounceback season. The key to that is certainly he's healthy, he rectified certain issues."
Parra has a lot of confidence in his ability to help the club from the bullpen.
"I did a lot of rehab in the offseason," he said. "I'm feeling pretty strong in my shoulder and in my elbow. My back is feeling really good. It's staying in shape and keeping up with my routine."
Mark Sheldon is a reporter for MLB.com. Read his blog, Mark My Word, and follow him on Twitter @m_sheldon. This story was not subject to the approval of Major League Baseball or its clubs.