Rangers send down top prospect Gallo, catchers Telis, Alfaro
Lefty reliever Beimel released; Blanks headed to Minors for additional work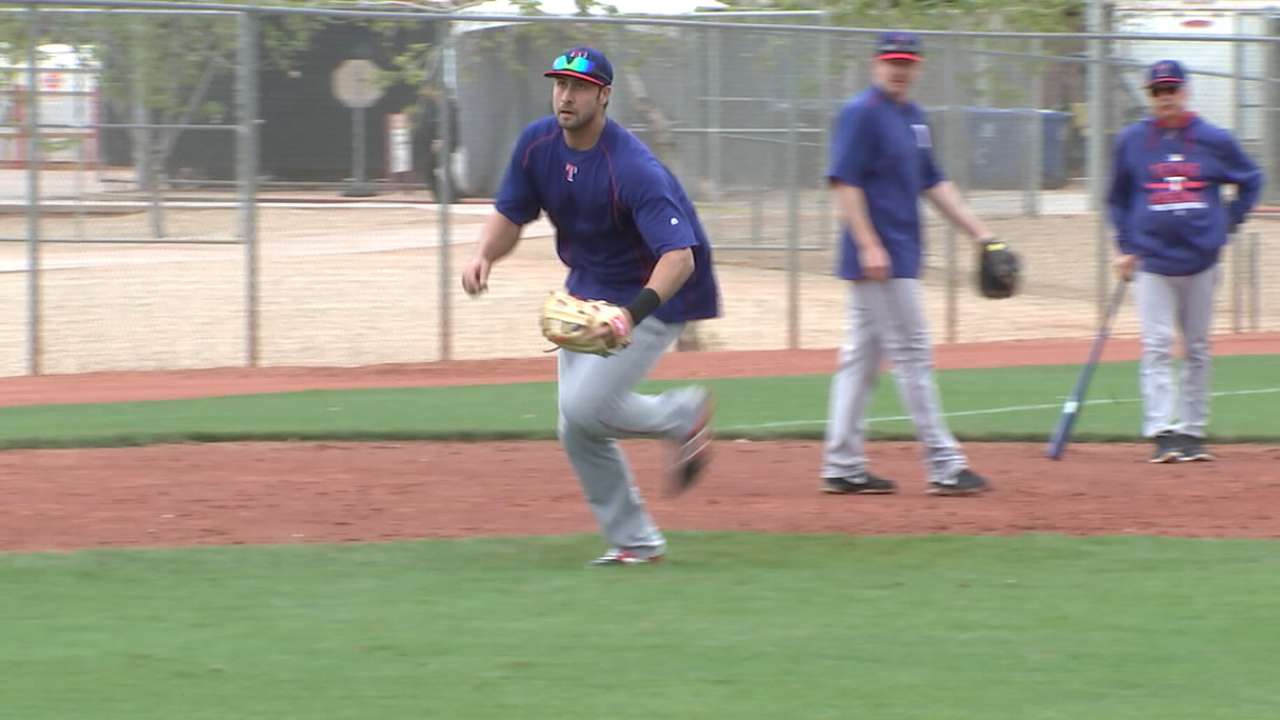 SURPRISE, Ariz. -- The Rangers have sent third baseman Joey Gallo and top catching prospects Tomas Telis and Jorge Alfaro back to Minor League camp.
Telis will catch at Triple-A Round Rock and Alfaro is expected to open the season with Double-A Frisco. The Rangers have not announced where their No. 1 ranked prospect, Gallo, will start the season. Gallo will continue to play third base, but might get some work in the outfield as he did in Instructional League.
"One thing we're going to continue to do is have respect for the player, where he is comfortable at," manager Jeff Banister said. "You've seen the progress he's made at third base. He's moving well at third base. His range is better. He'll continue to play third base, but it is not out of the realm of possibility he could get some work in the outfield."
Gallo was 8-for-32 with two home runs and six RBIs in the Cactus League. He had four walks and eight strikeouts.
"He showed up very well in camp," general manager Jon Daniels said. "Where he is right now, the best thing for him to do right now is go out and play. He and [Alfaro] both had good camps. They are both in good spots. We have seen the development in both. Now it's time for them to go out and get at-bats and get ready for the season."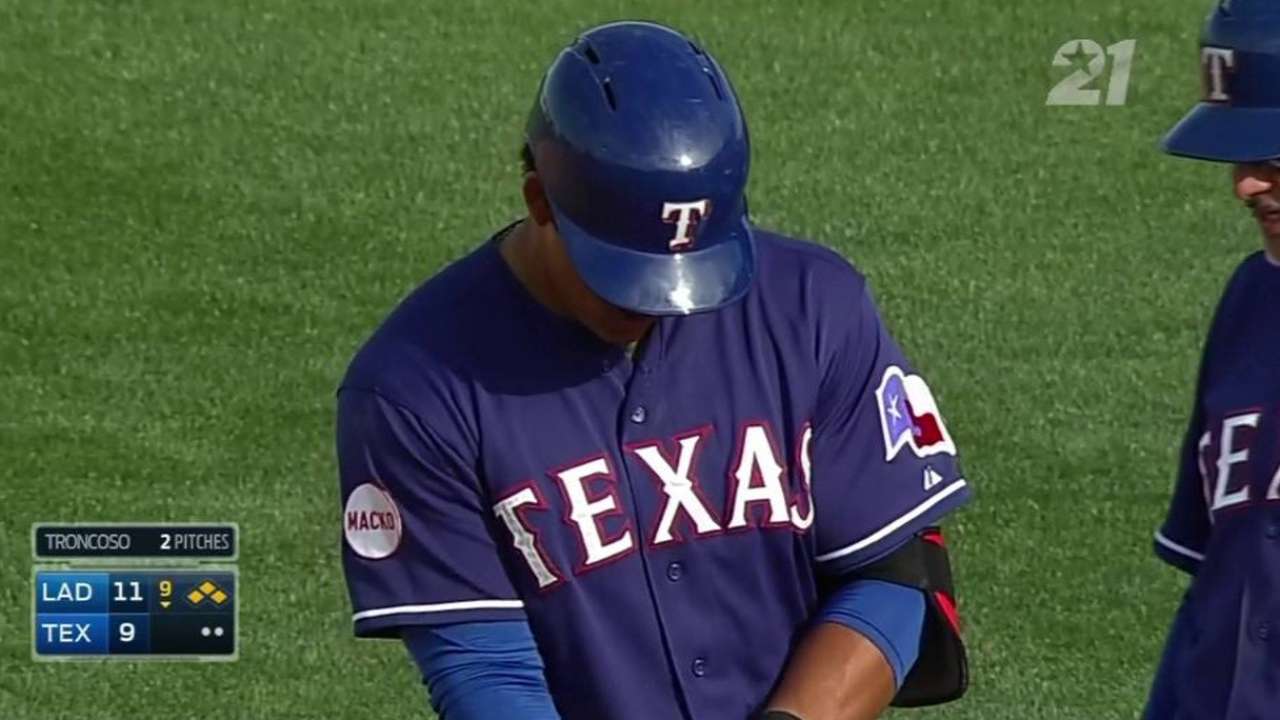 Alfaro was 5-for-16 during Cactus League games while Telis was 6-for-15.
The Rangers also sent down outfielder Jared Hoying and pitchers David Martinez and Spencer Patton. Hoying was 7-for-28 at the plate, but had just two hits in his last 18 at-bats.
Martinez had a 3.00 ERA in three appearances. He was in camp on a Minor League contract mainly to provide relief depth at Triple-A.
Patton was in the Rangers' bullpen in September of last season and had a 0.96 ERA in nine games. He had a 6.23 ERA in five Cactus League appearances, but the Rangers still view him as a reliever who could be in the big leagues at some point this season.
"He's a big league reliever, he just wasn't going to break camp with us," Daniels said.
Rangers release Beimel
SURPRISE, Ariz. -- The Rangers have released veteran pitcher Joe Beimel, leaving rookie Alex Claudio as the only left-handed reliever in camp.
Beimel had a 2.20 ERA in 56 appearances for the Mariners last season, when he allowed 11 earned runs in 45 innings. He allowed 11 earned runs in three innings this spring after being signed on March 6.
"As a late signing, just by the nature of the thing, it was going to be a limited look," Daniels said. "In a few more days, roster rules would have dictated his contract be guaranteed. Once we made the decision, out of respect for him, we decided to let him know."
Claudio has a 1.29 ERA this spring and opponents are hitting .174 off him. He had a 2.92 ERA for the Rangers in 15 appearances late last season, but Banister said he does not yet have the team made.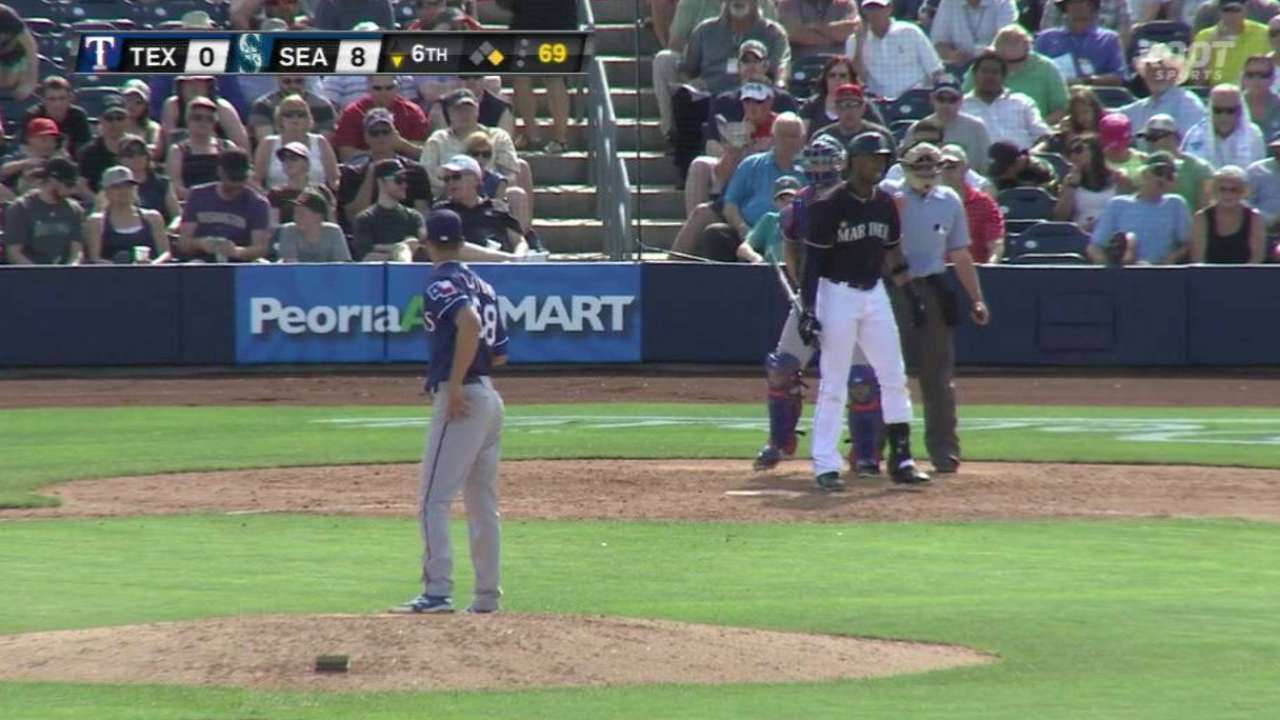 "He has had a very nice spring and a track record from last year," Banister said. "The unique thing about Claudio is that he uses all his pitches from different angles, has a good feel for his breaking ball, and adds and subtracts with his secondary pitches. His fastball does play up just based on his secondary stuff."
Rangers send Blanks to Minors
SURPRISE, Ariz. -- The Rangers have sent first baseman/outfielder Kyle Blanks to Minor League camp in the hope that he can stay healthy and provide them a potential big bat option during the season.
Blanks was once a big-time offensive prospect for the Padres whose career has been stalled because of five years of one injury after the other. He has a career Minor League batting average of .303 with a .392 on-base percentage and a .517 slugging percentage.
But he has yet to establish himself as an offensive force in the big leagues. This spring he was limited at the beginning because of some inflammation in both Achilles' heels and he was 4-for-17 in Cactus League games.
"We have seen a lot of him over the years," Daniels said. "We know he can swing the bat. He was slow early in camp, so we've asked him to go down and get a lot of at-bats at first base and let us know when he is ready to play in the outfield. That will give him some versatility on the roster. The big thing is the at-bats, but he wasn't fully physically ready to make the roster."
Worth noting:
• Right-handed reliever Shawn Tolleson, who was scratched from Sunday's scheduled appearance because of some soreness in his right forearm, said he was feeling better on Monday. He may pitch in a Minor League game on Wednesday.
• Matt Harrison threw off the mound for the first time this spring. Harrison, recovering from major back surgery, threw 15 pitches while going off the full mound for the first time since May 13.
• The Rangers released nine players from Minor League camp. Among those let go was pitcher Kyle Castro, a third-round pick in the 2011 First-Year Player Draft who couldn't overcome major arm injuries.
• Also released was outfielder Teodoro Martinez. He is the son of former Major League outfielder Carlos Martinez, who hit the famous fly ball that bounced off Jose Canseco's head.
• Ross Ohlendorf came through a 35-pitch bullpen session on Tuesday with no issues. Ohlendorf is clear of the right groin injury that sidelined him for a week, and his next step is a game.
T.R. Sullivan is a reporter for MLB.com. Read his blog, Postcards from Elysian Fields, and follow him on Twitter @Sullivan_Ranger. This story was not subject to the approval of Major League Baseball or its clubs.