Rocky spring performance continues for Cook
Reliever allows 3 runs in 2-inning outing; ERA at 16.88 in Cactus League play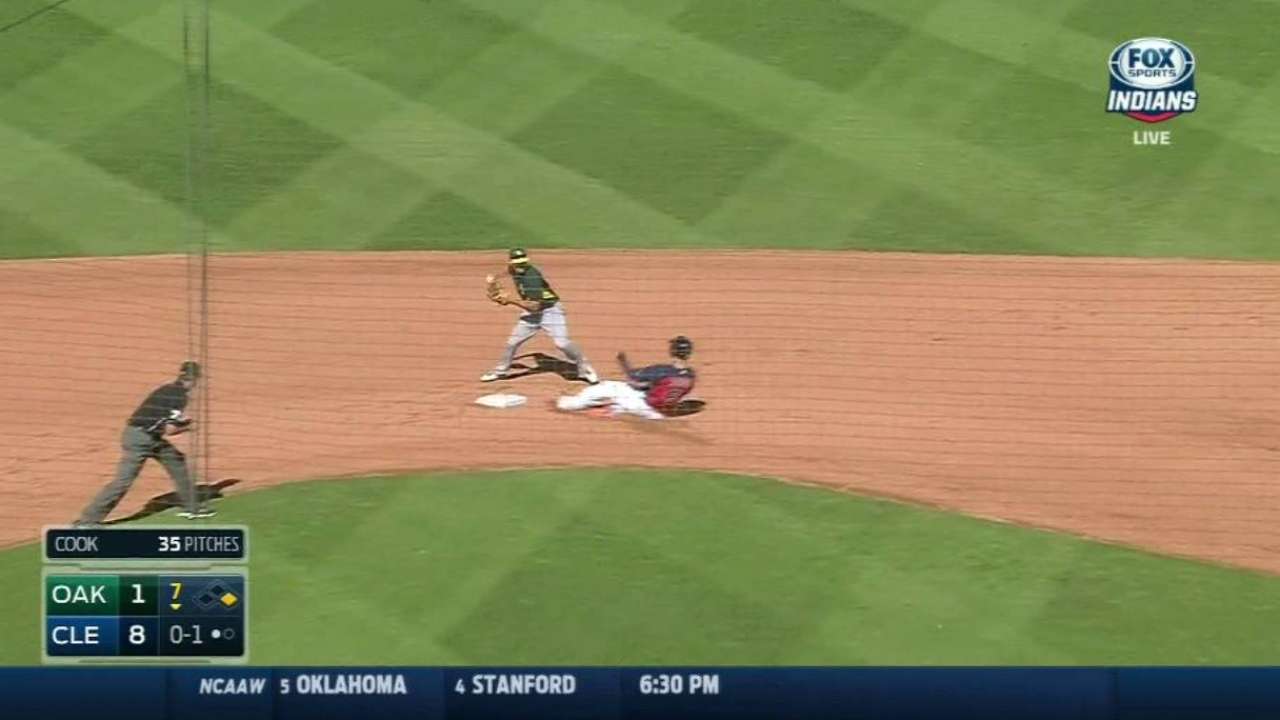 GOODYEAR, Ariz. -- Ryan Cook's struggles were on display again Monday, furthering concern about the A's reliever, whose cumulative spring ERA sits at 16.88 following five outings.
"It's a struggle for him right now, but he's going to work through it," said manager Bob Melvin. "Better today, at least with the command of his pitches. Didn't get the results. Sometimes you get tested. Right now he's getting tested. It's no fun. He's not happy."
Cook entered in the sixth inning of Monday's road game against the Indians and found trouble immediately, as Lonnie Chisenhall singled and scored on Roberto Perez's one-out double. A passed ball put Perez on third, and he came home on a Michael Martinez base hit.
Ryan Rohlinger doubled off Cook to lead off the seventh, and Jerry Sands' RBI single marked the 13th run allowed (10 earned) by the righty in just 5 1/3 innings this spring.
The woes are reminiscent of several bumpy patches he's endured at times during the regular season. Last June, he pitched to a 5.06 ERA. He didn't allow a run in July but then posted a 6.10 ERA in August.
His inconsistencies are troubling for the A's, but the team believes he can still correct him before considering a demotion.
"We've got some time left to get him right," Melvin said. "I thought he did throw the ball over the plate a little bit better today. He wasn't missing up and away to a lefty as much. He was throwing his slider for strikes."
Jane Lee is a reporter for MLB.com. This story was not subject to the approval of Major League Baseball or its clubs.