Bassitt battling fastball location against lefties
Rotation candidate unable to produce consistent results at A's camp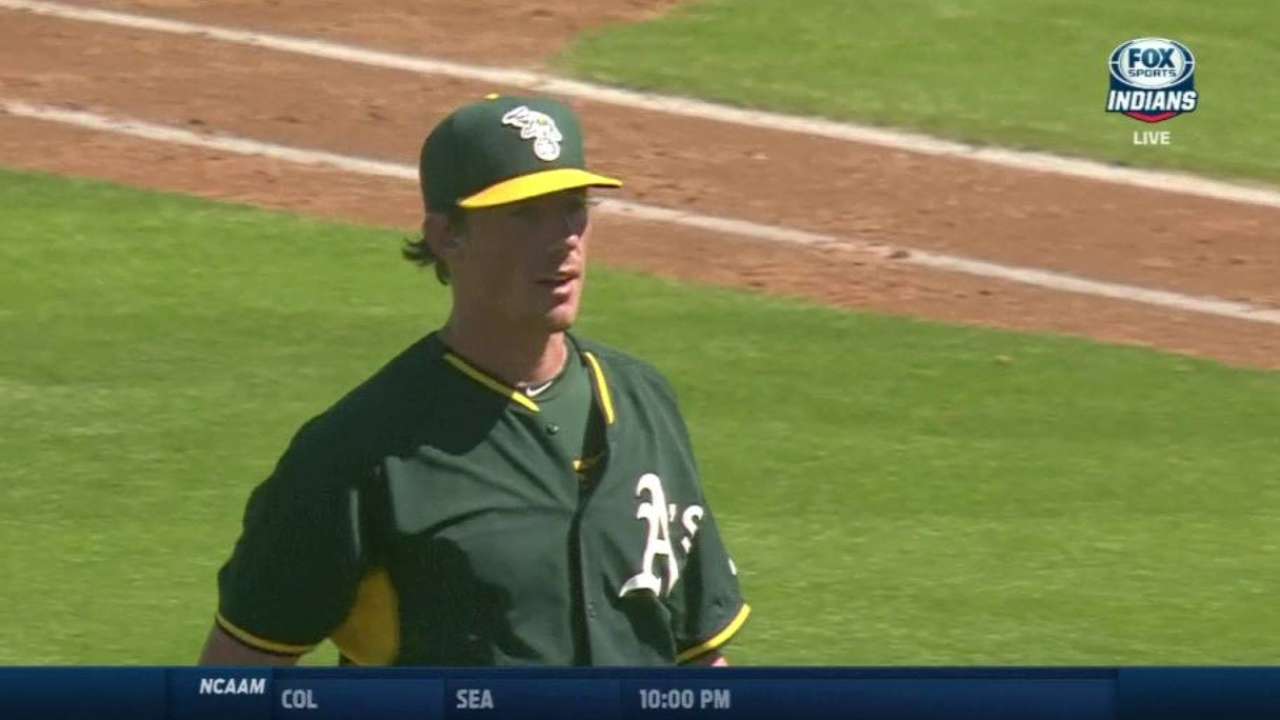 GOODYEAR, Ariz. -- A's right-hander Chris Bassitt appears ticketed for Triple-A Nashville when the regular season begins after another rocky outing Monday, and he's perfectly OK with that, so long as he's able to iron out what he describes as a career-long issue.
Bassitt, who has allowed 12 runs in 12 1/3 innings this spring, including four in 4 1/3 innings against the Indians on Monday, has struggled to throw his fastball in to lefties -- a problem that's obviously magnified at the big league level, where scouting reports are at your fingertips.
"All lefties are looking out over the plate, and that's exactly where I'm throwing it," Bassitt said. "To get them off that, I have to throw it in, and right now we're just struggling to do that. I've been working on that my whole life, honestly. It's been hard, and obviously I've gotten away with it. I was able to beat everyone, but at this level, you can't beat anyone like that.
"Obviously, you want to do the very best, especially with this competition going on, but I would much rather go through this now than during the middle of the season. If this affects me to where I don't make [the team], so be it. I'm very happy doing this now rather than getting exploited in September."
Bassitt's been under consideration for a rotation spot with the likes of Jesse Hahn, Kendall Graveman, Jesse Chavez and Drew Pomeranz, but he hasn't been able to showcase any consistency like his competitors.
He says he's seen progress, though, and simply needs to continue feeling more comfortable throwing inside, even if it means aiming at left-handers' kneecaps -- a necessity to be effective with the way his ball runs in.
"I already feel a lot better doing it," said Bassitt, who's also working on a cutter to offset the issue. "Now, it's executing it enough times to where they know I can do it."
Jane Lee is a reporter for MLB.com. This story was not subject to the approval of Major League Baseball or its clubs.