History factors into four D-backs ejections vs. Dodgers
Umpires, aware of clubs' past skirmishes, quick to issue warnings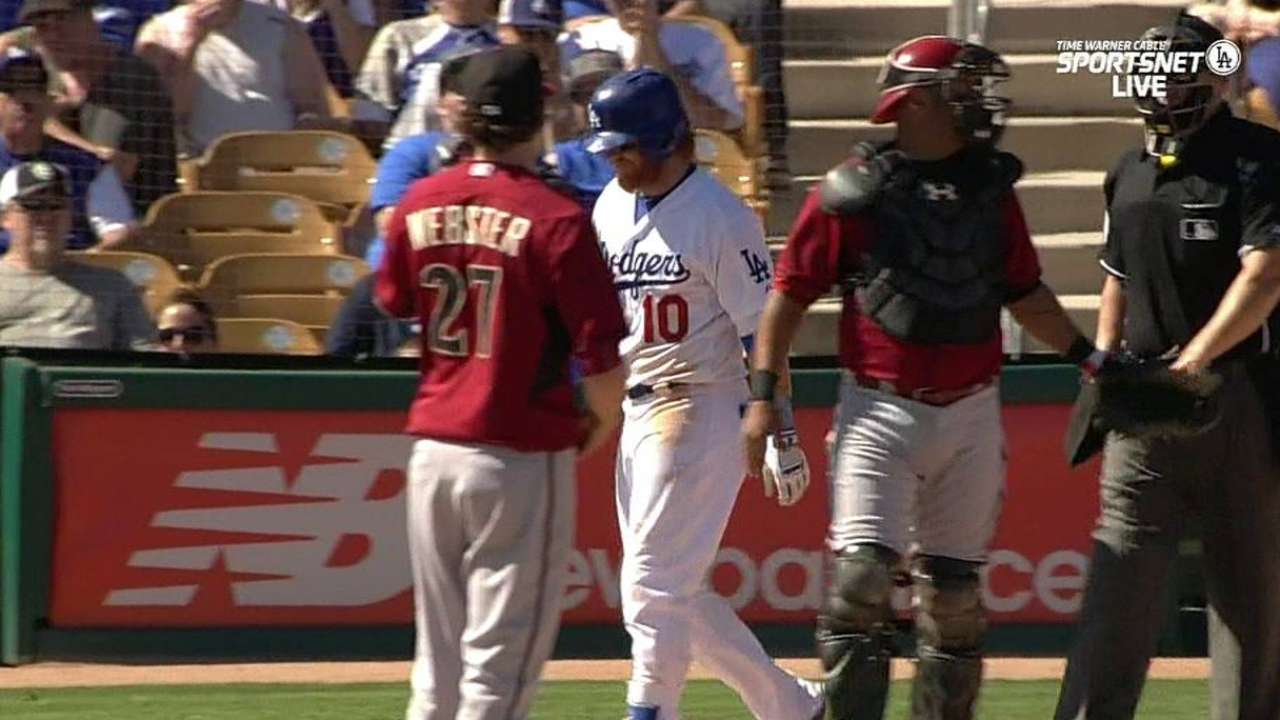 GLENDALE, Ariz. -- Most of the principals in the D-backs-Dodgers history of scuffles may be gone, but the reputation that the two teams do not like each other apparently remains in the minds of many.
That was clear when umpires issued warnings to both teams after a pair of hit by pitches in the first inning of a Cactus League game Monday.
Dodgers starter Chris Anderson hit Mark Trumbo with a pitch in the top half of the first inning, and D-backs starter Daniel Hudson hit Justin Turner with one in the bottom half, prompting warnings to both teams at what appeared to be the request of first-base umpire Bill Miller.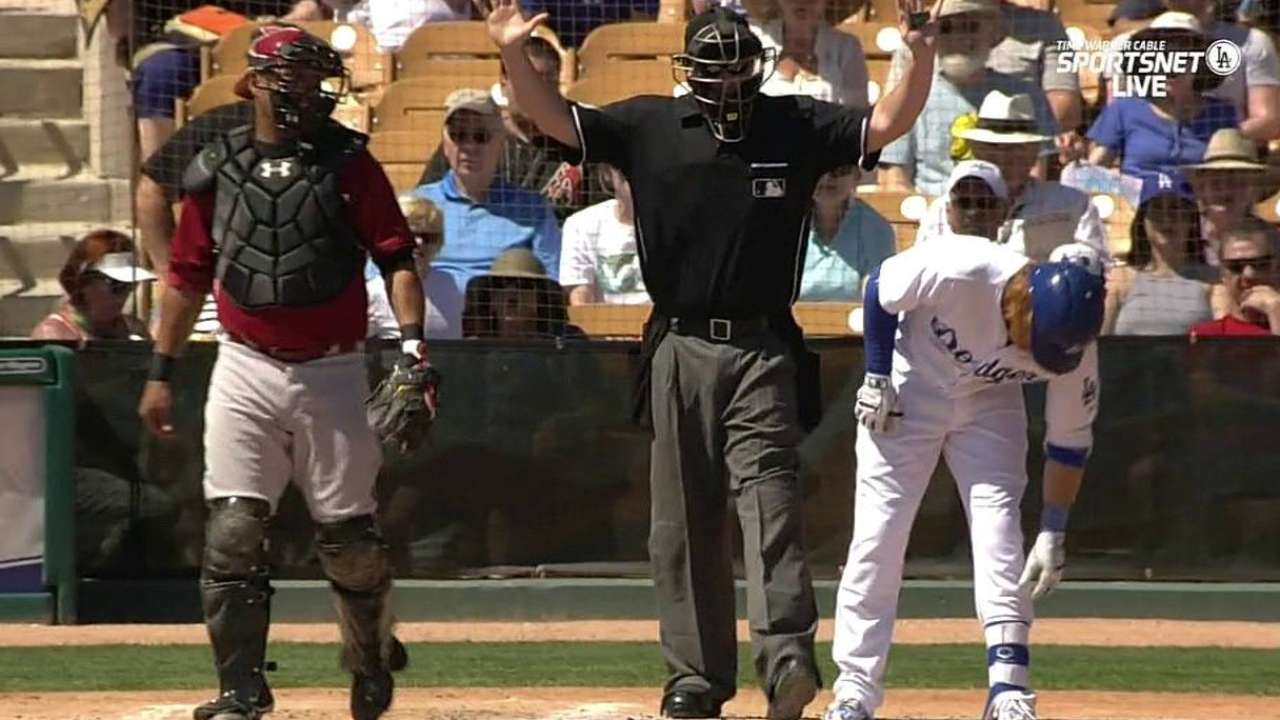 "Was I surprised?" D-backs manager Chip Hale said. "No. I know that Bill was worried about the history of the two teams. I know that he's a good umpire. I think he just didn't want anything to get out of hand."
The warnings would come into play in the fifth inning, when Arizona reliever Allen Webster, who is battling for a spot in the rotation, hit Turner with a pitch and was ejected along with Hale.
"They were just saying that the circumstances of the game [left them with] no choice," Webster said when asked what the umpires told him about the ejection. "They knew I didn't do it on purpose, but the circumstances of the game made them make the call."
The D-backs and Dodgers have engaged in on-field skirmishes in the past, most notably in 2011 and 2013.
"All I can say is whatever they thought, I know our kid is not trying to hit him," Dodgers manager Don Mattingly said. "I don't know if they think that or not. We're not going to start that. There's no reason to in Spring Training."
Anderson hit Trumbo on the left hand on a pitch that was up and in, and another of his pitches sailed over the head of Aaron Hill.
"The up-and-in pitch is a very controversial pitch," Hale said. "We've got to be careful with it. That could have cost Trumbo time. It hit him way up there high in the hand."
Hale, however, did not say that Anderson was intentionally pitching up and in.
"If we're going inside, definitely not around the head," Mattingly said. "I know Chris was a little amped up, a few balls got away. I can only speak for our side. We'll protect our hitters, like any team would, but we wouldn't start something in Spring Training, and if we did, never around the head."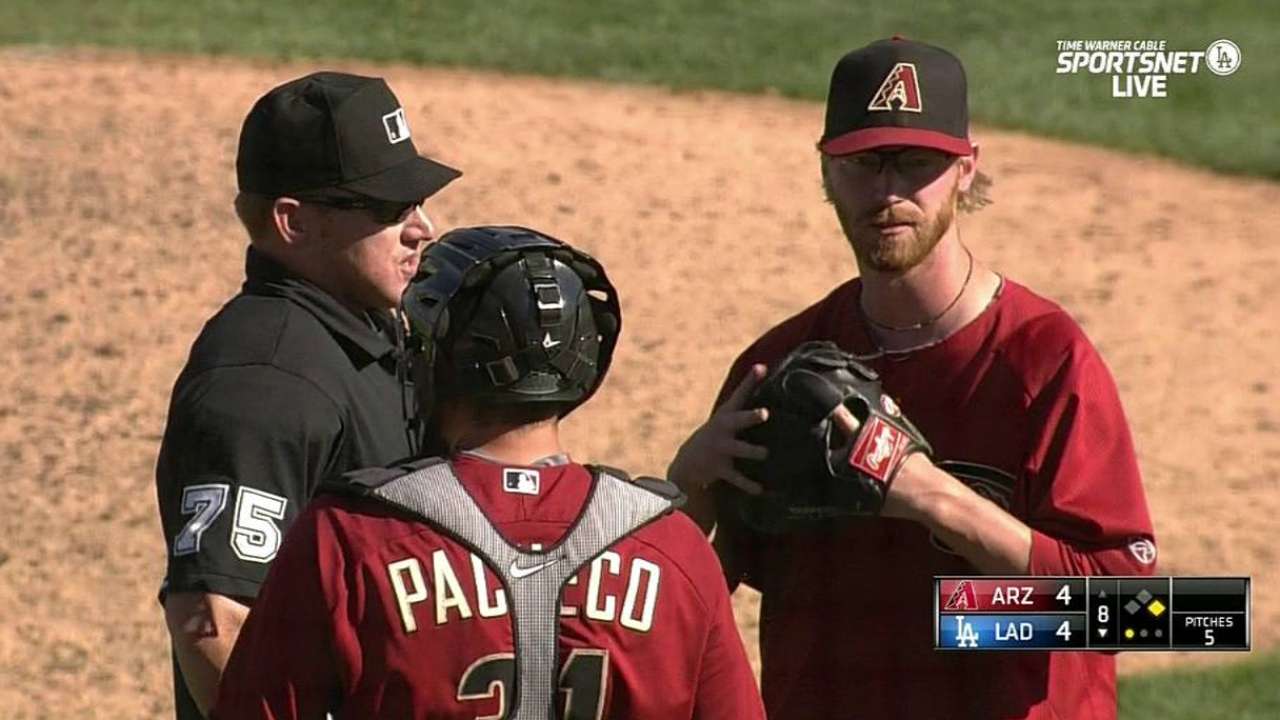 Later in the game, D-backs Minor League right-hander Derek Eitel hit Dillon Moyer with a pitch, so he was ejected along with bench coach Glenn Sherlock, who had taken over for Hale. Triple-A manager Phil Nevin managed the rest of the game for the D-backs following Sherlock's ejection.
Steve Gilbert is a reporter for MLB.com. Read his blog, Inside the D-backs, and follow him on Twitter @SteveGilbertMLB. This story was not subject to the approval of Major League Baseball or its clubs.