MLB.com Columnist
Lyle Spencer
Giants' double-play combo boasts special bond
Crawford's calm a positive influence on Panik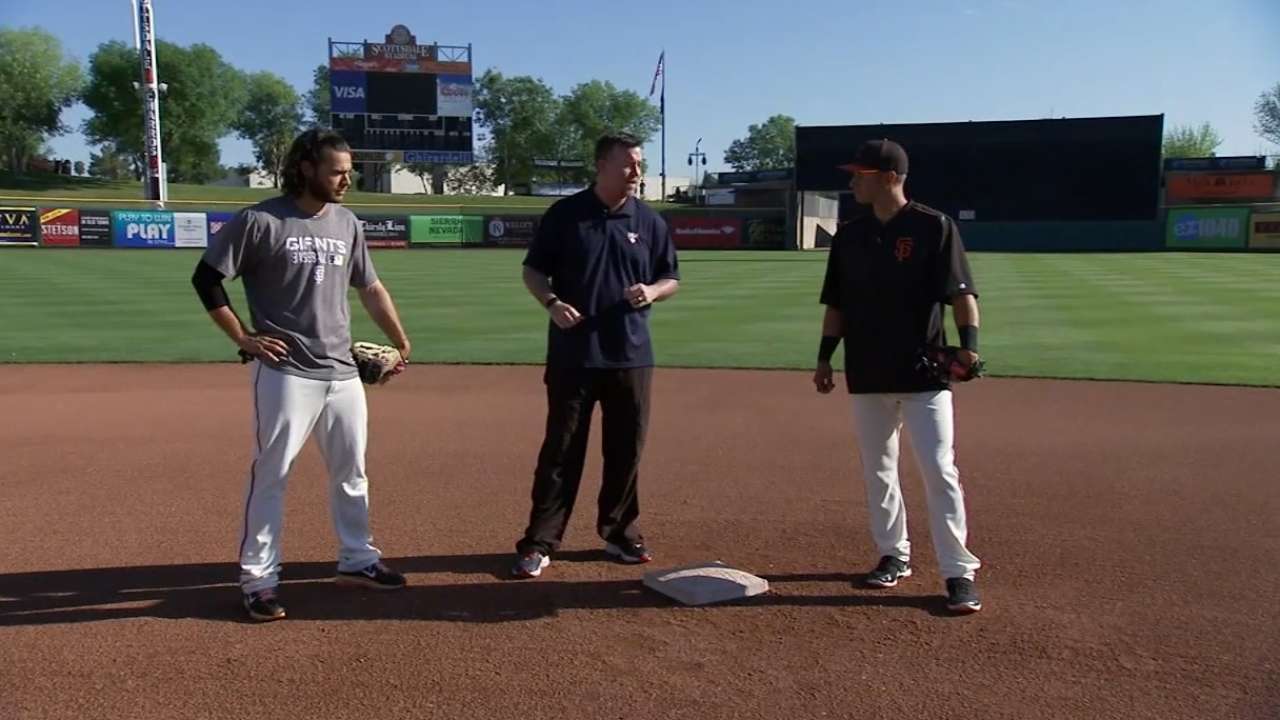 SCOTTSDALE, Ariz. -- The first time they got together in what was destined to be a long-term relationship in the heart of the Giants' infield, Brandon Crawford saw something in Joe Panik, the kid from St. John's University, in the 2011 Arizona Fall League.
"He reminded me of Buster [Posey] in the way he would go about things," Crawford recalled. "I specifically remember his approach at the plate, hitting a lot of line drives up the middle. As I got to know him, he reminded me of Buster in his mental approach as well."
Panik, arriving to stay in June and resolving the Giants' second-base concerns in Marco Scutaro's absence, was instrumental in their ride to a third World Series title in five seasons. With no panic in his DNA, he coolly made all the plays, started rallies and drove in runs with clutch hits all the way to the finish.
It was Panik's sprawling stab and gloved flip to Crawford for a double play on an Eric Hosmer bullet headed toward center field in the third inning that very possibly saved Game 7 and the World Series for the Giants. They prevailed, 3-2, behind Madison Bumgarner's final five rounds of magic.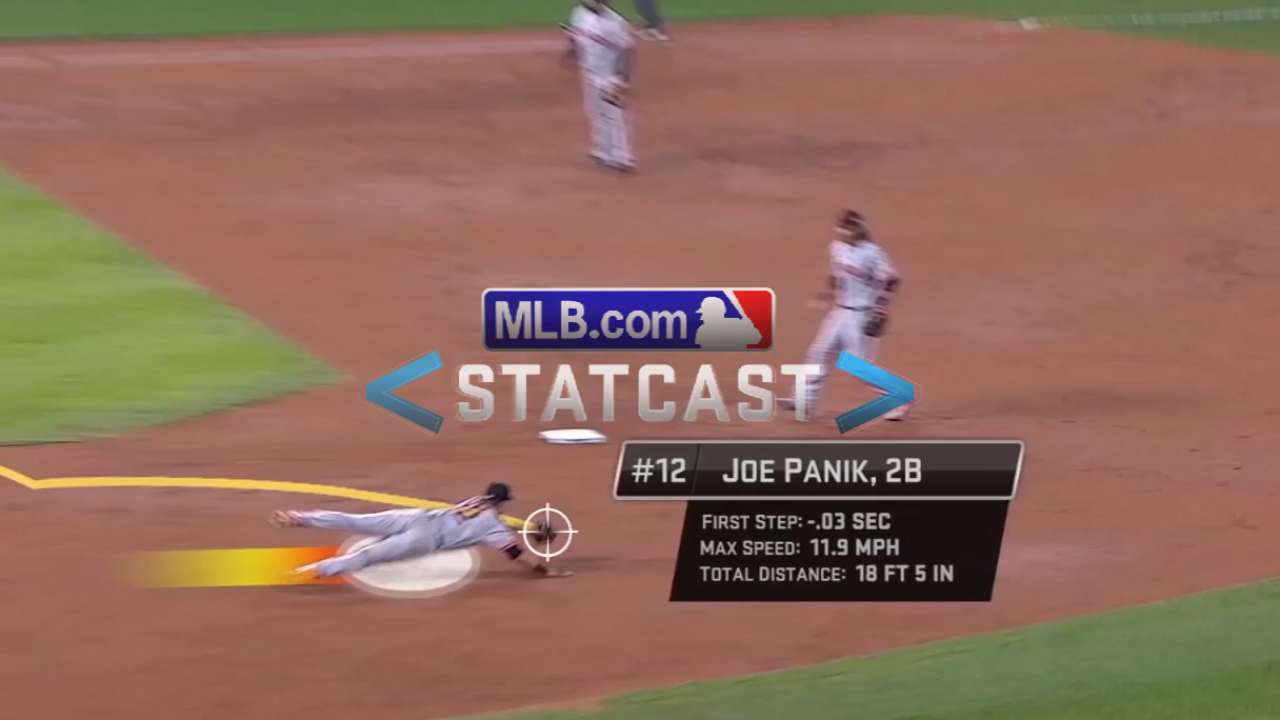 "That Game 7 play is one you're always going to remember," Panik said Monday morning, preparing for a Cactus League exercise against the Royals. "At that stage, Game 7, it's going to be right up there -- definitely the highest-rated one of my career."
Panik credits Crawford, the Giants' vastly underrated shortstop, with having a settling effect on him in October and in his 73 regular-season games when he hit .302, flourishing as a No. 2 hitter.
"We have a great relationship," Panik said. "He makes my job easier -- just a great guy to play with. When you first get called up, a lot of emotions are running through you, the typical butterflies. The game tends to beat up on you. Then you look over at Brandon, and everything's fine.
"It goes all the way around, to everybody, when you have guys like Brandon and Buster, behind the plate. You trust them to know what to do -- especially when you get to the playoffs. You're going to have ups and downs, but you need guys with that kind of quiet confidence that it's business as usual."
Crawford, thoroughly enjoying the NCAA Tournament with his UCLA Bruins rolling into the Sweet 16, smiled when Panik's appreciative words were repeated. At 28, Crawford, the Californian, has four years on Panik, the New Yorker.
"It's nice to hear," Crawford said. "That is how I try to be. I try not to get too excited or too anxious in any situation. I try to stay even keel. It's great if that can help a teammate."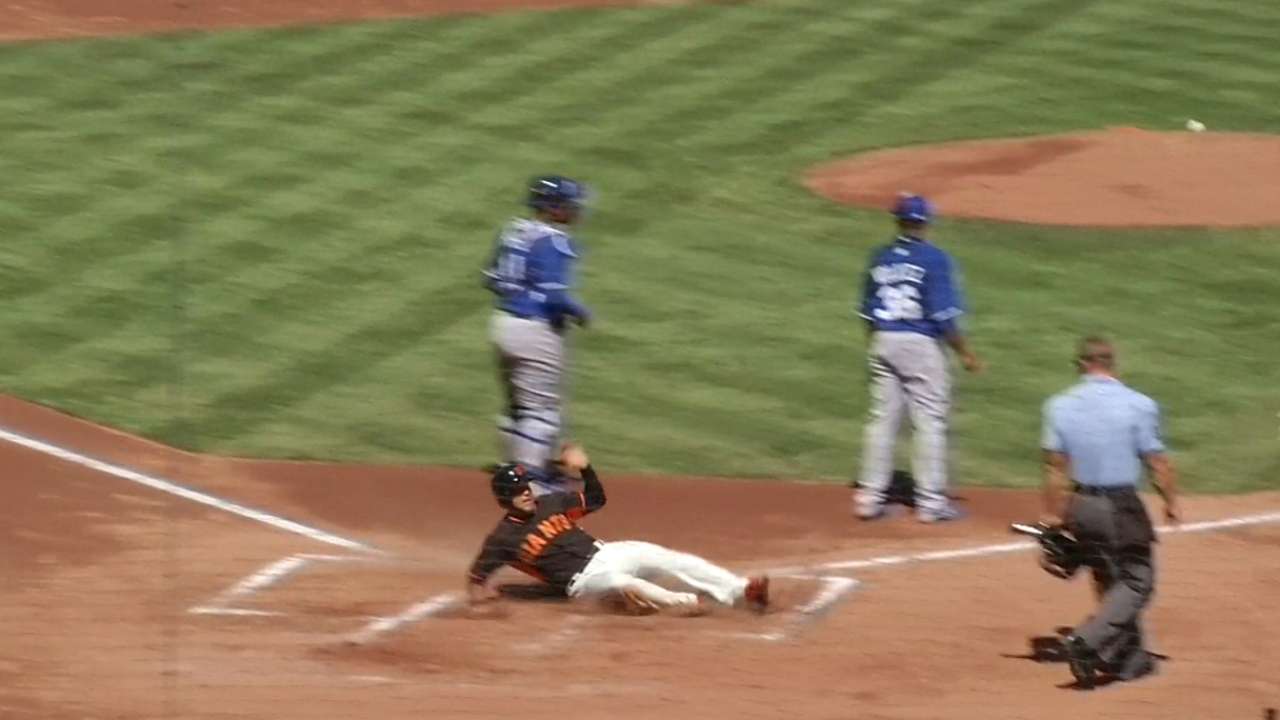 Neither Crawford nor Panik has been wasting many hits in Spring Training. But there are no concerns about either left-handed hitter -- notably against southpaws, who are supposed to be their nemeses.
Crawford, motivated to avoid a possible platoon after struggling against southpaws in 2013, produced a .484 slugging percentage vs. lefties in 2014 compared to .346 against righties. Panik pounded lefties with a .373/.381/.458 line, his .839 OPS substantially better than his .655 production vs. righties.
"I've always been able to hit lefties well," Panik said, "no matter what level I've been on."
A special bond in the heart of the infield, perhaps for years to come, is a major plus for the franchise. From manager Bruce Bochy down through Posey, his lifeblood, and the rest of the ranks, the Giants embody a cool, poised professionalism.
"We have a lot of guys like that," Crawford said, "and we also have guys like Hunter [Pence] and Jake [Peavy], Angel [Pagan] a little bit, to keep things loose. It's a big reason why we're able to do the things we do in the postseason, that blend of personalities we have."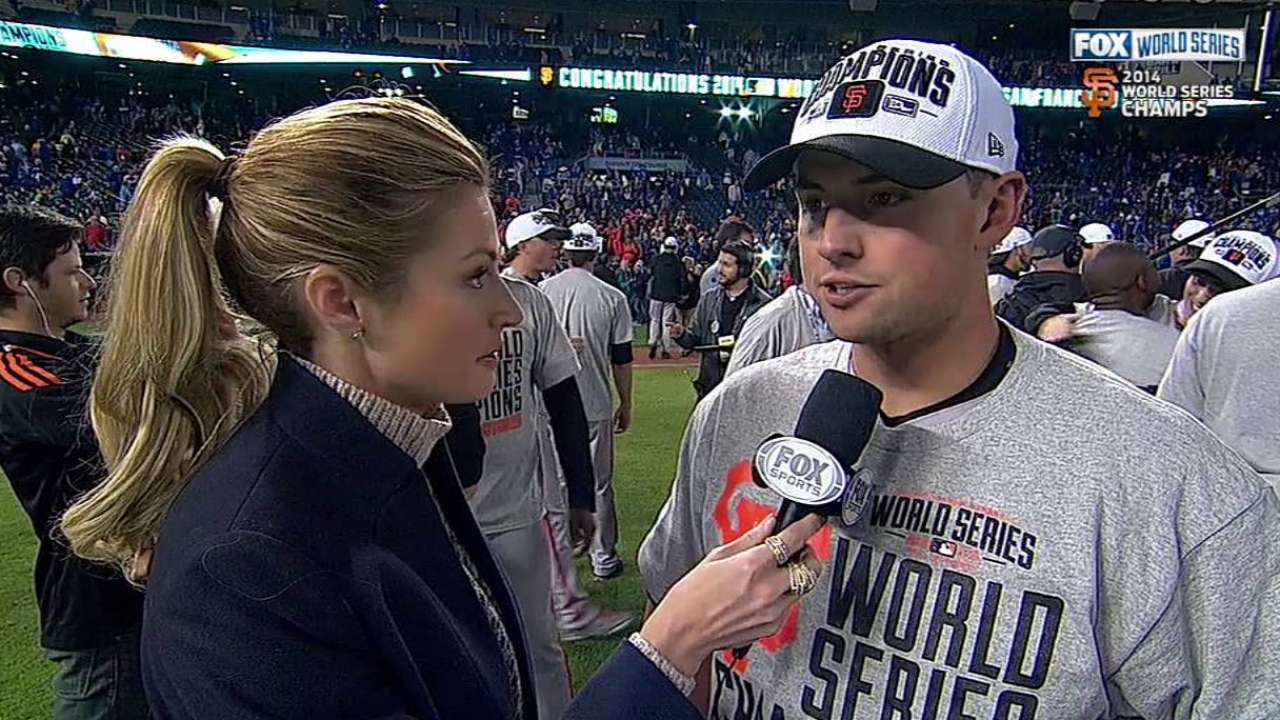 A shortstop his whole life before moving in deference to Crawford to the other side of the bag in 2013, Panik was calm, collected and aware when he went to his chest to derail a potential Royals rally on Oct. 29 in concert with his buddy, Brandon.
"It's the first time I've ever done something like that," Panik said. "It was just instinctual. I couldn't get my bare hand to my glove."
Posey knows turning points when he sees them.
"That play he made on Hosmer was a game-changer," Posey said. "No doubt."
Panik savored a wondrous 2014 until Thanksgiving, then got back to work on the season ahead.
"You want to build on it, keep improving," he said. "If you're not improving, you're getting worse."
Lyle Spencer is a national reporter and columnist for MLB.com. Follow him on Twitter @LyleMSpencer. This story was not subject to the approval of Major League Baseball or its clubs.