Markakis gets comfortable quickly in spring debut
Outfielder goes 2-for-3 in first game since December neck surgery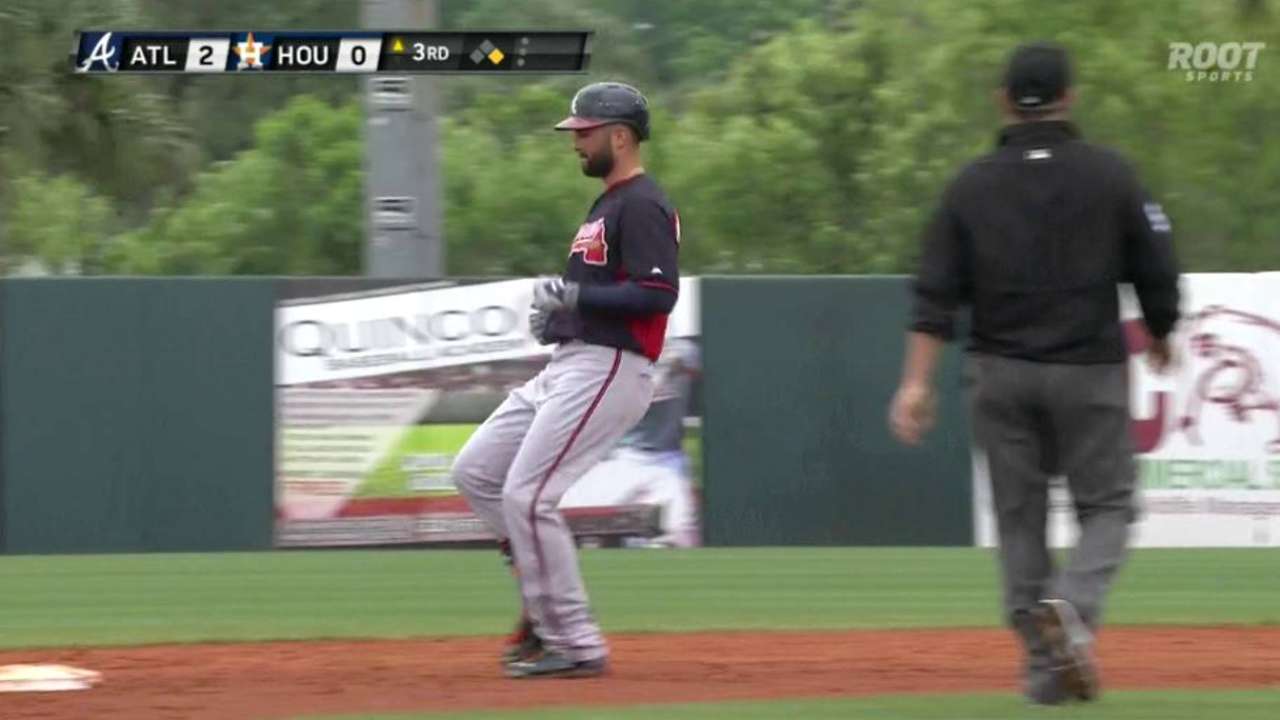 LAKE BUENA VISTA, Fla. -- It appears Braves right fielder Nick Markakis knew what he was talking about when he spent the past couple weeks repeatedly saying that it would not take him much time to gain comfort at the plate once he was cleared to begin playing games.
Markakis showed no signs of rust or uneasiness as he served as the designated hitter through the first four innings of Monday afternoon's 14-10 win over the Astros. As the veteran outfielder recorded a pair of hits, including a double that bruised the right-center-field wall, he provided no indication that he was playing in his first game since undergoing neck surgery in December.
"It is [impressive], but you know the animal and you know he's going to be ready and prepared," Braves manager Fredi Gonzalez said. "Now, it's just a matter of getting him some at-bats."
As per the plan, Markakis exited after recording three plate appearances through the first four innings against the Astros. He will serve as Atlanta's right fielder for the first four or five innings of Tuesday's game against the Phillies, and then steadily increase his playing time over the final two weeks of spring games.
Though he has always maintained that his goal has been to be in Atlanta's Opening Day lineup, Markakis has shown patience and poise as he's spent the past month regaining the conditioning and strength that he lost while his activities were limited for the first two months following the Dec. 17 surgical procedure to repair a herniated disc.
Markakis, who signed a four-year $44 million deal in December, began taking regular coach-pitch batting practice on Friday, and did not don a uniform until participating in drills before Saturday's game against the Nationals. There was reason to think he might at least take one round of live batting practice before getting into a game.
Instead, the 31-year-old outfielder thrust himself into action on Monday and provided an indication that he will indeed be ready to take the field for the April 6 season opener.
"He hadn't seen one live pitch from what I understood, and it didn't look like it," Braves shortstop Andrelton Simmons said. "I can't wait to see what he does when he does get [more] at-bats."
During Monday's first plate appearance, Markakis tracked the first four pitches he saw and then popped out to shallow left field. Two innings later, he looked at three more pitches before lining a Scott Feldman fastball to the right-center-field wall.
Markakis also reintroduced himself to the baserunning aspect as he scored from third base on Zoilo Almonte's single in the third. After hitting a single to center in the fourth inning, he took the station-to-station route to the plate as Freddie Freeman, Almonte and Chris Johnson followed with three consecutive singles.
"He wasn't just swinging at the first fastball he saw," Gonzalez said. "He's getting his timing down. You really couldn't have scripted it any better."
Mark Bowman is a reporter for MLB.com. This story was not subject to the approval of Major League Baseball or its clubs.