Beltre showing his son spring baseball ropes
Rangers third baseman enjoying spending quality time with Adrian Jr.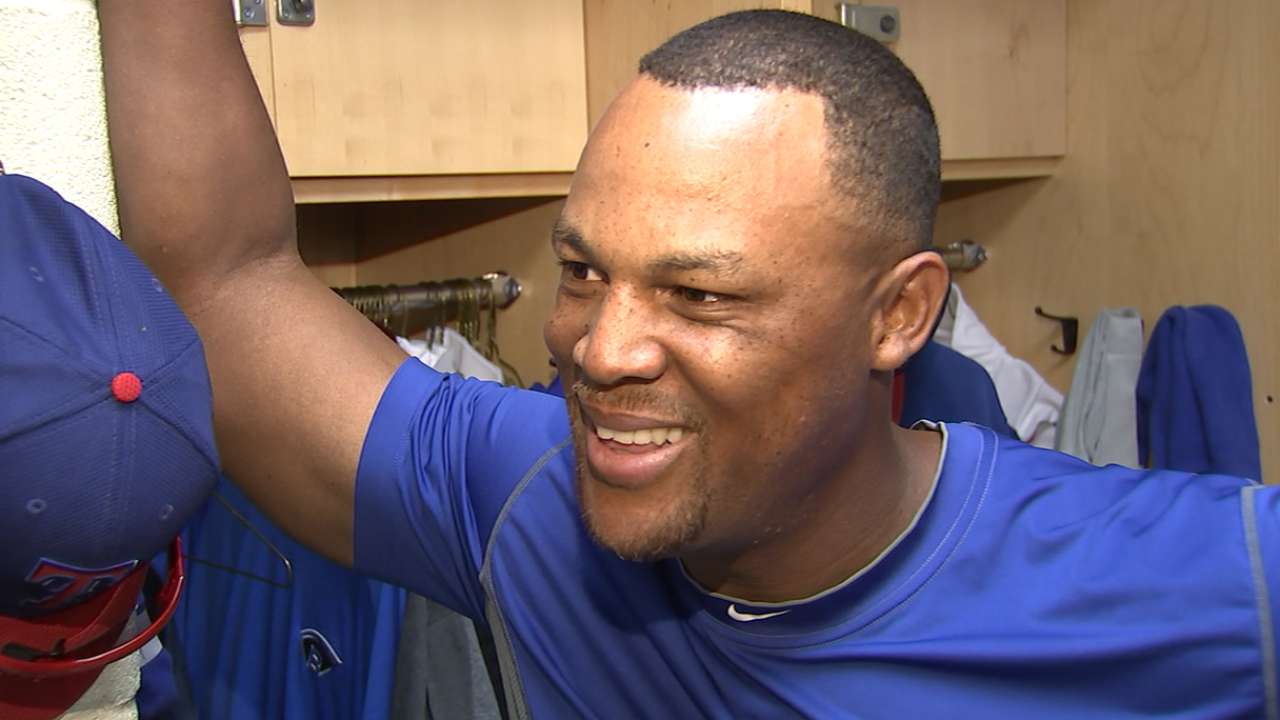 SURPRISE, Ariz. -- Adrian Beltre put in a normal day at the ballpark on Saturday. He was there for early hitting and conditioning, took a hundred ground balls plus regular batting practice, and then he went 0-for-2 with a walk in the game against the Brewers.
When it was over, Beltre went out to the back field and threw batting practice.
No, he wasn't throwing to Prince Fielder or Elvis Andrus. The kid at the plate was Adrian Beltre Jr., eight-year-old son of the Rangers' third baseman. One of Beltre's great joys as he goes through the twilight of a Hall of Fame career is having his son join him on the road or in Spring Training.
"It makes it easier," Beltre said. "It's great. It's a lot of fun because I know how much he likes it, how much he likes to be around the guys, how much he likes the ballpark. I try to make sure he doesn't get in the way of anybody, but at the same time have fun and be around what I do."
Adrian Jr., who has his own uniform, summed it up succinctly when asked what he enjoys most about being with the Rangers.
"I get to practice with my dad," he said.
Adrian Jr. plays second, third and center field. It would seem like a great thing to have one of the best third basemen ever as a coach, but that isn't the case here. There isn't much coaching at all, just playing catch and throwing batting practice.
"I don't really teach him anything," Beltre said. "He's eight years old, so I make sure he is having fun. I get out of his way and try not to make him be somebody. He's at an age where I just want him to get his own identity. I don't want to teach him how to hit, I just tell him see the ball and hit it. Just be ready for the throws."
So apparently, father has no hidden dreams of little Adrian growing up to be the next Ken Griffey Jr. At least for now.
"He can be whatever he wants," Beltre said. "I'm not going to push him to be anything. The only thing as a father is I don't want him to do is play football. Other than that, do whatever he wants to do."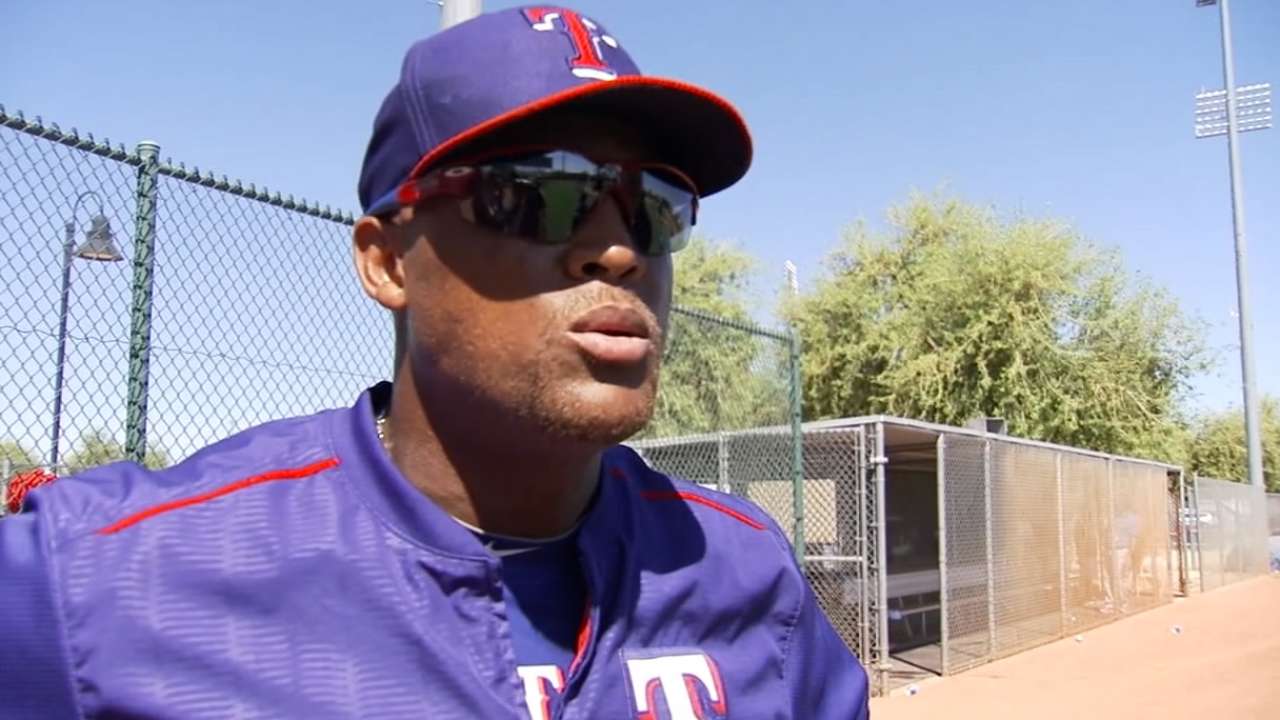 Baseball is not all Beltre enjoys doing with his son.
"We play a lot of video games," Beltre said. "I don't like them as much as he does, but I play them because I want to be a father to him. We don't play football, but we throw the football, we play tennis and play golf together. I try to be involved in his life as much as I can and be a positive figure to him."
School also doesn't get neglected. Beltre and his wife Sandra make their home in the Los Angeles area and they also have two daughters, Cassandra and Canila. The whole family gets to be with dad on occasions during the season, but school is not forgotten.
"We are home-schooling [Adrian Jr.] right now," Beltre said. "We have a system which the school he is in sends his homework through a computer. He does most of his schooling in the school he goes to, but when we take him out of school, he still does his work."
Family is obviously important to Beltre. He had his own strong relationship with his father Bienvenido Beltre while growing up in Santo Domingo in the Dominican Republic. His father was a baseball player and an industrial mechanic, although his son allowed him to retire once Beltre reached the big leagues in 1999.
"I'm close to my dad," Beltre said. "I didn't get to be around him as much as I wanted to but I looked up to my dad. I used to see him play too. He played winter ball in the Dominican. He didn't play professionally, but he was allowed to play winter ball. I didn't get to see him get to play as much as he comes to see me.
"I grew up in neighborhood where almost everybody played baseball. My uncles, my dad of course, my cousins. At same time, I grew up watching my dad play baseball so it was natural for me to love the game. I haven't seen him as much as I want to since I came to the United States, but he loves the game. He comes here to watch games and we talk about baseball as much as we can."
As they say, like father like son -- and so it goes with the next generation in the Beltre family.
T.R. Sullivan is a reporter for MLB.com. Read his blog, Postcards from Elysian Fields, and follow him on Twitter @Sullivan_Ranger. This story was not subject to the approval of Major League Baseball or its clubs.