Country star Bryan crashes White Sox party
Participates in drills and BP and meets Bo Jackson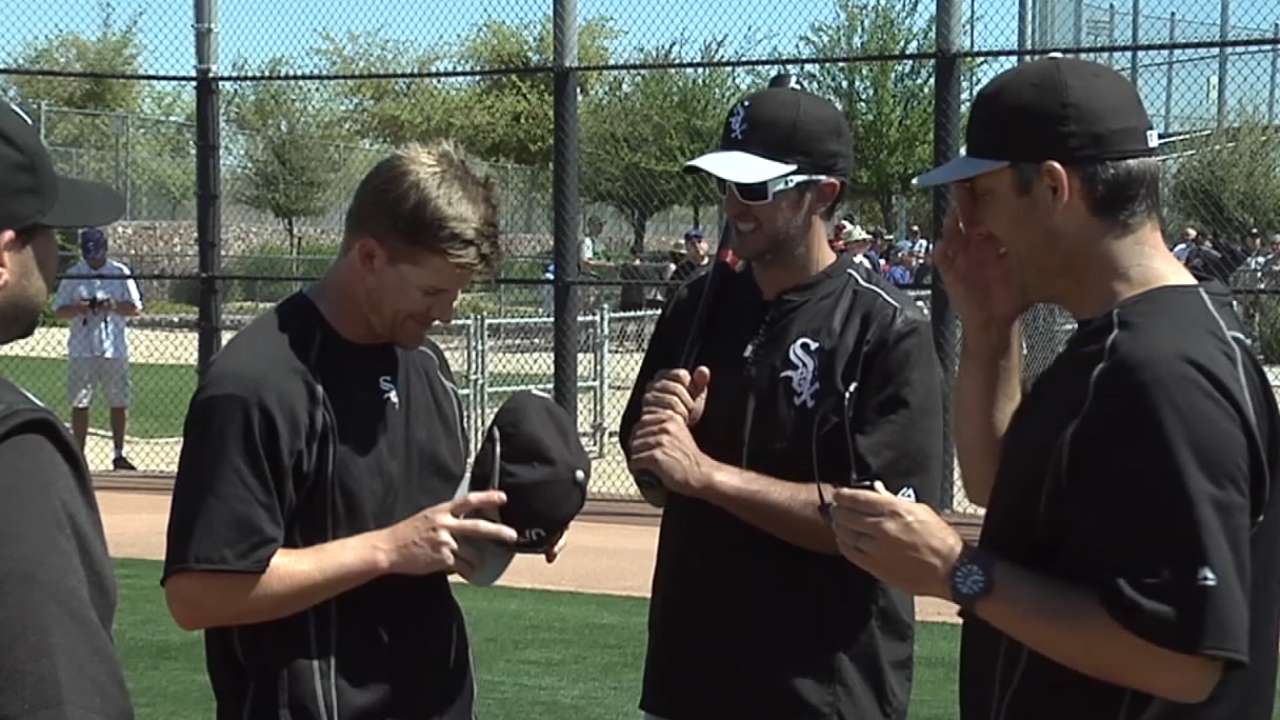 GLENDALE, Ariz. -- Bo Jackson knows baseball. Bo knows the White Sox. After Monday morning's workout at Camelback Ranch, Bo now knows Luke Bryan.
The country-music star shagged some fly balls, took some swings and had an overall good time. The close friend of White Sox designated hitter/first baseman Adam LaRoche also came to the decision that he picked the right career, despite many recording artists wanting to be athletes and vice versa.
"I learned at a young age that I was not an athlete, by 10th grade," said Bryan. "I went to the same high school as Buster Posey in Leesburg, Ga.
"And we had a real good baseball program down there. I saw all these boys hitting multiple home runs and not getting drafted and stuff. I said, 'Baseball is not for me. Maybe I need to pick up a guitar or something.' I'm glad I made the right choice."
.@LukeBryanOnline says he made the right choice picking music over baseball, but we think he wears a Sox cap well! pic.twitter.com/J6x9G92u8x

- Chicago White Sox (@whitesox) March 23, 2015
Bryan works with LaRoche as part of a television show called Buck Commander, but the two became friends when the left-handed slugger was playing for the Braves and attended a Bryan concert with teammates. The recording artist praised LaRoche for the way he has handled fame, the person and father he is and, of course, his success as a player.
Seemingly the most exciting moment of the day for Bryan was getting to interact with Jackson and taking home autographed baseballs from one of the greatest athletes for his three boys.
"I've been in many situations where I have been star struck, certainly in country music where I wouldn't even go introduce myself to Garth [Brooks] and stuff like that," Bryan said. "The second I saw Bo in the locker room, I was like, you know, I didn't certainly expect him to be here.
"It was amazing to get the chance to meet him and to sit on the field and talk with him. The fact that I can fly home to Nashville and hand the baseball to my boys and go, 'Guys, this ball is signed by undoubtedly probably the best athlete that has ever walked the face of the Earth,' it's amazing that I got that opportunity."
.@LukeBryanOnline, doin' his thing. #SoxSpringTraining pic.twitter.com/yesPqpFeA8

- Chicago White Sox (@whitesox) March 23, 2015
Having Bryan in camp was a fun break for the White Sox, although don't expect a contract to be in the offing for the right-handed hitter.
"If he wants to sing the anthem, that will be perfect," White Sox manager Robin Ventura said. "The guys had a great time with him out here. He's good as far as interacting and having fun, so it's always good when stuff like that mixes together."
"That was fun," Bryan said. "Bo told me pretty much everything about my swing was awful. I told him I'm going to give him a guitar later on and see what he can do."
Scott Merkin is a reporter for MLB.com. Read his blog, Merk's Works, and follow him on Twitter @scottmerkin. This story was not subject to the approval of Major League Baseball or its clubs.