Pelfrey's good health contributing to spring success
Right-hander makes case for rotation spot with strong outing vs. Phils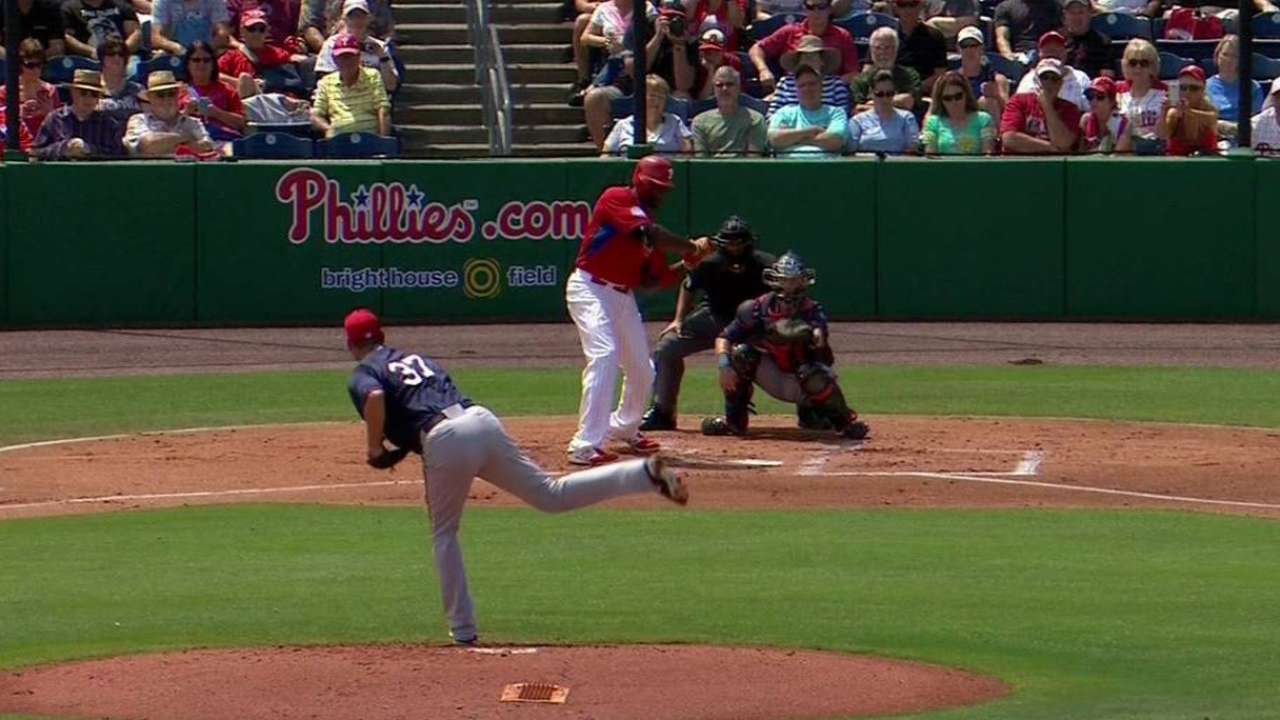 CLEARWATER, Fla. -- Mike Pelfrey isn't making the Twins' decision on the fifth starter any easier this spring.
Pelfrey, who is competing with Tommy Milone and Trevor May for that final spot in the rotation, was effective again on Monday, giving up two runs (one earned) on seven hits and two walks over 4 2/3 innings in a 3-0 loss to the Phillies. He served up a two-run blast to Cody Asche in the second inning after a fielding error from Eduardo Nunez, but he was otherwise solid.
Pelfrey showed good velocity, hitting more than 95 mph on the stadium radar gun more than 10 times, and he also worked in his split-changeup, including a strikeout of Ryan Howard to get out of a jam in the first inning.
Pelfrey said his health is the key to his spring success -- he has a 1.32 ERA in 13 2/3 innings -- as he was coming off Tommy John surgery before the 2013 season and lasted just five starts last season before undergoing season-ending elbow surgery.
"I feel like I've thrown good," Pelfrey said. "Today was OK. I battled, and we were able to get through it. So we'll see what happens. But I feel good. In 2013, coming back from Tommy John after 11 months, maybe it was too early. And last year, it faded off pretty quick. But I feel good, and I expect good things to happen and to be successful if I feel good.
"At the end of the day, as long as I feel good, no matter what happens, so be it. Obviously my preference is to be a starter, but if they think somebody else is better, then so be it."
Pelfrey has stiff competition for that final spot, as both Milone and May have also fared well this spring. But Pelfrey said he's not letting that affect him in a negative way.
"I'm at peace," Pelfrey said. "I feel good. I'm tired of rehabbing. As a competitor, I'd rather be out there than rehabbing, which is what I've done for three of the last four years. It's miserable. I want to pitch, and that's all I want to do. I'm at peace because I know I feel good. I haven't been worrying or sweating it. I've just been going out there and giving it everything I have."
Pelfrey, who is owed $5.5 million this year, could head to the bullpen if he doesn't win the job, and although it's not his preference, he said he'll do whatever's asked of him.
"I won't say I can't do it, but I've just never done it," Pelfrey said. "But as a competitor, I'll make an adjustment if I need to."
Pelfrey's next outing is up in the air, as manager Paul Molitor said he'll discuss it with pitching coach Neil Allen this week. Molitor said he'd like to have the roster finalized this weekend.
"It'll be challenging," Molitor said. "But I like my options."
Rhett Bollinger is a reporter for MLB.com. Read his blog, Bollinger Beat, and follow him on Twitter @RhettBollinger. This story was not subject to the approval of Major League Baseball or its clubs.