Johnson shakes off rust in first bullpen session
Right-hander throws 20 pitches, feels 'great'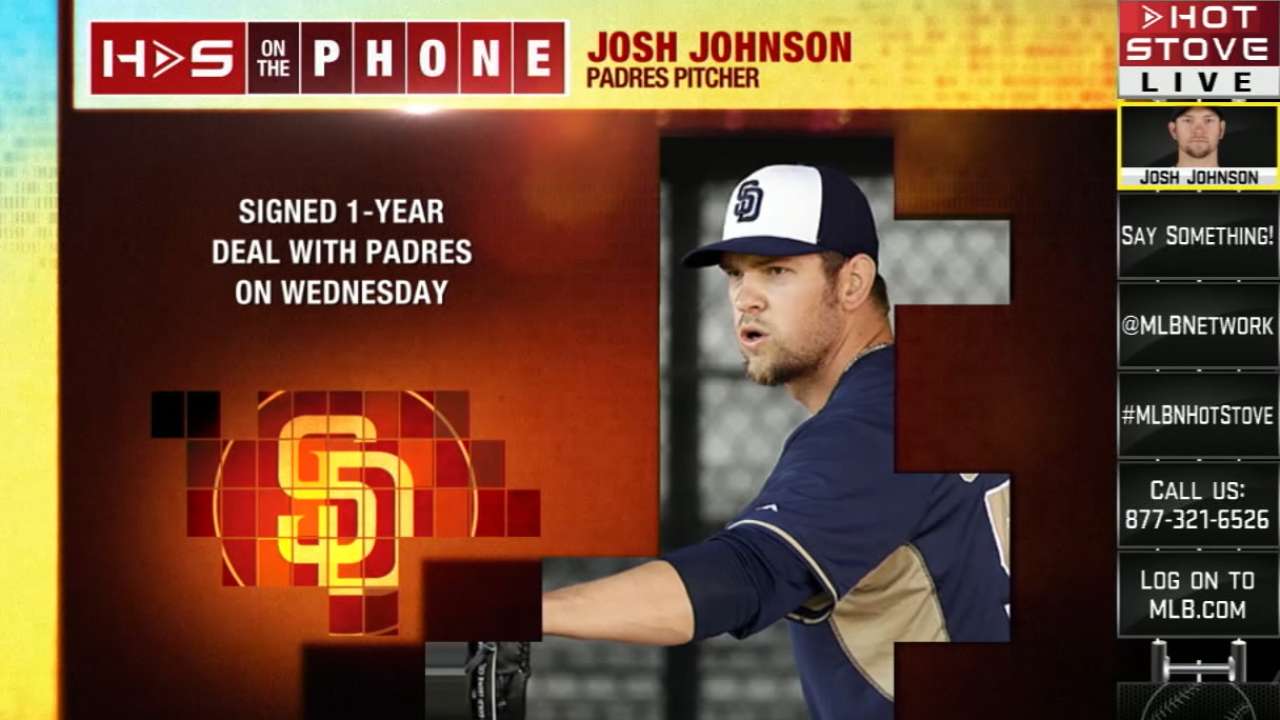 PEORIA, Ariz. -- The only hiccup that Josh Johnson encountered Monday in his first bullpen session since having Tommy John surgery last April was trying to gauge exactly what 50-percent intensity was.
"The whole 50-percent thing was kind of tough," said Johnson, who was told that was the level that he was to operate at during his session. "You do not want to go out there too hard and you don't want to ease off it too much, then you kind of lose control.
"But, other than that, it was great."
For a lot of reasons, none more so in that getting on a mound again for the first time since he sustained his right elbow injury last Spring Training -- his last outing was March 18 -- marked a significant checkmark in his rehabilitation.
Johnson threw 20 pitches, all fastballs. He said he threw 14 to the first-base side of home plate and six to the other side. His catcher was Austin Hedges.
"[Hedges] said the location was outstanding, midseason, which was good because a big part of my game is location," Johnson said. "So that's great."
Johnson said he'll likely throw 30 or so pitches the next time out, again all fastballs.
"I'll keep locating and feeling great, that's the key," he said.
Johnson, who had his first Tommy John surgery in 2007 while a member of the Marlins, said he will remain with the big league team when camp breaks on April 2. He'll return to Arizona on April 16.
"I'll make sure I'm around the guys, trainers and strength coach," Johnson said.
Johnson has had nothing close to resembling a setback during his recovery and rehabilitation from his surgery on April 24. Dressing in a clubhouse near teammates Cory Luebke and Casey Kelly, who have either needed two Tommy John surgeries (Luebke) or have encountered setbacks (Kelly), he feels very lucky in a sense.
"You can't have that doubt creep in, you know it's fixed, you know it's OK," Johnson said. "I'm very fortunate is the best way to put it. You never want to go through it."
Corey Brock is a reporter for MLB.com. Keep track of @FollowThePadres on Twitter. This story was not subject to the approval of Major League Baseball or its clubs.