Fast math: Caminero may have earned bullpen spot
Capable of hitting triple digits, righty is likely on right side of Bucs' numbers game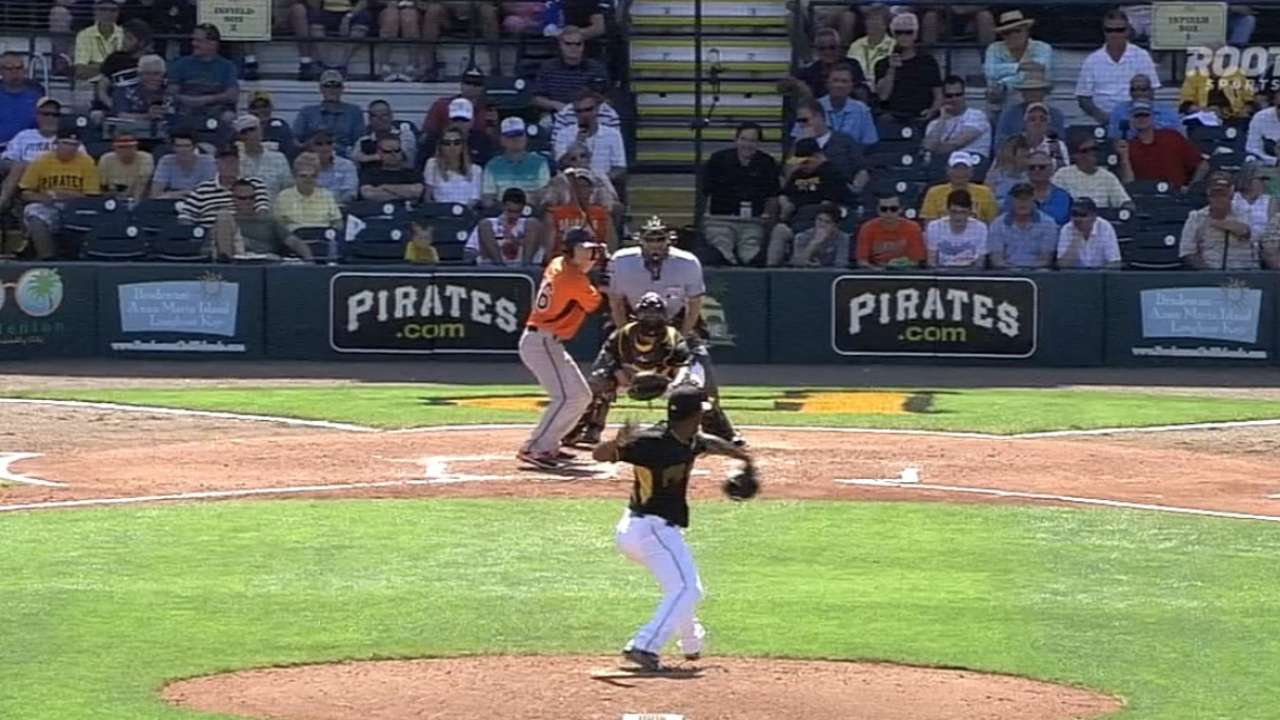 PORT CHARLOTTE, Fla. -- New and old math spectacularly and naturally intersect with Arquimedes Caminero.
New math: The right-handed reliever fanned four more batters in two innings Monday against the Rays, giving him the team spring lead with 16 strikeouts in 10 frames. That works out to 14.4 K's per nine, a figure topped last season by only one reliever (Aroldis Chapman) in the National League.
Old math: The name, of course, which in full is Arquimedes Euclides Caminero, as picked by his father out of an algebra book.
Describing his own adventures in mathematics, Caminero recently told the Post-Gazette, "I used to be really, really good. Now, I'm slowing down a little."
Maybe he should have used a different adjective, being a pitcher reputed for a fastball that can hit 100 mph. Monday, Caminero's fastball averaged 97.5 mph and his slider sat at 91 mph, misnamed as an "offspeed" pitch.
Caminero always had the stuff. What he couldn't do previously was keep that stuff in the strike zone. In the Minors, Caminero has consistently averaged a walk every two innings. In a brief Major League stint last year, he walked four in 6 2/3 innings with the Marlins -- from whom the Bucs acquired him in a Feb. 4 cash transaction.
This spring, Caminero has one walk in 10 innings. Still think pitching coach Ray Searage's reputation as a miracle worker is overblown?
"I've been working very hard with the pitching coach," Caminero said. "Just simplifying things. He got me to go easier. Before, I was trying to throw too hard. I feel more confident now, just hitting my target."
If Caminero's solid spring nets him a seat in the Bucs' bullpen, it could make an incumbent a victim of, yes, the numbers game. The only two of eight 'pen frontrunners with remaining Minor League options are Jared Hughes and John Holdzkom, both of whom excelled last season (the latter short term). Four spots are locked up by closer Mark Melancon, lefties Tony Watson and Antonio Bastardo, and righty Radhames Liz, the leading candidate to be the swing man.
The only way to accommodate all three of Caminero, Hughes and Holdzkom is if the Bucs decide to move on from Stolmy Pimentel, who a year ago appeared to be squirreled away for a future rotation spot but whose pitching has been inconsistent.
Asked whether he felt he had done enough to make the team, Caminero smiled and said, "I don't know. That's up to the GM."
Hard to argue that Caminero's flashy preseason doesn't add up to a role in the Bucs' bullpen.
Tom Singer is a reporter for MLB.com and writes an MLBlog Change for a Nickel. Follow him on Twitter @Tom_Singer. This story was not subject to the approval of Major League Baseball or its clubs.