Harvey the ace, but Colon to start Mets' opener
Veteran, 41, oldest Opening Day starter in team history, and oldest in Majors since 2006
JUPITER, Fla. -- The Mets could have looked in any number of directions to find their Opening Day starter. They could have nodded toward youth, rewarding Jacob deGrom for his National League Rookie of the Year campaign. They could have defaulted to Matt Harvey, who expects this summer to be his rebirth as staff ace. They could have honored Jon Niese, the rotation's longest-tenured member. Before Zack Wheeler injured his elbow, the Mets could have cued up him as well.
In lieu of all of them, the team will turn to 41-year-old, 17-year veteran Bartolo Colon, who led the Mets with 15 wins last season. Colon will pitch April 6 in Washington, the club announced Monday, followed by deGrom and Harvey. That lines deGrom up for the April 13 home opener at Citi Field.
"It's always an honor to start on Opening Day," Colon said in a statement. "Anyone on the staff could have been named the Opening Day starter. I'm looking forward to it. I think we've got a chance to have a great season and I want to do my part."
At 41 years and 317 days old, Colon will become the league's oldest Opening Day starter since Jamie Moyer (43 years, 136 days) and Randy Johnson (42 years, 205 days) pitched on the same day in 2006. He will also surpass the '07 version of Tom Glavine (41 years, seven days) as the oldest Opening Day starter in franchise history. Colon has started six previous Opening Days, most recently in '06 with the Angels, and this time he will oppose Nationals right-hander Max Scherzer.
The move may seem unorthodox considering the Mets' wealth of young pitching, as well as Colon's recent struggles (a 7.71 ERA through four spring starts), his issues last year against the Nationals (1-4 with a 4.50 ERA in five starts), and the fact that he has only been with the Mets for one season.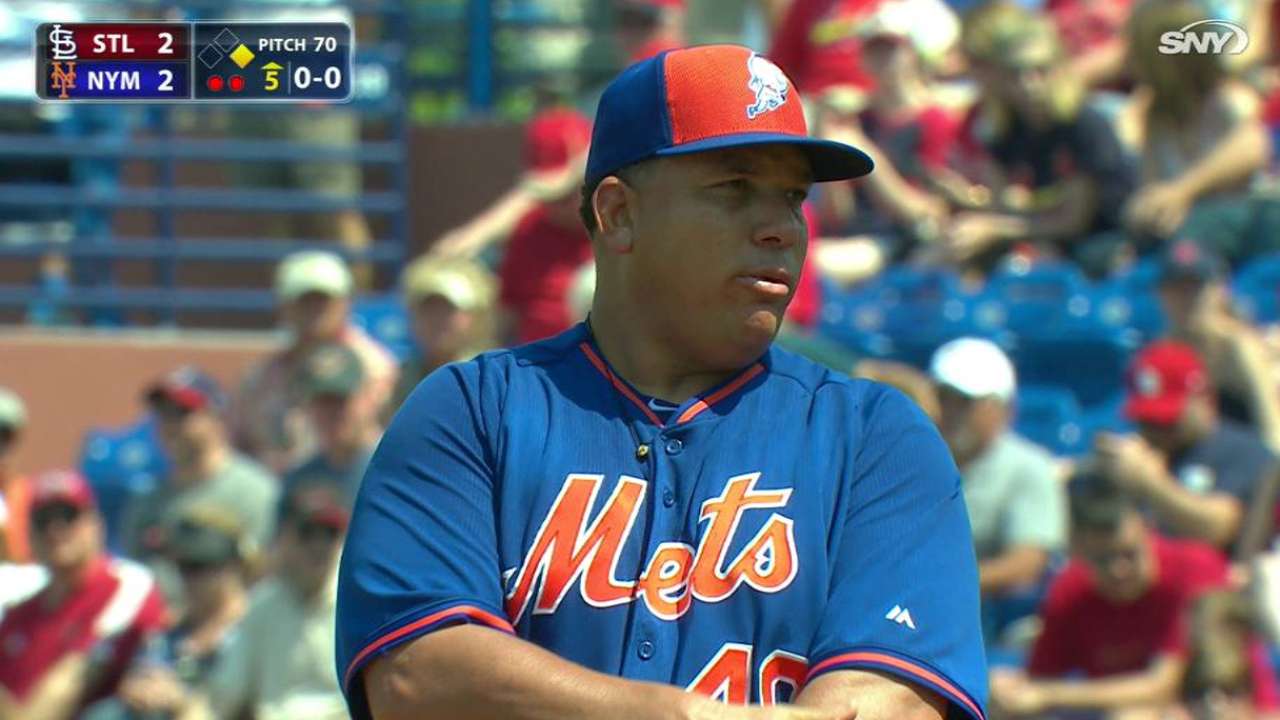 Also complicating things is the fact that internally, the Mets still see Harvey as their staff ace, despite missing all of last season recovering from Tommy John surgery. But as manager Terry Collins put it, "You earn that spot from what you did the previous year, and [Harvey] didn't pitch. So we're going to go with somebody that was there."
"It's just one start," Collins added. "And I know it's a big deal to a lot of people, but to me, it's not. It's one of 32 starts. And if you go back and you look at what Bart did all season long, he's earned it."
The rotation order lines deGrom up for the home opener, which he said will be an "awesome" experience. And it means Harvey will start the Mets' third game of the season, as well as their second home game.
"Matt Harvey doesn't really care," Collins said. "The whole philosophy is we've got to go and we've got to beat the Washington Nationals. That's the team we've got to go after. We've got to beat the Marlins and everybody else, don't mistake me. But that's the team that's sitting on top of our division, so we just thought going into that series, those would be the three guys we'd like to face them."
Added Collins: "[Harvey] is our ace. We know it. He knows it. I told him he's going to pitch a lot of big games this summer, and they all count."
Anthony DiComo is a reporter for MLB.com. Follow him on Twitter @AnthonyDicomo. This story was not subject to the approval of Major League Baseball or its clubs.